Exhausted frontline healthcare workers are able to relax in airport-style first-class lounges in their workplace thanks to the efforts of two airline pilots.
The initiative, Project Wingman, is the brainchild of David Fielding and Emma Henderson – who fly for British Airways and easyJet respectively – and clinical psychologist Professor Robert Bor.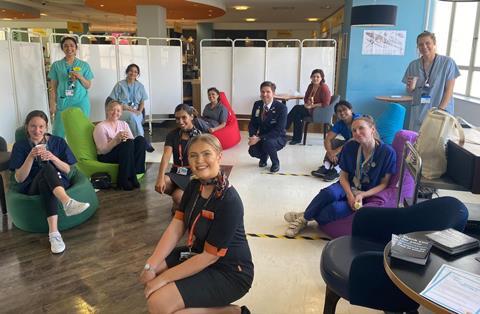 The trio came together in late March to explore how grounded aircrew could support UK National Health Service staff during the coronavirus crisis. Bor reckoned hospital staff would benefit from additional, practical support and saw an opportunity for airline employees to use their unique skills to support their wellbeing.
Fielding and Henderson then asked for volunteers from the aviation community who prepared to go into hospitals and set up special areas for employees to have their break.
The name Project Wingman is a "light-hearted nod to Top Gun" – the 1986 action film starring Tom Cruise.
"The concept of Project Wingman is rooted in the famous camaraderie of aircrew which this organisation is mobilising to help support the NHS through this tough time," say the trio.
To date, more than 4,000 crew have answered their call from across "every UK airline" to volunteer for the project. "Each member has offered their time, knowledge and skills to serve and support NHS staff during the COVID-19 crisis," says Project Wingman.
Once a "Wingman" request is agreed with a hospital, the project team launch into action: contacting local volunteers to set up a roster of airline crew, enough for a 24/7 operation, and sourcing equipment and donations that are then delivered by volunteers directly to the lounge. The hospital has only to provide a "support area" with sufficient space to maintain social distancing. Project Wingman's volunteers then converts it into a "Wingman Lounge" which they then staff.
The feedback from frontline NHS workers has been very positive, says Project Wingman, with many reporting that the presence of "like-minded, uniformed professionals is a welcome boost to morale".
"Whether it's talking about experiences on the job, travelling or simply being handed a cup of tea, Project Wingman's exceptional airline crew are proud to be putting smiles on the faces of NHS workers across the country," it adds.
To enable the charitable foundation to remain self-sufficient, the project receives support and "generous donations" from an ever-increasing number of businesses and organisations that enable the team to create that first class lounge feel such as food, drink, sound systems and decorations like plants.
After the project's initial launch at the Whittington Hospital in North London on 2 April, the team has rolled out lounges in a further 23 hospitals. There are another 23 hospitals planned in the "implementation phase", says Project Wingman, and discussions are also ongoing with more than 30 further establishments in England and Scotland.