Campaigners who have fought for years to make air travel more accessible to wheelchair users are finally starting to see some light at the end of what has been a very long tunnel.
Last September, a report mandated by the US Congress concluded that wheelchair securement systems inside the cabins of commercial aircraft were technically feasible. Hot on the heels of the report's release, two promising concepts to enable wheelchair users to bring their own wheelchairs on board and remain seated in them for the duration of their flights were unveiled. Both made the shortlist for this year's Crystal Cabin Awards.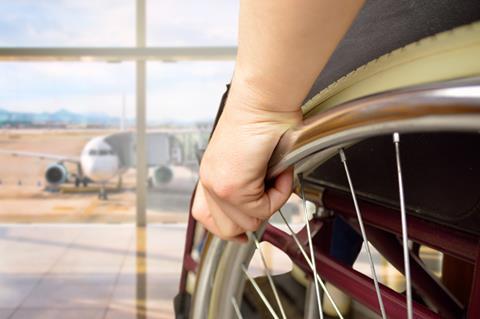 One is the Air 4 All concept, put forward by a UK-based consortium made up of design company PriestmanGoode, airworthiness approval specialist SWS Certification and aviation accessibility campaign group Flying Disabled.
Air 4 All's patented idea uses an attachment mechanism similar to ISOFIX/LATCH systems in cars, the idea being that a wheelchair can be mechanically latched into place during flight. The initial design is aimed at narrowbody aircraft and involves converting front row seats, in a two-by-two configuration, by installing a guidance and locking system for up to two wheelchairs. When such access is not required, the seats can be flipped down and used as regular seating.
ADAPTED SEATING
"The main goal was to use the same footprint that a front row, business class on a narrowbody would use," says PriestmanGoode design director Daniel MacInnes. "The goal was not to use up any more space in the cabin and to really just stick with that pitch."
The two seats are housed in a fixed shell that "cradles the wheelchair" when the seat is folded up, but "when the seats are in the down position, it looks just like a traditional business-class seat", MacInnes says.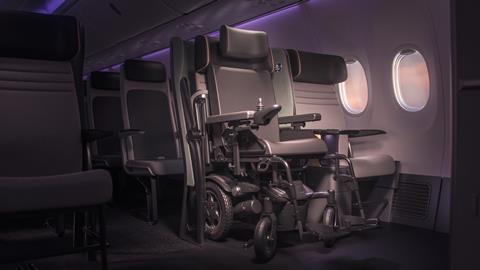 "The rest of the shell where it wraps around, on the back of it you can either have monitors in there or upper storage – anything that an airline would want to replicate what the passengers behind are being offered. So it makes everybody feel like they've got a product and nobody's being short-changed," he adds.
Flying Disabled founder Chris Wood says that when he first saw the Air 4 All design, "my jaw dropped". Wood founded the charity almost 30 years ago when he saw first-hand the difficulties faced by disabled air passengers while travelling with his two children, both of whom are wheelchair users.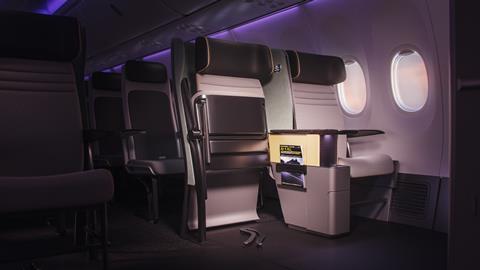 "I've seen many designs over the years and many ideas, but none of them have really had a certification champion and a design champion, and in SWS and PriestmanGoode I'm standing on the shoulders of giants," says Wood.
The consortium is working on the concept with the subsidiary of an undisclosed major airline, which Wood says is "building it and funding it". The project has moved from the "MDF mock-up" phase into a second stage, with a third – "a working prototype" – expected later this year, says Wood. That will be followed by certification.
PRECISION ENGINEERING
"We're hoping in the next couple of years, it will fly," says MacInnes. "The engineering team that we're working with is trying to make sure that those unique items are certifiable, and I think most probably towards the middle to the end of this year we'll be working with the authorities to introduce them to it and make sure we've covered all of those key points that the FAA [Federal Aviation Administration] and EASA [European Union Aviation Safety Agency] will require."
The Air 4 All concept's patent drawings are based on manual wheelchairs, but the consortium is working with wheelchair manufacturer Sunrise Medical to design a powered wheelchair that could be fixed into the space.
"We're looking at a fixing system that would become a universal fixing point for anybody that needs to lock their wheelchair [into place]," notes MacInnes.
The second such concept to be shortlisted for an award is the Fly Your Wheels Suite, designed by researchers and students at Wichita State University's National Institute for Aviation Research, in collaboration with Collins Aerospace and wheelchair securement systems manufacturer Q'Straint.
This concept is also initially aimed at narrowbody aircraft but unlike Air 4 All, it does not require the modification of any seat rows. Instead, space for a wheelchair would be created by modifying the closet towards the front of the cabin.
"The fundamental idea lies in the modification of the cabin's closet, which has been re-engineered to provide a safe, interactive and spacious suite for passengers in wheelchairs, while ensuring operational practicality and compliance with current FAA regulations," says Wichita State University. The space can be turned back into a closet when it is not required for a wheelchair user.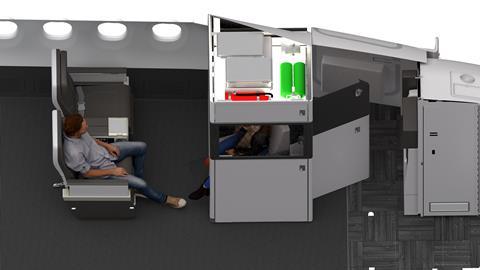 Glenn Johnson, a fellow of industrial design at Collins Aerospace, says that by using this closet space the concept avoids both the need for wheelchair users to navigate past it, and the need to alter the aircraft's seating configuration.
"One of the biggest problems airlines face is the boarding and de-planing time. Most [Boeing] 737s in the US have a closet in this location, and navigating past that closet in a wide wheelchair is challenging," says Johnson. "Another advantage is this concept doesn't require the modification of existing seats. If we put a person here, we're effectively adding a passenger and adding to the profitability of the aircraft. We're not taking revenue opportunities away, and that's the basis of this idea."
Another advantage, says Johnson, is that the concept uses "certifiable stuff", with Q'Straint's wheelchair tie-down systems already in use on other modes of transportation.
"We're going to tie down the chair with a 20-plus-g Q'Straint system. The configuration allows the wheelchair occupant to drive straight on board through the primary door, along with all the other passengers. All the existing emergency equipment is relocated within the closet, so that doesn't need to get moved," says Johnson. "As a company, we make the seats, lavatories, closet space and the monuments, so we can supply each of the components required."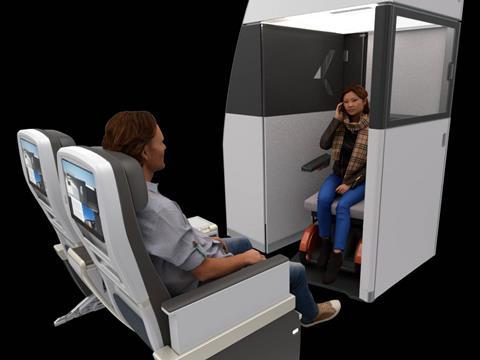 Wheelchair users will have the option of facing a carer or travel companion during flight or facing forward, he adds.
The unveiling of the Fly Your Wheels Suite and Air 4 All concepts came within months of the publication of a report by the Transportation Research Board (TRB), which was commissioned by the US Access Board after it was called on by Congress to examine the feasibility of wheelchair securement systems for passenger use in aircraft cabins.
The report found that the majority of commercial aircraft have a main boarding door that is wide enough to accommodate most personal wheelchairs, and that the most common cabin layouts on 737- and Airbus A320-family aircraft "should require only modest interior modifications to create a wheelchair securement area" at the front. It concluded that there were no design or engineering challenges that would call into question the technical feasibility of an in-cabin wheelchair securement system.
The TRB's report was seen as a landmark moment by disability activists, who have been campaigning for years to make air travel more accessible to passengers with reduced mobility (PRM). Michele Erwin, founder and president of US-based All Wheels Up – a charity which funded a proof-of-concept study in 2016 to see if wheelchairs locked in place with Q'Straint tie-downs could meet FAA standards – says her organisation "hasn't stopped" since the report was published.
GENERATING MOMENTUM
"All Wheels Up has been advocating for a wheelchair spot for 10 years, and the momentum is there," says Erwin. "We did the first crash-testing in 2016 and ever since then, the momentum has been more of a wave. It's amazing what you can do when you put facts and science behind your advocacy."
There are now "multiple OEMs in this space working specifically on a wheelchair spot on airplanes", says Erwin, noting that "even if we're just looking at from two years ago to today, it's definitely a different space in the appetite for a wheelchair spot on airplanes".
Erwin founded All Wheels Up in 2011 after trying to arrange a trip to Disney World with her son, who has spinal muscular atrophy. She points to the risk of injury to disabled passengers during the current process of boarding aircraft for wheelchair users, which involves physically transferring PRMs from an aisle wheelchair to a regular airline seat. Flying Disabled's Wood agrees, noting: "We really shouldn't be man-handling people in this day and age."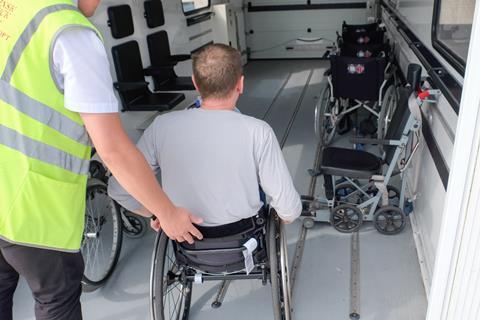 In addition to potential injuries, there is a risk of damage to the passenger's own wheelchair when it is stored in the cargo hold during flight.
"Wheelchairs can cost anything from $10,000 to $85,000. We're talking about equipment that costs more than many cars on the road today, and we're expected to just toss it into the cargo hold," says Erwin.
CHANGING REALITY
Geraldine Lundy, founder of the Accessible Travel Consultancy and former passenger accessibility manager at Virgin Atlantic, says the publication of the TRB's report "warmed the cockles of my heart".
Lundy has worked alongside Erwin and Wood for a number of years and says she was always supportive of the idea of wheelchairs in the cabin, but knew there were "numerous hurdles to get through" before it became a reality.
While Lundy was at Virgin, the carrier hosted the inaugural Wheelchair in the Cabin Symposium at its Crawley, West Sussex headquarters in 2017. Both Erwin and Wood, along with politicians, designers and wheelchair users, spoke at the event, which shone a spotlight on the idea of enabling disabled passengers to bring their own wheelchairs on board. The issue has since moved up the agenda and a number of developments have taken place, says Lundy.
She praises the Air 4 All concept, noting: "When I saw the combination of their design with the US Access Board paper, I thought, 'this has gone from, I may see wheelchairs in the cabin, to I really think I'm going to see them quite soon'."
The TRB report envisions the removal of seat rows to make room for in-cabin wheelchairs, although neither the Air 4 All nor Fly Your Wheels Suite concepts would require this, which should be good news for revenue-conscious airlines.
"The advantage that the Air 4 All design has over what the US Access Board came out with was that with the Air 4 All solution you don't lose many seats, so it's not going to be a huge commercial disadvantage to airlines," says Lundy.
As awareness of the issue has grown, so has demand for more accessible air travel, Lundy asserts. The "PRM penetration rate" has gone up across Europe since pre-pandemic times, she says, noting: "Before the pandemic, at most major airports the PRM penetration rate would hover around 2%. So for every 100 passengers who flew, about two would identify as having a disability and would request assistance. Now, although there are not as many passengers flying yet as before the pandemic, the PRM penetration rate is about 4%."
LEISURE MARKET
Lundy attributes the rise, in part, to the fact that leisure flights have eclipsed business travel as the airline industry has begun its recovery from the pandemic. However, other factors are also at play, she believes.
"Another aspect is that your rate of disability increases with age, and if you're an older person who has lost a year to two years of their life of travel because of all the restrictions, you've got this impetus of, 'I want to travel. I want to get out there and enjoy my life while there's still time'," says Lundy.
While there is still a way to go, including certification of in-cabin wheelchair concepts, the need for airlines to commit to making their aircraft more accessible and for more wheelchair manufacturers to "come to the table and make wheelchairs that are designed for air travel", Lundy says that with regulators now on board, she feels more optimistic that it will happen.
Campaigners also plan to keep up the pressure until they get their way. As Erwin puts it: "We are not going to rest until there's a wheelchair spot on airplanes and everyone is flying in their wheelchairs."