Light and heavy rocket upgrades make a family built for cost, performance and versatility
European launch operator Arianespace kicked off a big year in grand fashion. The perfect 16 January flight from Kourou, French Guiana, saw its flagship Ariane 5 haul a pair of telecommunications satellites – with a total mass of nearly 8t – towards geostationary orbit. Both payloads – Eutelsat's Konnnect and the Indian Space Research Organisation's GSAT-30 – were billed as helping to "close the digital divide" in Europe, Africa and India, leaving Arianespace to observe: "More than ever, placing space at the service of a better life on Earth remains Arianespace's primary purpose."
That success was followed by a 7 February mission also notable for its impact on global communications when a Soyuz flight – from Arianespace's partner Starsem at Baikonur in Kazakhstan – carried 34 telecoms units, weighing in at just over 5.5t. The client, London-headquartered OneWeb, has bought a string of Soyuz trips from Arianespace to orbit a constellation that will ultimately number some 650 satellites, being built in what amounts to mass production by Airbus at a purpose-built factory in Florida.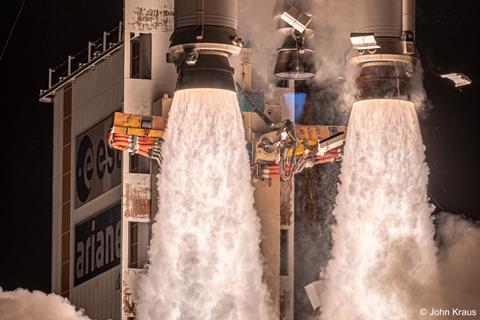 These launches do represent space technology delivering improvements to life on Earth. The extension of service from big, expensive geostationary telecoms satellites is welcome, while OneWeb is a leader in a cohort of businesses hoping to provide broadband internet and other services to ill-served regions via so-called "mega-constellations" of small, relatively low-cost spacecraft in low-Earth orbit. But for Arianespace – indeed, for Europe's launch industry – 2020 is a milestone year for reasons much closer to its own core competence: building and operating rockets.
There will be three notable events this year, all taking place at Europe's CSG launch centre in French Guiana. Scheduled for 18 February is the second Ariane 5 launch of 2020, again running its trademark mission of orbiting two big telecoms units.
But then a pair of March flights will be watched especially carefully. The first will be the 24th Soyuz flight from CSG since introduction in 2011 of a Europeanised version of the veteran Russian mid-weight launcher. The payload is a United Arab Emirates military satellite called Falcon Eye, a sister of which was lost in July 2019 when the second stage of a Vega launcher suffered a "thermo-structural failure" three minutes into the flight.
The second March mission will be the return to service of the lightweight Vega, which had flown a string of 14 flawless missions since introduction in 2012. The launcher has proven itself to be ideal for precision placement of payloads into the low polar orbits needed for Earth observation missions.
That second Falcon Eye was moved to a Soyuz ride after the failure – dubbed VV15 in Arianespace nomenclature – but both the European Space Agency (ESA) and Vega's Italian prime contractor Avio are confident in the launcher's return; VV16's payload will be a large basket of very small satellites, from operators including civil Earth observation pioneers Spire and Planet Labs.
Avio chief executive Giulio Ranzo told Flight International last autumn, during the then-ongoing Vega failure inquiry, that while a long string of successes pointed to a "robust" design, failure highlighted the need to improve execution in manufacturing and non-destructive inspection and testing.
At ESA's January update briefing in Paris, the agency's head of space transportation development attributed the failure, which was local to one engine, to a combination of factors; Stefano Bianchi told Flight International that the most likely cause was damage to thermal protection during a manufacturing process, as there is some "oscillation" of thickness. But, he added, there is little data from the flight owing to the speed of failure, just a few milliseconds.
GOING BIGGER
Critically, the loss of VV15 has no bearing on the upcoming maiden flight of Vega C, a bigger iteration of the launcher that does not use the motor that failed on VV15. Like Vega, Vega C features three solid-fuel stages and a liquid-fuelled fourth stage. Solid fuel motors cannot be throttled, nor can they be stopped or restarted, so are sometimes likened to fireworks – once ignited they burn to exhaustion. But unlike liquids, which often rely on cryogenic fuels, solids can be manufactured and stored – fuelled and ready – until needed for flight. That liquid-fuelled fourth stage finishes a mission with start-stop capability, for precision placement of one or multiple payloads.
The introduction of Vega, a project championed within ESA by the Italian Space Agency, completed a family of three launchers for operations from Kourou, supporting the Ariane 5 heavy vehicle. Vega C promises two big improvements. One is payload capacity; Vega's benchmark mission is 1.5t to 700km (435 miles), while Vega C will lift as much as 2.2t to the same orbit.
That extra payload capacity will increase the ability to handle secondary payloads, cutting launch cost per kilogramme as long as a flight is "full" – and it will come at essentially the same price as Vega, about €35 million ($38 million) per launch. Vega C gets a new first stage; P120C, the largest monolithic carbonfibre solid-fuel rocket motor yet built, is based on Vega's smaller P80 first stage. An all-new second stage is topped by the same Zefiro-9 third stage used on Vega. Vega C's AVUM+ fourth stage introduces a lighter structure and several new European-developed components as a derivative of Vega's AVUM, which relies on inputs from Ukraine.
Vega C's star will also shine in the third big event in Europe's 2020 launch calendar: the maiden flight, expected around year-end, of Ariane 6. Set to replace Ariane 5, this new flagship launcher will come in two versions, A62 and A64, each featuring a liquid-fuelled core based on Ariane 5's with two or four solid-fuel strap-on boosters respectively. Those boosters will be the same P120C motor driving Vega C.
Ariane 6 is the culmination of a long push to rationalise Europe's launch industry. As Bianchi previously told Flight International, the project reflects "a new mindset" of designing for cost and performance.
That new mindset is being realised both in the structure of the launcher and its ground support infrastructure at Kourou – including horizontal, rather than vertical preparation – as well as an overhaul of the industrial structure behind Europe's launch capability. The project is being delivered by a unified Ariane Group, a joint venture between Airbus and Safran, the prime vehicle and propulsion contractors for Ariane 5. Significantly, Ariane Group also now controls the launch operator, Arianespace.
When Ariane 6 was approved by ESA member states in late 2012, the target was set to achieve a launch cost, for what is now A62, of €70 million – less than half of the cost of an Ariane 5 flight. That price target underscores the disruptive impact of Elon Musk's SpaceX and its Falcon 9 launchers; though not as big as Ariane 5, Falcon 9 has the advantage of being built on far newer manufacturing technology from a lean industrial base designed for cost efficiency rather than political expediency. Europe may see launch as a strategic capability that must be maintained, but as one Airbus executive noted early in the Ariane 6 project, Falcon 9 prices were undercutting Ariane by nearly one-third.
Capping off 2020, then, should be the spectacle of a new era in European launch, with new technology and a fresh take on competitiveness. Bianchi says we can expect a third and final test of the Ariane 6 solid booster in April, followed by an upper stage test and system-level qualification of the avionics. On the ground, launch site completion will be followed by a combined test of all systems, including launch and ground segment.
Plans for recovery of schedule delays should mature in March, he adds, when ESA will be able to confirm readiness for launch by year-end.
This new launcher family covers payloads up to 16t with A64, with the 4-7t A62 more than doubling Vega C's range. All variants are subject to ongoing iteration, so the expectation is, eventually, to replace Soyuz in French Guiana.
Launcher development appears to be running to plan while Europe's broader space ambitions have clear momentum. As ESA director-general Jan Woerner noted in Paris in January, the agency's ministerial-level meeting in November in Seville ended with it being granted its biggest-ever budget, of €14.5 billion over three years, split between science and exploration, applications, and enabling and support, which includes launch. Indeed, ESA member states left their launch planners with the extra comfort of a five-year budget to support the space centre in Kourou.