Over the past year, much has been made about the 50th anniversary of the airliner that changed the world – Boeing's 747 "jumbo jet". But that jumbo revolution did not begin in earnest until the type carried its first fare-paying passengers – a historic milestone that took place 50 years ago this week.
Appropriately it was the 747's prime sponsor – Pan Am – that launched the jumbo into service, on a flight from New York JFK airport to London Heathrow. That historic flight departed the US city in the early hours of 22 January 1970, arriving in London around 7h 20min later. But that introductory service was far from smooth – and the disruption had nothing to do with the aircraft's size.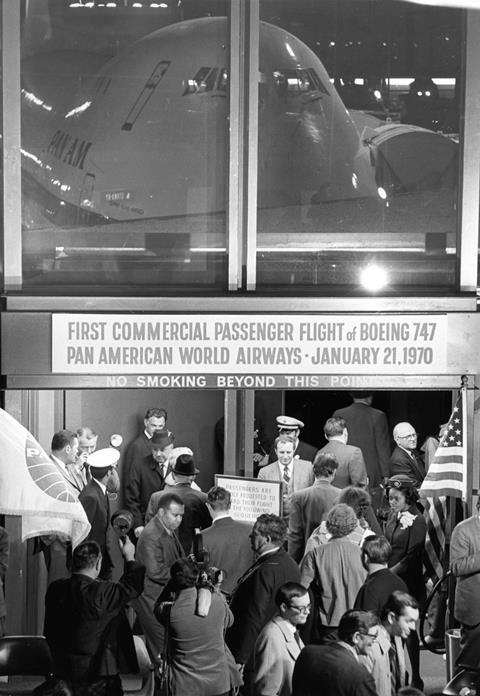 The 747 era had gone from drawing board to reality in an extremely compressed timeframe.
The first aircraft rolled out of its new purpose-built production facility at Everett, north of Seattle, Washington, in September 1968 – just two years after the go-ahead in July 1966.
That initial airframe took to the air on 9 February 1969 – slightly later than hoped – but an intense flight-test programme involving five 747-100s ensured that US Federal Aviation Administration approval was secured by year-end, with a whole day to spare.

Keen to get on with preparations for service entry, Boeing delivered the first two 747s to Pan Am along with two to TWA in December 1969, as the carriers prepared for the imminent introduction of an aircraft that would more than double the size of their aviation hardware.
One of Pan Am's 747s gave Londoners a glimpse of the future on 12 January 1970, when N735PA Clipper Constitution operated a proving flight from New York to Heathrow with 362 passengers on board as part of a planned European tour. In a news report entitled "The 747 arrives", Flight wrote: "This week's proving flight was made with an aircraft which does not yet incorporate the engine modifications. The 747 arrived about 3hr late, after an engine had had to be changed before take-off."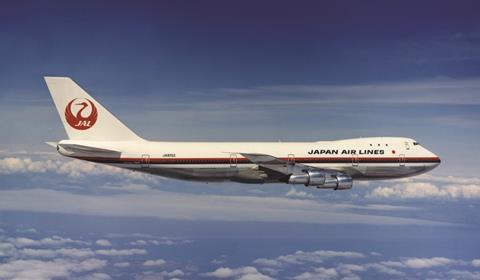 This was a foretaste of what was to come, as "engine troubles and bad weather resulted in the cancellation of the rest of the five-capital European tour, and the 747 departed the next day, some 23hr late, heading for New York".
But it was not powerplant concerns that became a potential pacing item for the 747's debut. Rather, it was the successful completion of the evacuation demonstration. The first attempts on 15 January 1970 at Pan Am's Roswell, New Mexico, 747 training base raised issues with emergency lighting and slide deployments and required some quick fixes. Success came six days later on 21 January and the green light shone for the jumbo's planned debut service that evening.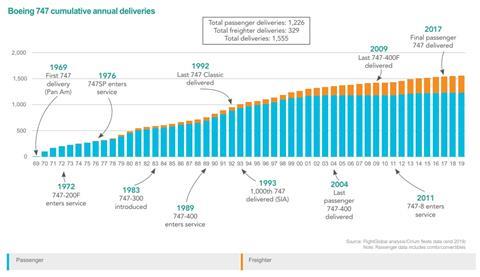 Pan Am offered up its proving-flight aircraft, N735PA, for the 747's inaugural flight PA2 to London. This aircraft had been renamed Clipper Young America by the wife of President Richard Nixon in a ceremony at Washington Dulles the week before.
Commanding the historic inaugural flight would be Pan Am's Atlantic division chief, Captain Weeks, assisted by Captain John Nolan. Once the jet's 22 crew were satisfied that the 345 passengers were strapped in and Young America was ready to go, it pushed back at 19:30. This was already around 30min late – and things grew worse when a problem with the No 4 Pratt & Whitney JT9D forced a return to the gate.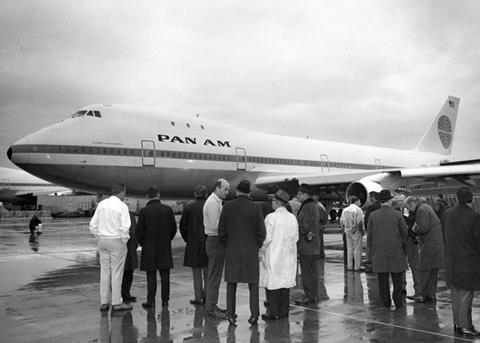 After investigation identified potential internal engine damage, sister ship N736PA was substituted and Clipper Victor finally departed at 01:52 on 22 January, arriving at Heathrow at 14:02. Sadly, that historic airframe would gain notoriety in a tragic way seven years later, when it was involved in a ground collision with another 747 at Tenerife, which remains the world's worst air accident.
The launch of services triggered a production frenzy in Everett, with Boeing delivering 92 747s in the first full year (plus the four at the end of 1969). This would remain the apogee of jumbo output over the next five decades.
Cirium fleets data shows that during 1970, alongside 747 pioneers Pan Am and TWA, a further 13 airlines took their first 747s, namely: Air France, Alitalia, American Airlines, BOAC (which became British Airways), Continental Airlines, Delta Air Lines, Iberia, Japan Airlines (JAL), Lufthansa, National Airlines, Northwest Airlines, Sabena, and United Airlines. Many of these operators went on to be among the largest 747 customers.
JAL became the biggest of them all, taking a total of 106 new aircraft from Boeing between 1970 and 2001. Indeed, the 747 would prove a huge export success for the airframer, with four-fifths of production ultimately going to non-US airlines.
But after the initial production flurry, the global recession of the early 1970s quickly affected Boeing and output fell, dropping to just 21 aircraft in 1975. By then, production of the original 747-100 passenger version had been supplemented by the heavier -200 series and an all-cargo variant. Boeing was also expanding the powerplant portfolio, adding GE Aviation and Rolls-Royce options to the original P&W offering.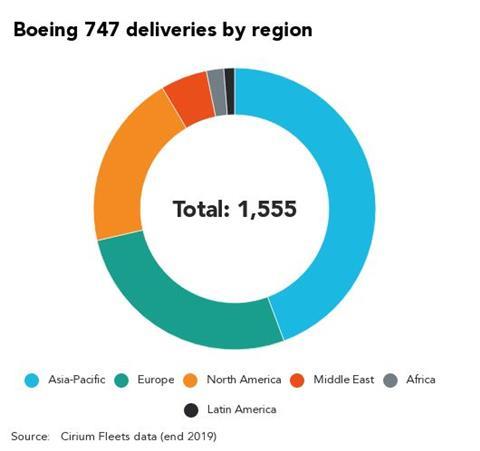 The ultra-long-range 747SP arrived in 1976 and a stretched upper deck variant, the -300, was introduced in 1983, providing a useful increase in capacity. This variant provided the platform for a major update, the -400, which was launched by Northwest Airlines in 1985 and entered service in 1989. Earlier versions were retrospectively designated "747 Classics".
In 1993, Boeing rolled out the 1,000th 747, a -400 passenger aircraft for Singapore Airlines, by which time a new family of stretched derivatives was already under study.
However, the proposed "-500X/600X" studies came to nothing, and after several more false starts Boeing finally launched a major stretched variant in 2005 to counter the Airbus A380. Dubbed the -8I/8F, this derivative family combined power from GE Aviation GEnx engines with significant updates and improvements to the wing.
| | Top 20 Boeing 747 airline customers | |
| --- | --- | --- |
| 1 | Japan Airlines | 106 |
| 2 | British Airways/BOAC | 95 |
| 3 | Singapore Airlines | 85 |
| 4 | Lufthansa | 81 |
| 5 | Korean Air | 80 |
| 6 | United Airlines/Continental | 68 |
| 7 | Cathay Pacific | 61 |
| 8 | Air France | 58 |
| 9 | Delta Air Lines/Northwest | 58 |
| 10 | Qantas | 57 |
| 11 | China Airlines | 48 |
| 12 | KLM | 46 |
| 13 | ANA* | 45 |
| 14 | Pan Am/National | 45 |
| 15 | Cargolux | 32 |
| 16 | Saudia | 28 |
| 17 | Thai Airways International | 26 |
| 18 | Malaysia Airlines | 24 |
| 19 | South African Airways | 23 |
| 20 | UPS Airlines | 23 |
*Excludes 22 deliveries to Nippon Cargo Airlines
Source: Cirium fleets data (total new aircraft delivered, end-2019)
Although Boeing secured several blue-chip customers for the -8I passenger variant, the prime focus was the freighter market. Deliveries began of the -8F freighter in 2011 to Cargolux and of the -8I passenger model to Lufthansa in 2012. Production of the latter variant ceased in 2017 after just 47 aircraft had been delivered – including two to 
be prepared for the US presidential flight.
At the beginning of 2020, deliveries of the 747-8 family are approaching 140 aircraft. Output is now continuing at a low rate, to clear the remaining backlog of around 17 aircraft as the sun sets on the iconic airliner after more than 1,550 examples have been produced.
But when 747 production inevitably ends in a couple of years, it will not go unnoticed in Seattle that Airbus will have already turned out the lights at the A380 plant in Toulouse.