Preparations for an imminent start to production of the USA's first hypersonic weapon, the Common Hypersonic Glide Body (C-HGB), got a boost in March from a third successful test flight, at the Pacific Missile Range Facility in Kauai, Hawaii. That flight, following successes in 2011 and 2017 and one failure in 2014, makes the C-HGB the most-flown weapon in the USA's publicly disclosed hypersonic missiles portfolio.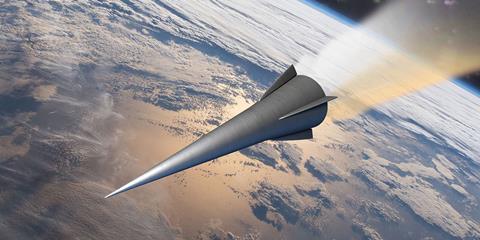 And despite coronavirus delays impacting other US defence programmes, Dynetics Technical Solutions plans to have completed its hypersonic missile production factory in Huntsville, Alabama by the autumn of 2020. The company is leading a team of subcontractors, including General Atomics Electromagnetic Systems, Lockheed Martin and Raytheon.
That team, made up of 38 staff members from each company, is currently at Sandia National Laboratories in Albuquerque, New Mexico studying the design of the C-HGB, which will be produced for the US Army and US Navy (USN).
The US Department of Defense (DoD) is looking to the C-HGB to provide early lessons into the production of hypersonic missiles. It will serve as a pathfinder for other hypersonic weapons that are lined up behind it, including the US Air Force (USAF) AGM-183A Air-Launched Rapid Response Weapon (ARRW), another boost-glide hypersonic weapon.
The US Army plans to launch its version of the C-HGB, the Long-Range Hypersonic Weapon, from the back of an Oshkosh Heavy Expanded Mobility Tactical Truck. That ground-launched system is to be fielded to soldiers by 2023.
The USN's Intermediate Conventional Prompt Strike programme plans to carry the C-HGB atop a booster rocket launched from a Virginia-class submarine. The service wants to achieve initial operational capability (IOC) by fiscal year 2028.
The USAF's other boost-glide vehicle, the air-launched Hypersonic Conventional Strike Weapon (HCSW), was also to be based on C-HGB, but was cancelled in February 2020.
Even though the USAF has split from the USN and US Army's C-HGB programme, the Pentagon is co-ordinating an effort to share technologies, subsystems and knowledge from all its hypersonic missiles across services and programmes, says Mike White, the Pentagon's assistant director of hypersonics. "Part of my job is making sure that as a department we have a fully integrated strategy and a fully integrated team for accelerating our hypersonic pursuits," he says.
"Picking an example randomly out of the air, if we can come up with a way to design a one-size-fits-all guidance algorithm that would make everybody's vehicle perform better [that would be helpful]."
As part of its contract, Dynetics is gathering from Sandia the product knowledge, specifications and expertise it needs to integrate and test the C-HGB missile. It will also share with the DoD ways in which it thinks the design of the C-HGB can be changed to improve the quality of the weapon and its ease of manufacture.
"There will be a series of manufacturability assessments," says Scott Stanfield, director of special programmes for Dynetics. "It's the government's decision if any of those changes are incorporated back into future modifications of the glide body."
BUILDING CAPABILITY
The C-HGB design is government owned, having been designed at Sandia and coming from an earlier US Army project, the Alternate Re-Entry System. In August 2019, Dynetics won a three-year, $352 million contract to produce 20 C-HGB prototypes, with an option for additional examples for the army, navy and the Missile Defense Agency. The company is on contract to manage the programme and its suppliers, as well as parts procurement, assembly, integration and testing. It will also undertake electrical and mechanical manufacturing, and systems engineering for the C-HGB.
General Atomics Electromagnetic Systems is to provide cable, electrical and mechanical manufacturing. Lockheed Martin is under contract to support manufacturing, assembly, integration, test, systems engineering and analysis. Raytheon will build the control, actuation and power-conditioning subassemblies that control flight of the glide body. The thermal protection system for the glide body will be provided by the US government.
Many people were surprised that Dynetics, which is smaller than the three subcontractors it leads, was picked to be the prime contractor on the C-HGB, but the company cites its experience in related fields of engineering. "We have a lot of background in the subsystems that one needs to put together a hypersonic weapon," says Stanfield, citing antennas, avionics, classified manufacturing tables, complex manufacturing, high-end structures, inertial measurement units, radio frequency systems, telemetry, test equipment and testing.
Lessons learned will likely find their way into the USAF's ARRW programme, which is scheduled to conduct its first test flight this year. The service wants that air-launched, boost-glide vehicle to reach IOC by FY2022.
ARRW incorporates the Tactical Boost Glide vehicle, which is being developed jointly between the Defense Advanced Research Projects Agency and the USAF. That glider is wedge-shaped, like an arrowhead, and reported to have a very high lift-to-drag ratio.
The USAF awarded a $780 million contract to Lockheed Martin in 2017 to develop ARRW. It passed its critical design review in February 2020. Lockheed Martin says prototyping is progressing, as are ground and flight testing.
Initially, the USAF pursued two boost-glide weapons, including a modified, air-launched version of the C-HGB, called HCSW. But, because of budgetary pressures the service chose to pursue only one boost-glide variant. It decided on ARRW because of its smaller size and more advanced design, Will Roper, USAF assistant secretary for acquisition, technology and logistics, said in February 2020.
The service thinks it can carry more examples of ARRW than of HCSW on a B-52H strategic bomber. And should the prototype's design not grow in size, it could be integrated into the Boeing F-15 fighter.
The DoD also believes by focusing funding on Lockheed Martin's efforts to develop ARRW, while Dynetics receives funding to produce C-HGB, it will have two mature hypersonic missile programmes soon, said Roper in February.
"In both programmes, we have single suppliers," he said. "We would like to get to dual suppliers for both so that we don't just succeed in flight testing, [but] we move into an industry base that's capable to produce at scale."