Working as part of a pan-European military aircraft enterprise is nothing new for Elettronica. The Italian electronic warfare (EW) specialist – founded in Rome 70 years ago and still family-run – has since the 1990s been the country's champion on the EuroDASS consortium that provides the Praetorian defensive aids subsystem (DASS) on the Eurofighter Typhoon. Before that, it played a role in the Panavia Tornado programme.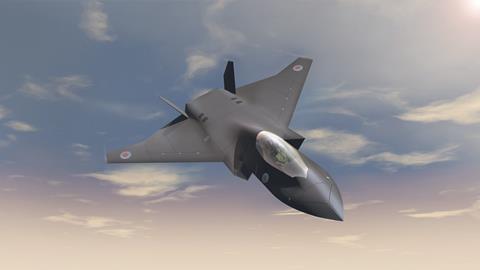 Now the firm is one of four Italian industrial representatives working with the UK's Team Tempest in developing a successor to the Typhoon – the Tempest future combat air system. The effort pits aerospace and defence companies in Italy, Sweden and the UK alongside their counterparts in France, Germany and Spain, which are collaborating on a rival project spearheaded by Dassault and Airbus Defence & Space to design a rival next-generation fighter to go into service in the 2040s.
In global aerospace terms, Elettronica is a modest-sized firm: it employs around 750 people and its 2019 revenues of €268 million ($326 million) place it just outside FlightGlobal's Top 100 ranking of aerospace groups by revenue. However, the company's well-honed expertise in EW means it can compete on equal terms with some of the industry's largest players, insists Paolo Izzo, vice-president global sales. "EW in these big groups is a division. It is our entire business," he says.
Joining the Italian contingent on Team Tempest alongside Elettronica are GE Aviation subsidiary Avio Aero, Leonardo, and the national arm of European missiles house MBDA. In July, the four companies – with BAE Systems, Saab and other industrial representatives from the UK and Sweden – officially kicked off "trilateral industry discussions" on what each company will contribute to the development effort. It followed a framework pact signed at 2019's DSEI defence exhibition in London.
That was not the only international collaboration initiated by Elettronica that year. It joined its EuroDASS partners Leonardo UK, Spain's Indra and Hensoldt of Germany to launch "Praetorian Evolution", a "future concept" for the DASS that provides protection for the Typhoon from the likes of infrared or radar-guided missiles. Future capabilities are likely to include high-precision targeting and advanced combat identification.
"We have been the design authority on the Praetorian with Leonardo UK since the beginning," says Giovanni Zoccali, vice-president Europe and consortia sales. "And that experience is the best base for us to help develop a sixth-generation fighter." Other corporate characteristics necessary for the Tempest effort, he believes, include "the ability to work with partners, to follow a technological plan, and to be open and agile to adapt to new developments. These are all in the DNA of Elettronica."
Elettronica's EW expertise stretches from infrared countermeasures against heat-seeking missiles to escort-jamming technology and anti-drone systems. EW, maintains Zoccali, is becoming crucial in modern warfighting. "It is much more important than in the past. In the next-generation fighter, EW will play a crucial role in a systems of systems environment. Future battles will only be won if we can win this technological race," he says.
A relatively new development for Elettronica is its ground-based ADRIAN – anti-drone interception, acquisition and neutralisation – system, which, says Izzo, is the result of an effort "five to seven years ago to study threats and doctrine in the EW field". The result: a product able to counter hostile mini- and micro-drones, comprising command and control radar, jammer and electro-optical technology. Elettronica is in talks with the Italian military and a "country in the Middle East" about deployment.
Elettronica's business strategy includes moving from marketing single pieces of equipment to offering entire EW suites, marking an approach to airborne combat technology "in which the various subsystems are no longer federate and physically divided by type, but, rather, integrated at a functional level", according to the company. "We want to be not only a provider of products, but a solution provider," says Izzo.
An example of this is the Virgilius multi-platform EW system, which combines alert, surveillance and deception functions in a one-box design, and can be integrated with a directional infrared countermeasures device. "It is a passive and active system in one," says Izzo. Customers include the Italian air force, which has fitted Vigilius on its Leonardo Helicopters AW101 combat search and rescue fleet.
Elettronica says it has grown its order backlog by more than 50% in five years to around €800 million, mainly as a result of success overseas, particularly in the Gulf and Asia. The company has recently opened sales and support offices in Abu Dhabi, India, Qatar and Singapore, and "this intense activity is bearing fruit with substantial orders". Zoccali expects that in the next 10 years, Elettronica will be making just over half its revenues from outside Europe.
Like many of the country's businesses, Elettronica makes much of its "Made in Italy" credentials. "Traditionally, we are an Italian company and the EW point of reference for the Italian ministry of defence," says Zoccali. Elettronica relies on Italy for a "solid 10%" of revenues, but that domestic endorsement is vital. "Support from your own armed forces is an important step for sponsorship of sales to all the markets in the world," he adds.
Even cracking the relatively closed transatlantic marketplace may be a possibility in the future, if Elettronica's bosses can find the right company to work with. "We do not at the moment compete for the US budget," says Zoccali. "But what we are trying to do is partner to present our portfolio. You never know, one day we may have a presence there."