Your views about the aerospace industry and our reporting.
Route to the cockpit
The Honourable Company of Air Pilots has launched an initiative to help those looking for their first (or next) job in the aviation world.
It is apparent that as the industry recovers, which it seems to be at the moment, the job market is becoming both buoyant and competitive. Airlines are on the recruitment drive again, and associated organisations are also struggling with headcount in the ramp-up to summer.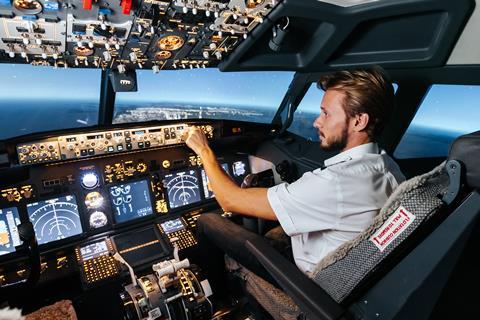 We think there is an opportunity to bridge the gap between providing value and helping the next generation of pilots with their preparation for interviews, aptitude assessments, group assessments, and the like.
We will be running a pilot assessment preparation weekend from 11-12 June 2022, which is a package of interview training and group assessment skills (day one), and simulator assessment and pilot aptitude testing (day two).
The event will be run by industry experts who have been involved in pilot recruitment for decades, utilising techniques and tests used by major airlines. The overall concept is to help prospective pilots focus on developing their skills and to produce an overview/development plan to help optimise their training journey.
Also, if you are considering a career in aviation outside of being a pilot (cabin crew, ground handling, air traffic control, etc), the Interview Training and Group Assessment (day one) is still an ideal place to start as you look to secure a first job and step onto the career ladder.
This is a non-profit-making endeavour and any monies raised are driven towards covering costs, with any excess donated towards our industry-leading scholarship programme.
We are ably supported by University of West London, which will host the event at its Ealing campus, and Turnpoint for course delivery.
To find out more about this course and other career development opportunities, visit airpilots.org/what-we-do/career-development or sign up via the application form.
Will Wright
EasyJet first officer, Glasgow
Immediate Past Chair Young Air Pilots
Honourable Company of Air Pilots, Aviation Careers and Education Committee
Longing for the glory days
I have taken Flight International continuously since 1974, still have every copy and am close to being a 'total aviation person'!
By the time the weekly magazine had dropped through the letterbox I had probably read the previous issue cover to cover over breakfast, in the cockpit, and in the loo. I considered myself well informed about aerospace, and pay tribute to one of the most professional journals on the market.
My teenage fascination with aerospace is undimmed, but I now find myself reading half-a-dozen news items each week that come through on email, and rarely finish the monthly magazine.
Am I the only one who yearns for the single interesting envelope in the weekly post?
Tristram C Llewellyn Jones
Shropshire, UK
Editor's reply: It is now almost two years since our move to the monthly format; we continue to hone the magazine to deliver the best of FlightGlobal's coverage, while maintaining the standards of Flight since it was first published in 1909. We urge subscribers to make best use of their 24/7 online access to FlightGlobal.com – our daily email news alert delivers only a selection of our content. For help with subscriber access to FlightGlobal.com contact flight.international@flightglobal.com
To share your views or submit a letter to Flight International, email flight.international@flightglobal.com