Your views about the aerospace industry and our reporting.
Keep calm and trust your pilots
Lance Cole raises interesting points in his letter 'A burning safety issue' (Flight International, August 2022). I was disturbed though by the implication that pilots are uninformed bystanders in the incidents he refers to.
He refers to an "isolated flightdeck"; it may well be that the cabin is more "isolated" from the broader picture being considered by the pilots.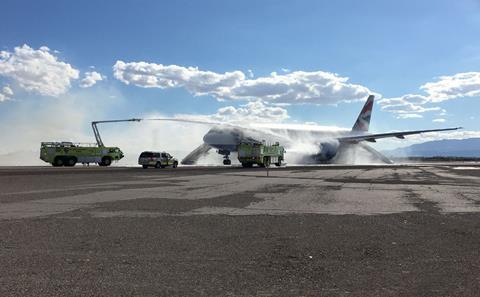 I don't intend to delve too deeply into the cases he mentions, but the incident with the wing burning may well have been correctly handled. With the fuselage not immediately threatened (taking into account the pattern of the flames and wind direction) and, having seen the close proximity of approaching fire crews, the flightcrew judged it safer to stay on board.
In the airline I work for as a widebody captain, cabin crew are trained to only initiate evacuation if the circumstance is "clearly catastrophic". This is defined as a situation when it is probable that the pilots are incapacitated, or conditions inside the cabin are unmanageable and pose an extreme and immediate threat to life.
"The sight of flames" (as alarming as that may be) and "windows warmed" will not qualify.
Pilots are taught to gather information and make objective judgements taking more factors into account than may be immediately obvious to others. What seems dramatic and compelling may well not be the main consideration regarding the best course of action.
For example, a tailpipe fire, which could burn the underside of the wing, requires a drill to blow air through the engine to put the flames out. Time taken starting the auxiliary power unit to enable this could be required, on top of other processes involved. Should the cabin crew precipitously initiate an evacuation in this instance, the pilots would be compelled to stop the drill, allowing the fire to spread.
In other circumstances, non-pilot-initiated evacuation could be an extreme risk, as engines may still be running.
Procedures are written by expert industry insiders – who have far more knowledge than I do – after lengthy consideration. For it all to work, it is imperative the drills are followed correctly and not jeopardised by impulsive passengers who believe they have better ideas.
How is it acceptable to condemn the carrying of cases during an evacuation while, on the other hand, Mr Cole tells us that he would potentially choose to disobey the commands of the crew during an incident? If people cherry-pick which regulations they choose to obey, it will certainly lead to more confusion, danger and fatalities during a major incident.
Protocols are sound as they are, although that is not to say that all incidents run smoothly.
Trust your pilots to arrive at the correct decision by use of their training, and co-operate by obeying those commands passed down the chain to the cabin; that remains the safest way forward.
James Allen
Brackley, Northamptonshire, UK
Hot topic
Having seen the fires in London, south Hampshire and elsewhere in the UK that took place this summer, is it about time we put in place our own capacity for aerial firefighting, or in other words "water bombers"?
According to the National Fire Chiefs Council there were 247 wildfires in the UK last year, but in 2022 there were 442 by a little over halfway through the year.
I spent 2009 in Canada converting the first BAe 146 water bomber and it never occurred to me that a requirement for such an aircraft word arise in the UK. However, times change and temperatures have risen since then and we need to take measures now to protect lives, property and the countryside while the long-term measures to counter global warming start to take effect.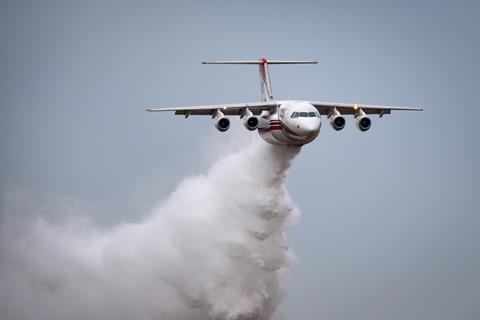 Two aircraft could easily cover the whole of the UK, and based on a 400mph (347kt) cruise could be on the scene within the hour. If work started now we could have aircraft available for the next summer – or fire season, as it is becoming.
France has more than 20 aircraft in its firefighting fleet, while the UK currently has not a single one.
I have started a petition calling for the UK government to "establish and maintain an aerial firefighting capability to combat wildfires" to get something done, but it needs support and raised public awareness of what could be put in place.
Two aircraft and the initial year's operation would cost less than one Lockheed Martin F-35 for the Royal Air Force.
Find out more at petition.parliament.uk/petitions/620876
Richard Thomasson
Newnham, Gloucestershire, UK
Removing barriers
In my opinion as a retired pilot, I do not think that locking the cockpit door and adding some new barriers between the flightdeck and the cabin is the best way to improve the whole safety of flight operation (Flight International, September 2022).
In the cabin of a modern aircraft, we find more and more electronics in seats, including television screens for communication, comfort and entertainment purposes, meaning there are panels full of breakers and switches. Those systems are prone to failure, due to overheating and numerous other critical behaviours.
Technical crews may need to intervene in order to secure the operation of a given item through proper checklists. There are situations, too, when a technical crew may have to check, such as evaluating a leak in the cabin floor or from a wing, or assessing any abnormal flight performance, from a cabin window.
In addition – and not to be disregarded – access to rest compartments, toilets and food storage or galleys requires frequent opening of the cockpit door.
To remain captain in command of the aircraft, as well as to manage the whole crew and passengers, means that you should have the opportunity to move in the cabin, for a short while, when deemed necessary.
In order to get rid of the risk of having a lunatic barricading themselves on the flightdeck, it should remain possible for any crew member to force the cockpit door open at any time.
The best way to ensure maximum safety aboard an aircraft, considering hijacking risk and any other human threats, should lie in providing a proper and thorough screening check of every passenger and cabin bag at the most considered critical moment: prior to boarding.
This undoubtedly occurs when a passenger leaves the waiting area of the terminal and transits the bridge leading to the cabin entry door. Any forbidden item would be identified, removed and its holder taken aside straight away, meaning that no sensitive object would ever enter the cabin.
That surely would eliminate one of the greatest potential dangers in human wrongdoing and lawbreaking on an aircraft?
Jean-Pierre Callu
Via email