General Atomics Aeronautical Systems is planning an air launched effect (ALE) test from its MQ-1C Gray Eagle Extended Range (ER) unmanned air vehicle (UAV) this summer.
The company aims to launch a drone called the Area-I Air-Launched Tube-Integrated Unmanned System (ALTIUS) from the Gray Eagle ER. Initial testing is to be focused on optimising the data rates of the UAV's TrellisWare radio datalink, the manufacturer said on 7 March.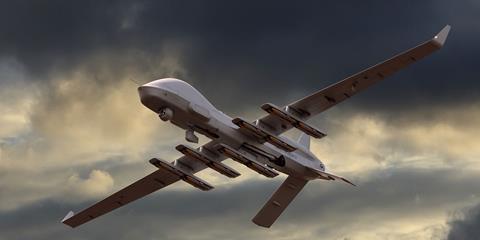 "For our demonstration this summer, we will show that ALEs can operate 32.4-43.2nm [60-80km] from the Gray Eagle ER," says Chris Pehrson, vice-president of strategic development for Department of Defense customers with General Atomics. "This range is limited due to airspace and data link constraints. However, as data links mature and are optimised, we expect ALEs will deploy and operate up to 162nm from the Gray Eagle ER."
The flight demonstration is to be the third of a series in which General Atomics wants to show that the US Army's MQ-1C can be modified and used in battles against so-called Great Power nations, sophisticated adversaries with advanced radar and surface-to-air missile air defences.
The US Department of Defense is increasingly worried that its aircraft are vulnerable to being shot down. Several of the US Air Force's General Atomics MQ-9 Reapers – the MQ-1C's larger cousin – have been lost to such action over the Middle East in recent years.
To keep the MQ-1C beyond the reach of an adversary's missiles, the company is experimenting with using long-range sensors on the platform.
"Greater range of sensors enables all Gray Eagle configurations to operate outside of threat [air defence artillery] engagement ranges and survive through the end of the fight," says Pehrson. "Recent army-sponsored independent [modelling and simulation] analysis against advanced integrated air defence system threats showed that 'no Gray Eagles were lost' when operated at altitude, on the friendly side of the forward line of troops."
In the two earlier demonstrations, the company says it showed the MQ-1C was able to use L3Harris Technologies' Rio Nino Communications Intelligence system to detect emitters, such as radar or radio communications. A General Atomics Lynx synthetic aperture radar sensor cross-cued the targets at a range of more than 32.4nm.
Those targets could then be fired upon by the US Army's Long Range Precision Fires artillery, nearby troops, tanks or helicopters, as well as long-range weapons, such as missiles or loitering munitions, launched from the Gray Eagle ER.
In the third demonstration, the ALTIUS will be controlled with Area-I's software. Uplink and downlink data for the UAV will be sent from the ground through the Gray Eagle ER data link and then out via the onboard TrellisWare radio to the ALTIUS.
Eventually, General Atomics plans to control the UAV, or any other ALE, from its Scalable Command & Control software program, which can fly the MQ-1C in place of a full ground control station. The software runs on a standard US Army ruggedised laptop and uses a commercial video game controller.
The ALTIUS is recoverable and reuseable. It is thought of as "attritable", meaning it is cheap enough to be lost or destroyed without serious financial pain to the service.
General Atomics is looking at air recovery of ALEs from the MQ-9B and is considering it for the MQ-1C as well.
"It is feasible for Gray Eagle ER and something we will continue to consider," says Pehrson. "Gray Eagle ER is a flexible platform and we will work closely with the army to support the recovery method that they require."
The army has not said how many ALEs it would want the MQ-1C to carry, but General Atomics says it is capable of carrying 12 to 16 ALTIUS-sized drones.
The US Army's aviation modernisation plan
1

2

3

4

5

Currently reading

General Atomics plans air launched effect test from MQ-1C Gray Eagle this summer

6