The US Air Force Research Laboratory (AFRL) hopes to cut the time and cost of developing hypersonic missile components by pushing them to speed with a relatively low-cost air-launched rocket. Generation Orbit began building the X-60A hypersonic test vehicle in April. Following flight readiness and safety reviews, the AFRL says flight tests could begin later this year and continue into 2021.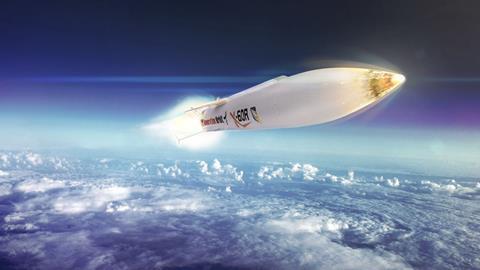 The X-60A is an important piece of US Air Force (USAF) plans to develop an arsenal of hypersonic missiles. Designed to fly for more than 30s in excess of Mach 5 in nearly horizontal flight profiles within the atmosphere, the single-stage X-60A has a small delta wing for manoeuvrability and is propelled by a 5,000lb-thrust (22.3kN) Hadley liquid-fuelled rocket engine developed by Ursa Major Technologies.
The vehicle's ability to reach hypersonic speeds – after air launch by a NASA C-20A, a military version of a Gulfstream III business jet – allows the service to test in ways that hypersonic windtunnels cannot. It also allows the laboratory to test components without the expense of flying a whole hypersonic missile.
The AFRL expects the X-60A – and its payload – will be subject to forces similar to those of actual hypersonic missiles, conditions that should help the US Department of Defense build upon work done in hypersonic windtunnels and computational fluid dynamics models. Those ground testing tools are critical to evaluating early iterations of hypersonic missile designs, but have limited capabilities.
"Subjecting technologies at the combined aerodynamic heating and aerodynamic flow rates that occur at hypersonic flight conditions for extended durations is very challenging in ground test facilities," says Barry Hellman, the AFRL's X-60A programme manager. "Also, hypersonic windtunnels introduce acoustic noise which can affect the ability to properly replicate a vehicle boundary layer. AFRL believes the X-60A will provide a platform to enable extended duration testing without the need to develop a custom flight system each time to fly a particular technology."
KEY MILESTONE
Ultimately, by using the X-60A as a testbed, the laboratory believes it can push the maturity of hypersonic missiles and components to Technology Readiness Level 6, or what NASA defines as a "fully functional prototype or representational model".
Though the X-60A is cited as an important testbed by the USAF, it is being developed on a relatively small budget and by a relatively small team.
Generation Orbit has a fairly small crew of about 25 employees working full time and around 25 part-timers working on the X-60A. The AFRL, meanwhile, has two employees working full time and another 15 working part-time on the programme.
The AFRL has committed to investing about $25 million to develop of the X-60A. Generation Orbit, a start-up far smaller than many of the other players in the nascent hypersonic missile industry, was chosen to develop the vehicle via a Small Business Innovative Research competition.
Ultimately, with hypersonic missile tests costing tens of millions of dollars, the USAF is looking to save money with the X-60A.
"A single hypersonic flight is projected to cost under $5 million, not including the payload hardware and its integration," says Hellman of the test vehicle. In the future, the AFRL may try to make the rocket vehicle cheaper by adding recovery and reuse requirements, he says.