Hopefully, at some point during their career, people in the sales world are lucky enough to feel the buzz of selling a product that literally flies off the shelf.
Tony Lefebvre is incredulous that the product in question is boring old aviation fuel. "We have seen uptake of customer demand that is off the charts," says the chief operating officer of Signature Flight Support, one of the world's leading fixed-base operators (FBOs), with a network of 200 locations.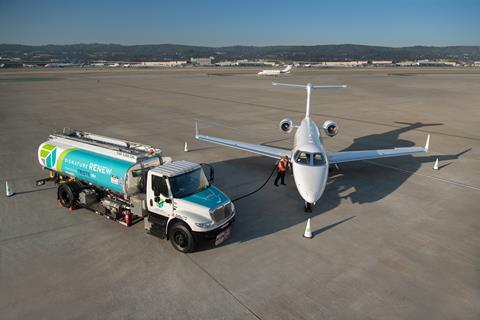 However, the product is not simply regular Jet A-1 fuel, but sustainable aviation fuel (SAF), bought by Signature, supplied by Finnish SAF manufacturer Neste and delivered to launch customer and operator NetJets at San Francisco International airport. This landmark deal, announced in September 2020, is one of many in recent months that demonstrate a significant ramp-up in commitments by the private and business aviation community to sustainability action.
Signature had been thinking about establishing the industry's first permanent supply of SAF for private aviation for some time, but availability was restricted, and customers were interested but not always convinced, explains Lefebvre. The pandemic helped change that. Commercial airlines have not needed as much SAF because their networks are moribund, giving others a chance to step in.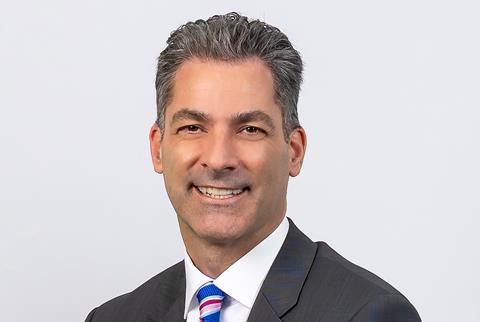 "We said to ourselves, let's flip an entire airport," says Lefebvre. That airport is San Francisco. Signature began fuelling NetJets aircraft with a blend level of 35% SAF to 65% regular Jet A-1 last December. It has committed to buying 5 million litres (1.3 million USgal) of SAF from Neste, and by the end of March, all customers taking fuel from Signature at the airport have been receiving the SAF/Jet A-1 combination.
GROWING CONCERN
NetJets has bought 792,000 litres of Signature's SAF supply for the San Francisco hub, explains Pat Gallagher, its head of sales, marketing and services. Before the onset of the pandemic, NetJets, one of the world's largest private jet operators, had been receiving "a great number of enquiries about what we were doing from a sustainability standpoint", he says.
In 2019, this topic had overtaken faster wi-fi on board aircraft as the most pressing issue, but as the pandemic took hold, it took a back seat for a few months. Now, environmental concerns have returned in a big way, with customer interest ranging from high net-worth individuals to Fortune 500 companies seeking an overview of NetJets' sustainability strategy to ensure they can satisfy their environmental, social and governance targets, says Gallagher.
NetJets took another step forward on its commitment to SAF at the start of this year, building on its deal with Signature. "Rather than just procure SAF, we wanted to be far more strategic than that and invest in its production," says Gallagher.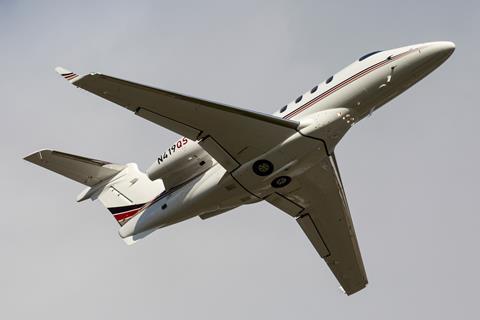 In January, the fractional aircraft ownership company announced that it was taking a 20% stake in WasteFuel, a US-based start-up planning to build a network of SAF production plants worldwide, with the first coming on stream in the Philippines in 2025. "As the world's largest private aviation buyer of fuel, we can do this, we can lean in with our scale and our financial ability to invest," explains Gallagher.
NetJets has committed to buying a minimum of 26.4 million litres of WasteFuel's SAF over the next decade.
One of the arguments against SAF has been its cost premium over Jet A-1. At the headline level, this is often said to be three to five times the cost of conventional aviation fuel. But at a blend of 35% SAF, customers will only see a relatively small difference in price because of the relatively modest proportion used, says Gallagher. And depending on where the SAF is taken, there may be a tax credit to offset this premium, as there is, for example, in California.
And as more SAF becomes available, the price will come down. "The price point with WasteFuel by 2025 will be negligible," believes Gallagher. By then, the blend of SAF is likely to have risen, as engine manufacturers such as Rolls-Royce are already successfully conducting tests with 100% SAF.
TOP PRIORITY
The importance of sustainable alternatives is clear for an industry that relies so heavily on fossil fuel. Aviation is working hard and fast on electric, hybrid and hydrogen propulsion as alternatives, but conventionally powered turbofan and turboprop aircraft will be around for decades to come.
The business aviation world argues, with some justification, that it has been working as diligently as its airline counterparts on sustainability strategies for years.
In 2009, the industry adopted an independent stance, publishing the Business Aviation Commitment on Climate Change (BACCC), an industry-wide promise to reduce its environmental impact via three goals and four key mechanisms as an overall basket of measures to reduce the sector's impact on climate change.
At its core, this commitment, published by the International Business Aviation Council and the General Aviation Manufacturers Association, called for carbon-neutral growth from 2020 (updated in the 2015 review of the commitment) and an absolute reduction of 50% of carbon dioxide (CO2) emissions by 2050 relative to 2005. These players are currently reviewing this commitment to see if it remains relevant and powerful enough with a decade having passed since it was originally written.
There is pressure from all sides, especially large corporations, to do more. The business aviation sector is all too aware that it must step up on sustainability, recognising that despite the good medical and humanitarian work it does, the perception of it being accessible mainly to the rich is a challenge.
In the past couple of years, there has been a refreshing change of pace from this community. "The real game-changer is that the flight departments of the FBOs and the fuel suppliers are getting clear customer demand," says Steve Csonka, executive director at the Commercial Aviation Alternative Fuels Initiative (CAAFI).
There have been several initiatives such as SAF being available for aircraft flying to shows such as EBACE in Geneva and NBAA in the USA to demonstrate its availability and efficacy. Another high-profile public relations exercise involved providing SAF to fuel private aircraft leaving Zurich after the World Economic Forum in January 2020.
The industry's main associations banded together in 2018 to form the Business Aviation Coalition for Sustainable Aviation Fuel. They have been joined by many industry stakeholders along the way, with CAAFI and the Canadian Business Aviation Association joining in 2020. The coalition seeks to address a "knowledge gap" on the availability and safety of SAF and to promote its use among all stakeholders.
The increased use of SAF is seen as vital for aviation in general to achieve the BACCC goals by 2050, but with limited availability right now, the coalition promotes so-called "book-and-claim" and carbon offset programmes to augment or stand in for its use.
Book-and-claim is a programme "where business jet operators can purchase SAF at an airport where it is unavailable, and receive credit for its supply and use at an airport where it is available", explains the coalition's Fuelling the Future guide to SAF.
The principle is important, explains Csonka, as many operators will not be able to buy SAF directly, either because they do not have the buying power, or because it simply is not available at the airports they operate from.
Aviation's main associations are close to announcing the creation of a standard that will help establish an industry-wide, accountable, and transparent global book-and-claim system.
SkyNRG has had an in-house book-and-claim system called Board Now since 2019, allowing firms such as PwC to reduce their business travel emissions, says Stephen Wetmore, head of business development at the Dutch SAF developer. "We have demonstrated that it works, and it is accepted by the carbon credit bodies," he says.
This book-and-claim standard is an important step for the entire aviation industry, enabling users to gain the carbon reduction credit for the SAF they buy, whether it is used to fuel their aircraft or one taking SAF at any airport anywhere in the world.
STOP-GAP MEASURES
Book-and-claim will be limited by the amount of SAF being produced, but will increase in popularity as SAF plants come on stream in the coming years.
In the meantime, many operators are buying carbon offsets. These enable users to compensate for a proportion of an aircraft's carbon emissions by investing in carbon-reduction projects that have lower emissions, according to Fuelling the Future.
Operators such as Flexjet, NetJets and VistaJet all offer offset products to customers. Other stakeholders are coming in. Recognising that many players may find it challenging to navigate the offset world, Boston-based 4AIR has developed a rating system. In January it was the first to buy carbon offset credits on IATA's Aviation Carbon Exchange for charter firm PrivateFly.
For the next couple of years, all players will need to get up to speed quickly with the new and complex world of sustainability. This includes the associations that represent the industry.
With the arrival of larger business jets such as the Bombardier Global 7500 and Gulfstream G650, which are becoming comparable to the take-off weights and missions of airliners, the business aviation sector felt it was increasingly important for its own voice to be heard in policy-making circles.
Lobbying is focused on the largest business aviation markets of the USA and Europe for now. And this activity is stepping up, even though business flying is minuscule compared with global airline operations, representing only 0.04% of global CO2 output.
In the USA, the arrival of the new Biden-Harris administration, with an agenda more focused on the environment than the previous one, is encouraging the industry. Several business aviation players were among an array of 49 stakeholders who in April wrote to Pete Buttigieg, US Secretary of Transportation, urging "the Biden-Harris administration to support the inclusion of a SAF-specific blender's tax credit in the American Jobs Plan as you work with Congress to address infrastructure and the climate challenge".
The proposal is a credit of up to $2 per USgal, which would make a difference and would be a starting point in helping to make SAF more affordable, says Stewart D'Leon, director, technical operations at the NBAA. "We believe a blender's tax credit will allow us to accelerate the widespread production and use of SAF. It is something we need to put the entire nation on an even playing field," he says.
In the USA, the lobbying effort is to support the tax credit, whereas across the Atlantic, the European Commission's focus is on compelling operators to embrace SAF-using mandates. The first approach offers a carrot, the second is more stick.
The Commission is expected to publish its proposed legislation, called ReFuelEU Aviation, to boost the supply and demand for SAF in the EU, in May. The European Business Aviation Association supports the initiative, but stresses that any rules or mandate stipulating that a percentage of SAF to be used "has to be scaled up as time goes on", says Bruce Parry, its senior environment manager.
It is possible the rule might demand SAF usage at a minimal level starting in 2025, rising to a low single-digit figure by 2030 as more of the fuel becomes available. "What we don't want is a mandate that creates an issue because there is not enough fuel to satisfy it," explains Parry.
PROVIDING ANSWERS
Talk of mandates, tax credits and book-and-claim may baffle those just getting their head around SAF itself. "A really important part of this is education," says D'Leon. "I still see a large number of operators and people on the legislative side with some very basic questions about SAF." The industry coalition is seeking to answer these questions.
Signature, meanwhile, is very much operating in the here and now. In addition to San Francisco, it has made SAF available at London Luton airport in the UK and Mobile Downtown, Van Nuys, and Boeing Field in the USA. "We will be live with actual [SAF] product across the whole network by the end of 2021," says Lefebvre.
Whether via actual pumped SAF, or via book-and-claim, business aviation is taking SAF and sustainability seriously. For D'Leon, the message is simple: "SAF works, it's here and it's now."
Bringing sustainable fuel use into the mainstream
There is a group of sustainable aviation fuel (SAF) "geeks" that have lived and breathed the rise of this fuel from an oddity over a decade ago to the mainstream carbon reduction instrument it has become today.
Bodies such as the Commercial Aviation Alternative Fuels Initiative, and manufacturers Bombardier, Dassault and Gulfstream, among others, have been intimately involved in SAF since the mid-2000s.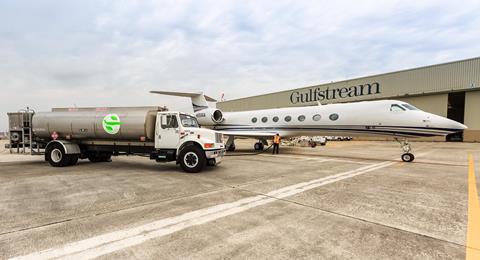 Gulfstream's SAF story dates to 2011 when, at the behest of Honeywell, it supported a G450 transatlantic flight to that year's Paris air show, recalls Charles Etter, staff scientist/technical fellow responsible for environmental and regulatory affairs at the Savannah, Georgia-based firm.
One of the G450's Rolls-Royce Tay 611-8C engines was operated with a 50:50 blend of World Energy's SAF and Jet A-1, while the other was 100% Jet A-1. The experiment generated widespread publicity for all involved and prompted potential investors to contact World Energy.
Gulfstream began searching for a regular SAF provider and signed an offtake deal with World Energy (then called AltAir) in 2015. Fuel began arriving a year later and the airframer has used it ever since for demonstration flights and at air shows with a 30:70 SAF/Jet A-1 blend. "Some customers also insist their new aircraft are delivered with SAF," says Etter.
The initiative went a step further on 14 February 2020, when the G700 ultra-long-range business jet took its first flight with SAF, he says.
Aircraft manufacturers are making further strides on sustainability. Bombardier says the development plan for its clean-sheet Global 7500 involved obtaining business aviation's first environmental product declaration.
"This unique achievement means that Bombardier is providing a comprehensive view and public disclosure of the Global 7500's environmental footprint throughout the aircraft's life cycle stages from cradle to grave," says the airframer.