Assessing airline safety performance in 2020 is problematic because the year was exceptional, so meaningful comparisons with former years are difficult. The main difference, clearly, was the sharp reduction in flying during the year because of travel restrictions related to the coronavirus pandemic.
Meanwhile, fatal losses during the 12-month period were just as high as in some recent years when commercial air transport operated normally.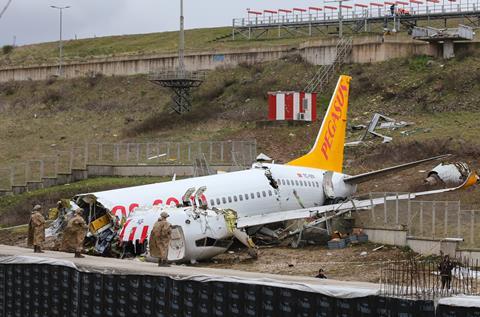 Globally there were 12 fatal airline accidents in 2020, resulting in the deaths of 332 passengers and crew. This compared with 22 fatal accidents and 297 fatalities in 2019, when commercial airline activity was at a normal level. The previous safest year for air transport was 2015, when the figures were nine losses and 176 deaths.
Looking at accident rates rather than simple numbers, information from Cirium's Airline Safety and losses Annual Review 2020 shows that the number of flights per fatal accident was not significantly different from the previous three years' data.
World airline fatal accidents and fatalities, 2011-2020*
2011
2012
2013
2014
2015
2016
2017
2018
2019
2020
Fatal accidents
32
21
26
19
9
13
12
14
22
12
Fatalities
514
425
281
671
176
306
56
543
297
332
Source: FlightGlobal * Includes fatal accidents caused by deliberate action
"Despite the challenges of coping with Covid-19, the airline industry has generally maintained its expected high level of safety," says Paul Hayes, Cirium's safety director. "Based on the fatal accident rate, 2020 was the second safest year ever, only narrowly being beaten by 2015."
Cirium's criteria are slightly different from FlightGlobal's, in that they do not include those accidents which were caused by "acts of violence", whereas FlightGlobal considers all risks. Finally, Cirium includes only turboprop and jet-powered aircraft.
BAD PLANNING
Among the four fatal jet accidents in 2020, three were the result of poorly planned and badly executed approaches in serviceable aircraft in conditions that should not have been a problem for the crews. These involved a Pegasus Airlines Boeing 737-800 at Istanbul Sabiha Gokcen airport on 5 February, a Pakistan International Airlines (PIA) Airbus A320 in Karachi on 22 May, and an Air India Express 737-800 at Kozhikode-Calicut airport on 7 August. Between the three of them, they killed 121 passengers and crew.
Pegasus seems to have a problem with landing on wet runways in poor weather, because the Istanbul accident mirrored a similarly serious runway excursion at Trabzon in January 2018. It is still not clear why the Trabzon excursion involved a swerve off the runway, because there has not been a report yet, but the Istanbul incident almost certainly occurred because the crew made a 20kt (37km/h)-tailwind approach to a runway which advises a maximum tailwind of 5kt, and is also noted as being a problem when wet. As a result, the 737-800 landed long and with a high groundspeed, went through the 60m (196ft) overrun area, down a slope and broke up, killing three people and injuring many more.
In a separate event at Sabiha Gokcen on 7 January last year, another Pegasus 737-800 ran off the side of runway 06 and became bogged down in soft ground on arrival from Sharjah, the United Arab Emirates, in gusting winds, reduced visibility and heavy rain.
The PIA fatal accident near Karachi International airport seems to have been an example of a crew breaking every rule that applies to the safe conduct of a final approach to land, leaving the reader of the investigators' initial report wide-eyed with disbelief at their behaviour. The inquiry needs to establish not only what happened, but what state of mind the crew was in – and why.
TOO FAST
In the early part of the descent the aircraft was far too high to be able to intercept a safe glidepath in time to land on runway 25L as planned, and air traffic control realised this and suggested an orbit to lose height. But the crew persisted with a direct, manually flown approach with the airbrakes out.
Although the crew finally did intercept the glidepath and had selected the gear down, they were flying far too fast to land, and when descending through 1,750ft with 5nm (9.2km) to go to the runway they selected the gear up – possibly thinking they were selecting it down. They proceeded, and only realised that they were landing with gear up when the A320's engine cowlings touched the runway. It was during an attempted go-around with damaged engines that the crash occurred. Of the 99 people aboard, 97 were killed, with additional victims on the ground in the residential area where the narrowbody came down.
The Air India Express flight at Kozhikode-Calicut airport was another victim of a tailwind approach followed by a dangerous overrun, which left two crew and 19 passengers dead. It mirrored a fatal tailwind/overrun accident by the same airline at Mangalore in May 2010 in which almost everyone on board was killed. Both those airports are on flattened hilltops with little or no runway overrun, and steep slopes beyond.
Air India Express has warnings and specific crew procedures relating to these airports, but they do not seem to be working. In the case of the Mangalore accident, crew fatigue was mentioned as a contributory factor.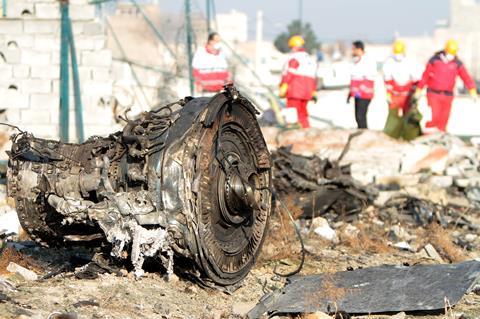 The other commercial jet loss in 2020 was the worst in terms of casualties: on 8 January, a Ukraine International Airlines 737-800 that had just taken off from Tehran Khomeini airport, bound for Kiev, Ukraine, was misidentified by Iranian military personnel as hostile. Two surface-to-air missiles were launched, bringing the aircraft down and killing all 176 people onboard.
TWITCHY DEFENCES
The political context behind the Iranian military's twitchiness at that time was that the killing by US forces of its top general, Qassem Soliemani, had taken place in Iraq less than a week earlier, prompting revenge threats and missile attacks on US and coalition bases in Iraq, and a limited retaliatory US air strike on an Iranian base.
The Tehran event, however, was only one of two fatal shootdowns last year. The other casualty of military misidentification was an African Express Airways Embraer EMB-120 Brasilia operating a medical relief charter flight into Baardale, Somalia, on 4 May. It was shot down, ironically, by a peacekeeping unit, killing six people.
In both cases, effective communication between air traffic control and the military could have prevented the losses. The effect of these mistakes, however, was disastrous, so debating the military intention is mere semantics as far as the airlines and the victims are concerned.
Meanwhile, if airlines are inclined to write this risk off as a pair of freak events, it is worth recalling that there have been three other such fatal military mishaps in the past few decades.
These included the July 1988 misidentification shoot down of an Iran Air A300 by a missile launched from the USS Vincennes in the Persian Gulf. The aircraft was flying a scheduled service from Bandar Abbas, Iran, to Dubai, and all 290 people on board were killed.
In October 2001 a Sibir Airlines Tupolev Tu-154 flying from Tel Aviv to Novosibirsk was shot down over the Crimean Sea when it became the victim of a missile fired at a target drone during a Ukrainian military exercise. The missile missed the drone and homed in on the passenger aircraft, killing all 78 people on board.
Then, in July 2014, flight MH17, a Malaysia Airlines 777, took off from Amsterdam and was flying over eastern Ukraine on a scheduled flight to Kuala Lumpur when it was blown out of the sky by a missile. According to the official report by the Netherlands air accident investigation agency, it was shot down by pro-Russian Ukrainian rebels using a Russian-supplied missile. It was probably also a misidentification shootdown, but Russia and the Ukrainian rebels have denied any connection with the event despite compelling evidence to the contrary.
REDUCING RISK
ICAO has looked at ways to reduce the risk of airliner shootdowns, and has concluded that solutions already exist. National governments, their transport departments, ICAO itself as a UN agency, national aviation authorities, plus trade organisations such as IATA, all have a duty to monitor risk to aviation from conflict zones. Airlines accept responsibility for assessing traditional threats to their routes – such as weather – before every flight. Arguably, assessing the risks of flying through conflict zones is a responsibility that they have always had.
Meanwhile, November 2020 witnessed the beginning of the end of an unprecedented chapter in aviation safety history. In March 2019 Boeing's 737 Max was grounded worldwide – for almost two years, as it turned out – because of control system design flaws that led to two fatal crashes. These accidents involved Lion Air in October 2018 and Ethiopian Airlines in March 2019.
Following the long grounding, the Max was last November cleared by the US Federal Aviation Administration (FAA) to return to service domestically. American Airlines was the first to resume operations with the type, with a revenue flight from Miami to New York La Guardia on 29 December, carrying 100 fare-paying passengers.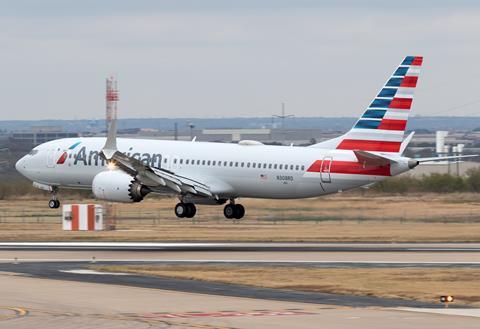 During the grounding there was close international scrutiny of work by Boeing and the FAA to redesign the re-engined narrowbody's manoeuvring characteristics augmentation system (MCAS), blamed for the crashes. As a result of this multi-national co operation, aviation authorities in Europe and the rest of the world are expected to approve the aircraft's return to commercial service in their jurisdictions soon.
The European Union Aviation Safety Agency (EASA) has decided to go a little further than the FAA. The proposed airworthiness directive (PAD) specifying requirements for the 737 Max is a consultation document for which all responses had to be received by 22 December. EASA executive director Patrick Ky was at pains to point out that the agency, while co-operating with the FAA on correcting the MCAS anomalies, also insisted on looking independently at the type's entire flight control system and its integrated functionality.
Ky explains: "EASA's review of the 737 Max began with the MCAS but went far beyond. We took a decision early on to review the entire flight control system and gradually broadened our assessment to include all aspects of design which could influence how the flight controls operated. This led, for example, to a deeper study of the wiring installation, which resulted in a change that is now also mandated [in the PAD]."
GRANDFATHER RIGHTS
The latter change is a requirement to bring the venerable 737-series' wiring routing system up to date, and it is a signal that the days of "grandfather rights" are numbered. Grandfather rights are a dispensation to build the later versions of an aircraft series in some respects in the same way as the original versions were constructed – rather than as new aircraft are now required to be designed.
The Max airframe design came through all the EASA handling tests satisfactorily, as Ky details: "We pushed the aircraft to its limits during flight tests, assessed the behaviour of the aircraft in failure scenarios, and could confirm that the aircraft is stable and has no tendency to pitch up even without the MCAS."
Pilots will be reassured by that report, because it was an aerodynamic difference between the 737NG series and the Max, leading to a tendency to pitch up at low airspeeds with gear and flaps up, that the MCAS was designed to mask.
Two principal differences between the FAA and EASA requirements are explained as follows: "EASA explicitly allows flight crews to intervene to stop a stick-shaker from continuing to vibrate once it has been erroneously activated by the system, to prevent this distracting the crew."
This permitted crew intervention would allow the pilots to pull the stick-shaker circuit breaker.
The stick-shaker – a system designed to alert pilots to an approaching stall – was one of the distractions that faced the Lion Air and Ethiopian Airlines crews before they lost control of their aircraft. In fact, neither aircraft was stalling; the shaker in both cases had been triggered by a false warning from a faulty angle of attack sensor.
In any normal year, the extraordinary worldwide grounding of the Max would have had a disastrous commercial effect on airlines already operating the type or expecting delivery of it, but in fact Covid 19's near-immobilisation of commercial air transport worldwide rendered the Max's long grounding almost invisible to the media and the public.
DELAYED RETURN
The airlines have been able to live without the 387 Max aircraft already delivered to them, and also without the additional 450 that had rolled off Boeing's Renton, Washington production line following the type's removal from use. Most of the latter are in storage, awaiting any updates not already incorporated, and ultimate delivery.
The return to service of all the grounded aircraft will take months, however, because they all have to be brought up to the new technical specifications, and the airlines have to provide revised training for their Max pilots that will entail at least 2h in a full-flight simulator as well as computer-based training, even if they have flown it before.
From 2021, as the pandemic is gradually brought under control and demand for flying hopefully recovers, the airlines will face the task of ensuring that pilots of all their fleets – not just the Max – who may have been taken off flying for many months, get the refresher training they need to restore their licence currency, competence, and confidence.
Some in the industry predict considerable change, such as the accelerated retirement of older aircraft, particularly four-engined jets.
This has already begun with the 747-400, and has also affected A340 and A380 fleets, releasing experienced pilots back to the line, and these will need retraining too.
Consultant Captain Jacques Drappier, formerly of Airbus, predicts airlines will offer early retirement to some senior pilots, and move the younger ones on to their big twins. The same will be true of maintenance staff and cabin crew.
Safely overseeing all this change under financial pressure, with the associated disruption to skilled personnel, will be a considerable challenge for airline management and national aviation authorities.
Supporting documents
Click link to download and view these files