There isn't much like flying the F-35A upside down – 300ft off the ground – at air shows.
For Major Kristin "Beo" Wolfe – who became the US Air Force's (USAF's) first female F-35A Demonstration Team commander in 2020 – the "eye-to-eye" manoeuvre is one of her favourites.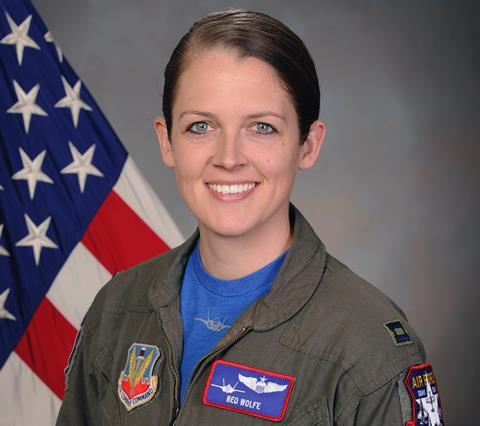 Showing off the capabilities of the stealth fighter and getting Americans to fall in love with aviation is mission number one of the single-ship aerial demonstration team.
The Lockheed Martin F-35As used in the displays are fully combat-capable and on loan from squadrons at Hill AFB, in Utah. At any one time, two to three of the type are on rotation with the demonstration team.
Wolfe is the only pilot in the F-35A Demonstration Team who is qualified to perform the Lightning II's aerobatic display. The 18min aerobatic routine is tightly scripted; planned out by a prior demonstration team commander, Lockheed test pilots and signed off by a four-star USAF general.
"There's a lot of behind-the-scenes work that went into making altitudes, air speeds and the routine safe, but really entertaining," says Wolfe. "We're pretty happy with what it looks like right now."
CHANGING PERCEPTIONS
Air show performances are slowly chipping away at years of accusations that the F-35 lacked dogfighting abilities. Crowd-pleasing displays of combat manoeuvres like the slow-speed pass certainly help.
For that part of the routine, Wolfe flies the aircraft into the wind, 500ft off the ground with a 35° angle-of-attack – at an indicated airspeed as slow as 90kt (167km/h).
"That's not all the jet can do. That's just all we're safely allowed to do that close to the ground," she says. "It shows off how stable the airplane is, as far as a manoeuvring dogfighting platform."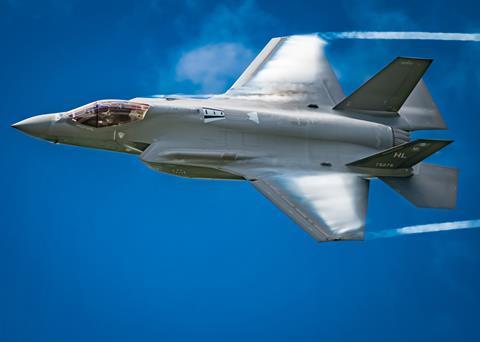 Wolfe, who is also qualified on the Lockheed F-22 Raptor, says the F-35's light weight, advanced flight computer and fly-by-wire controls help the aircraft to "max perform".
To be sure, the F-35 was designed as a do-it-all joint strike fighter, whereas the F-22 is aimed primarily at air dominance roles.
The F-35 has "very similar handling, but you can feel more [nose] authority and thrust with the F-22", she says. "The Raptor was built to dogfight. It was built to be more manoeuvrable. It can pull a little more angle of attack. It has more nose authority with thrust vectoring."
As commander of the F-35A Demonstration Team, Wolfe is not only tasked with flying aerobatic routines, but also manages a 15-person contingent of aircraft maintainers, support personnel and public affairs officers. In 2022, the team is scheduled to support 22 aerobatic performances at air shows and other public events across the USA.
"The mission of the team is to go to air shows and interact with the public – Zoom calls, school visits, hospital visits, that kind of stuff – to spread the word of aviation, get people excited about it, particularly the F-35," says Wolfe.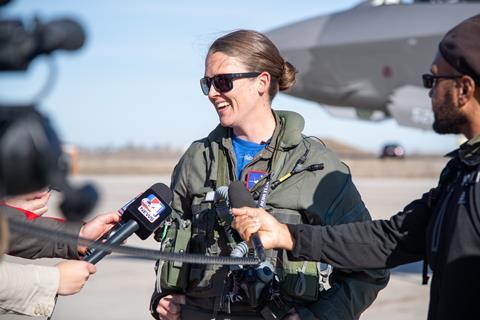 She is well accustomed to the constant travelling and moving that is the hallmark of a military lifestyle, as her father also was a USAF pilot.
"I was extremely familiar with that environment growing up, as far as moving with the military every couple of years, being around air force bases, being around airplanes, understanding what a fighter pilot life looked like."
Wolfe entered the service in 2011 after receiving her commission from the USAF reserve officer training programme at the University of Alabama. Since then, the service has improved "leaps and bounds" in becoming more welcoming toward women, she says.
"I think the air force has a very good job of not really caring who you are or what you look like; it's really just about getting the job done," says Wolfe. "That part hasn't changed a lot in my mind. It's really just been how well can you fly the airplane."
PROGRESSIVE POLICY
Yet, flexibility in female grooming standards – the service allowed women to wear their hair in braids, ponytails or with bangs [a fringe] starting in 2021, for instance – has helped the USAF "become a little bit more progressive", she says.
Changes like that have ensured "we're getting the best quality of people in the air force", says Wolfe.
Ultimately, the F-35A Demonstration Team is a recruiting tool for the USAF, she says, noting that it is not just the goal to attract future pilots, but also to show off support roles such as aircraft maintainer jobs.
When it comes to advice for women interested in becoming pilots, Wolfe says it is important to get exposed to aviation.
"You could take flights with Civil Air Patrol or go take a couple of flight lessons. See if you're interested in it," she says. "Just try to get your foot in the door with the aviation community. [That] is probably the best start."