A year on from Airbus's decision to halt A380 production, the outlook for the superjumbo's long-term prospects has diminished further
This December, two decades will have passed since Airbus launched the A380 programme during a media scrum at its Toulouse headquarters. It is doubtful there will be many celebrations to mark the 20-year anniversary at the end of 2020, as by then Airbus will be completing production of the last batch of aircraft ahead of the final deliveries in 2021. The crisis created by the coronavirus outbreak has added to the programme's woes, as airlines suspend A380 operations amid a slump in demand.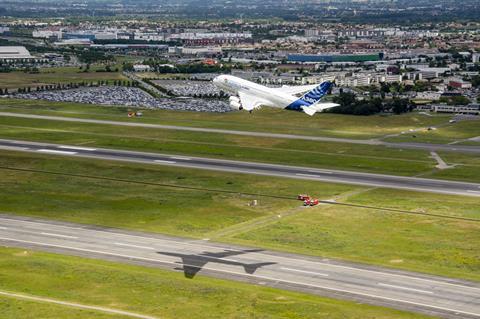 Europe's superjumbo programme was formally signed off on 19 December 2000, when Airbus announced that the A3XX project was to go ahead as the A380, following approval by the consortium's then shareholders EADS and BAE Systems. The launch was backed by 50 firm orders from blue-chip customers including Air France, Emirates, Qantas, Singapore Airlines and Virgin Atlantic, along with lessor ILFC.
The huge role that Emirates was set to play in the A380's fortunes was not evident at the time of launch; the Dubai carrier's original order was for 12 aircraft (including options), when it became the first customer to sign for the A380 at the 2000 Farnborough air show. Paradoxically, its commitment to the programme was at the centre of the A380's termination, which occurred on 14 February 2019, after Emirates agreed to cut its total A380 orders from 162 to 123 aircraft.
Announcing that A380 deliveries would cease in 2021 with the delivery of the 251st aircraft, outgoing Airbus chief executive Tom Enders explained: "We have no sustainable A380 backlog and hence no basis to sustain production, despite all our sales efforts with other airlines in recent years."
Describing the A380 as an "outstanding engineering and industrial achievement", Enders added: "[This] announcement is painful for us and the A380 communities worldwide."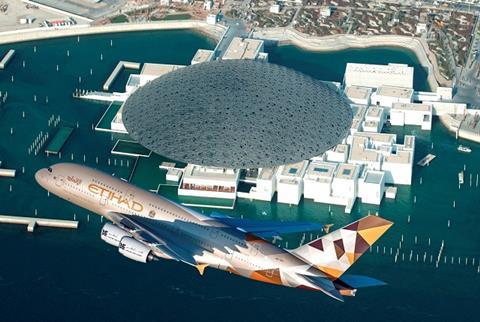 From before its launch, the A380 always divided opinions among analysts and OEMs alike as to the size of the market for an aircraft with upwards of 500 seats. Pitched at the replacement market for the original jumbo jet, the Boeing 747, Airbus targeted a double-digit reduction in direct-operating-cost per seat for the A380.
Airbus forecast the A380 was sized for a market that would require at least 1,200 ultra-large types over 20 years. As usual, it expected to capture no less than half that requirement, so 600-700 orders.
Speaking prior to the launch in 1998, Airbus's vice-president forecasting and strategic planning, Adam Brown, said that an A3XX-sized aircraft was "necessary to enable the airlines to continue to meet the growing worldwide demand for air travel within an increasingly environmentally constrained and congested airport and air traffic control infrastructure". He added that "the only solution" to the expected capacity constraints "will be to increase the average number of seats offered per departure".
Boeing, with seemingly no appetite to build an all-new design to rival the A380, was convinced otherwise and made no secret of its view that Airbus's thinking was flawed. It was consistent with its view that the market was far lower than Toulouse's forecast – and in any case included a significant number of freighters.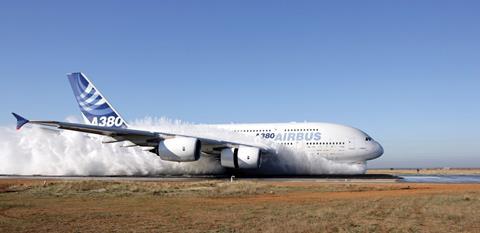 Things came to a head in late 2003, by which time Airbus's 120 A380 orders were still not enough to dispel Boeing's long-term pessimism. Seattle's then vice-president marketing, Randy Baseler, forecast the 20-year world market for "Boeing 747 and larger" passenger aircraft was unlikely to exceed 320 aircraft, while the Airbus demand forecast for 500-plus seaters was over 1,100 deliveries.
This huge divergence prompted Brown to question whether Boeing was "living in a parallel universe", forecasting that his 10 A380 launch airlines would alone account for 400 deliveries by 2023.
Hindsight is a wonderful thing, but it turns out that Baseler's 2003 20-year forecast was not too far off: total A380 and 747-8 passenger orders stand at 298 aircraft.
When SIA took its first A380 in October 2007, then chief executive Chew Choon Seng declared: "From today there's a new 'queen of the skies' for air travel."
Passengers undoubtedly love flying on the Airbus superjumbo and while it outlasted the airlines' previous "queen", the 747, it only secured a fraction of the original jumbo jet's orders. And Toulouse will not need reminding that when A380 production ends next year, new 747s will still be rolling out from Boeing's Everett factory (albeit in cargo form).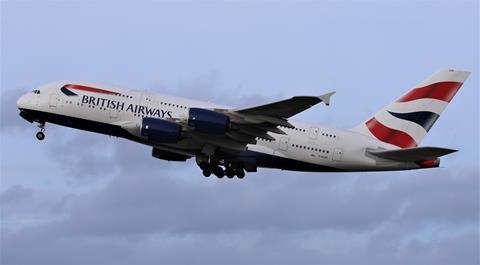 One of the A380 marketing taglines used by Airbus was "see the bigger picture". But perhaps Toulouse should have heeded its own advice, argues Teal Group vice-president for analysis Richard Aboulafia.
"The A380 was a terrible idea from the start. It was basically born to die," he says.
"Airlines were heading towards profit maximisation, not market share and volume maximisation. More importantly, route fragmentation – geographic, schedule frequency, and even brand options – were clearly the future. Nobody really liked flying through Frankfurt or Narita unless they had to, and as the system grew, there were more point-to-point and hub-to-point options."
Rob Morris, who is global head of consultancy at Ascend by Cirium, says there are several fundamental reasons that the A380 failed.
"It was expected to deliver fundamentally lower seat-mile costs and allow airlines to build hub-and-spoke models which would consolidate passenger volume at low cost. However, the reality is that smaller twin-aisles have since been developed which have compressed the seat-mile cost gap, and thus airlines have preferred to build point-to-point networks instead," he says.
"In essence, if Airbus bet on consolidation and Boeing on fragmentation, Boeing won."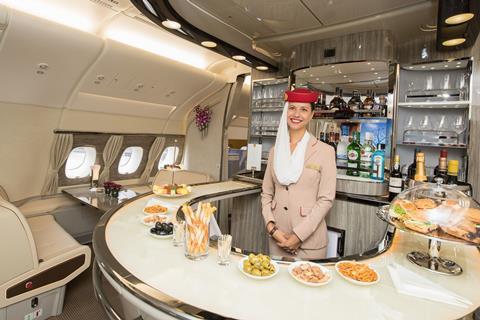 Emirates Airline president Tim Clark, undoubtedly the most prominent A380 advocate, believes that its market penetration was damaged by rival airlines lacking the courage to commit to a large fleet of the 500-plus seater.
"Had the industry been as bold perhaps as we were, there would be a different story on this," he told FlightGlobal at last year's Dubai air show.
But there was a different story around the time of launch in 1999 and 2000, with regard to airlines' position on the A380's size: "At that point in time nobody stood up and said it's perhaps too big. So clearly there was a belief in the community," says Clark.
But in the eight-year period between launch and service entry, the aviation industry and global economy suffered several major shocks, the first of which was the 9/11 terrorist attacks in 2001.
"When it came to market in 2007-2008, the world fell apart. That almost killed it before it had got anywhere," says Clark.
"And as the airline community and its corporate governance was put in the hands of people who were more concerned about survival and taking care of what they had, rather than perhaps what they could have in the future, the A380 was a casualty."
Clark says that the arrival of advanced widebody twinjets was the final straw for the A380: "The improving fuel economics [of the new big twinjets] has kind of placated the concerns about what they could've done [with the A380]. They say: 'We don't need 500 people we can actually fly point to point on a long-haul basis with these new aircraft.'"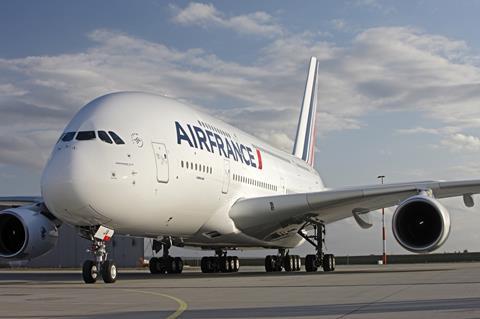 Morris believes the A380 customer base transpired to be much lower than originally forecast, largely because in today's networks, few airlines could profitably operate such a large aircraft on more than a handful of routes.
"Thus, even those customers (other than Emirates) who have selected the aircraft have ended up with much smaller fleets than expected." He also cites Airbus's inability to execute the A380 product development plan as a factor in its demise: "The [baseline] design was originally compromised by the plans to have a two- or three-member family, with both 450-seat shrink and 650-seat stretch derivatives," says Morris.
"The consequent design compromises meant that when Airbus considered a mid-life upgrade to correct the seat-mile cost dynamic, the amount of effort and investment required were simply too great to be able to close the business plan."
Clark particularly regrets that Airbus was unable to gain sufficient momentum in the mid-2010s to launch the so-called "A380neo" or "A380plus". He says this proposal would have been powered by second- or third-generation [Rolls-Royce] Trent XWB engines and featured major wing improvements, along with large winglets and considerable weight reduction: "Seats reduced from about 19kg to 11kg – 600 of those, do the math," says Clark.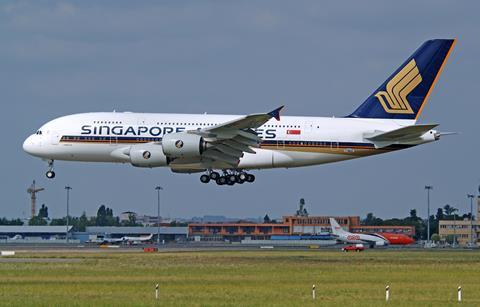 As Airbus completes production of the final A380 airframes, the first aircraft delivered a decade ago have already been scrapped. SIA has withdrawn five A380s, while Air France retirements began in February. Qatar Airways revealed last year that it is likely to begin removing its A380s once they are more than 10 years old.
Although only one A380 has so far been put into service by a secondary operator, Morris says that the various early retirement announcements – and the decision to end the programme – are yet to have made a fundamental impact on Ascend's A380 value outlook.
"Our asset risk rating, which expresses downside market value risk as a number, for A380 in early 2018 was F8 (indicating 32.5% market value downside risk over our future Base Value), and this remains unchanged today," he says. "However, we have made fundamental changes to our Current Market Value, where our half-life opinion for a 10-year-old aircraft in early 2017 was $98.9 million compared to $74.0 million today.
"But this opinion-change is more driven by observation of performance of the aircraft in the secondary market over that period, than it is by the announcements."
The A380 fleet stands at 236 aircraft, but with just nine remaining to be delivered and retirements under way, it is unlikely to expand much further. Morris says Ascend has always been "somewhat pessimistic" about the A380's chances in the secondhand market as "there are very few airlines who can profitably operate such a large aircraft", he says.
"The only secondhand operator, Hi Fly, is an ACMI operator and being relatively large, the aircraft is not achieving high utilisation – from flight-tracking data we estimate it has flown less than 1,500 revenue hours since it was delivered to Hi Fly in July 2018.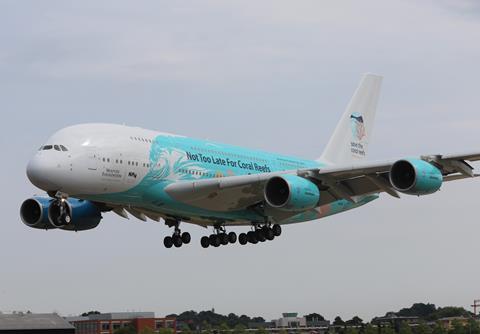 "Given the high cost of transition, if an existing A380 operator were to take a secondary market aircraft, it does seem likely that the majority of aircraft will remain with their original operator until their planned retirement, with very few heading to alternative operators," adds Morris.
The latest Cirium Fleet Forecast takes a conservative view on the A380 retirement cycle, envisaging almost 200 aircraft still in service by 2030.
"With the limited secondary and part-out markets, the reality is that most operators will continue to operate for the remainder of the aircraft's economic life, albeit clearly the economic life of A380 is likely to prove typically shorter than most other widebody aircraft today," says Morris.
Clark said last year that he was unsure what would fill the long-term need by Emirates and others for an A380-sized aircraft to operate at slot-constrained airports: "There are certain routes on our network where we have for instance six A380s a day running at 92% [capacity], each carrying 515 people," he says.
"One of our concerns is that when the A380 goes and we're still stuck with six slots, we'll have to put a 777-9 on the route, but it's going to be 130 seats lighter in terms of capacity."
Aboulafia believes it will be a long wait until there is a significant requirement for such an aircraft: "The process of route fragmentation is playing out over a much longer period, and in a much more profound way, than anyone thought, even serious A380 critics like me," he says.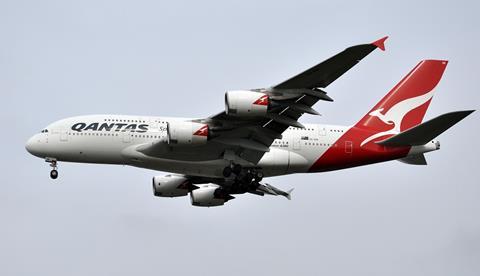 "It will be a while before the large-twinjet market comes back to its pre-2016 peak, and a much longer time before the market needs something bigger than a 777-9."
Meanwhile, Airbus is facing the prospect that when it ends A380 production in 2021, its largest aircraft will be the 350- to 410-seat A350-1000, making it smaller than the 777-9, which can seat up to 426 passengers. However, the manufacturer indicates it is in no hurry to fill the A380-sized void.
"We do see [long-term] demand for large aircraft…and that demand could support A380-sized aircraft," said senior vice-president business analysis and market forecast Bob Lange at the 2019 Dubai air show. "The question is how much [demand] and what level of technology, and at what time?"
He adds that Toulouse currently has no A380 succession plan to help operators who are currently forced to use ultra-high-capacity aircraft in the face of airport slot restrictions: "In terms of the demand for other large aircraft later, we need to see how that falls as it's not currently part of our plans, because we see a growth for smaller aircraft replacing larger aircraft where slots are not restricted."