For the US Army, speed means advantage, so it has set demanding targets for its planned Future Attack Reconnaissance Aircraft (FARA). With a cruise speed of at least 180kt (333km/h), the aircraft that will replace the Bell OH-58 Kiowa Warrior as its scouting and light attack rotorcraft is to be designed, built, tested, flown and fielded to its first unit by 2028.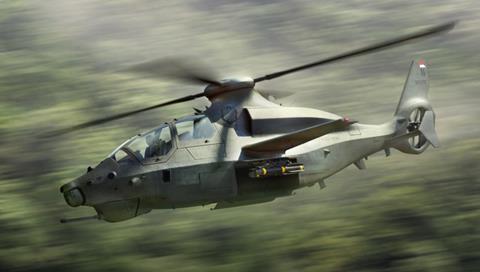 For Bell's 360 Invictus team and Sikorsky's Raider X team, both which advanced into the next round of the FARA competition in March, that means there has been no time to celebrate. "On the day the announcement came there were some high fives around the office," says Christiaan Corry, Sikorsky test pilot. "But at the next day's integration and design meeting, it was like it never even happened because we were still in the midst of discussing… what suppliers are doing and how that is all going to come together over the next couple of years."
Bell describes a similar strategy of running headlong toward the award decision while making long-lead material orders and building sample production parts. Both companies are now in discussions with the US Army on how to refine the designs of their respective aircraft, and each contends that it brings unique advantages to the competition. For its part, Bell emphasises that its winged helicopter, the 360 Invictus, is simple to manufacturer and maintain in the field; traits which ought to save the army money in the long run. Sikorsky leans on the track record of its speedy X2 compound helicopter technology, which it has test flown on three different rotorcraft: the X2, the S-97 Raider and the Sikorsky-Boeing SB-1 Defiant.
TOP PRIORITY
Adding FARA to its fleet is the US Army's number one aviation priority. The service has been without a scout helicopter since retiring the Bell OH-58 Kiowa Warrior in 2017, and has since then got by teaming Boeing AH-64 Apache attack helicopters with the General Atomics Aeronautical Systems MQ-1C Gray Eagle unmanned air vehicle (UAV).
Still, the service would rather have an aircraft dedicated to scouting targets and performing light attack missions. It especially wants something small and fast. In particular, a rotorcraft with a cruise speed of 180kt and a rotor diameter no greater than 12.2m (40ft).
The aircraft are also to have a modular open systems architecture, so that sensors, electronics and weapons can quickly be swapped out for the next best thing as technology advances. Each aircraft is also to have room for an Integrated Weapons Launcher, which is to carry the service's forthcoming Long Range Precision Munition (LRPM) and Air Launched Effects (ALE), a catch-all term for reconnaissance UAVs or loitering munitions.
The army wants all of those features so FARA can penetrate the airspace of advanced adversaries, such as China or Russia, and take out integrated air defences, as well as enemy tanks.
It believes it needs the speed so that the scout can hit adversaries before they can react. The small rotor diameter is to help FARA hide and fight within narrow city streets – a likely battlefield of the future as the world's population increasingly urbanises. LRPM and ALE are to allow the rotorcraft to spot and fire upon targets from a safe haven a great distance away.
The capabilities are so important that the army has set a rapid timeline for acquiring FARA. The service wants prototype aircraft ready for flights by fiscal year 2023. A winner would be selected by the end of FY2024.
TESTED TECHNOLOGIES
Five companies were part of the previous phase of the FARA competition. Those that did not advance include AVX Aircraft, which was partnered with L3Harris, plus Boeing and Karem Aircraft. What advancing companies Bell and Sikorsky have in common are designs that incorporate technology already flown on other aircraft.
The 360 Invictus is built around the rotor system of the Bell 525 Relentless, an in-development super-medium commercial helicopter. However, the 360 is different in that it has only a four-bladed rotor, while the 525 has five. Also, the 360's main rotor diameter is shortened to 12.2m, while the 525's measures 16.6m. The 360 Invictus also has a wing, a booster auxiliary power unit, tandem seating for better aerodynamics and a ducted tail rotor.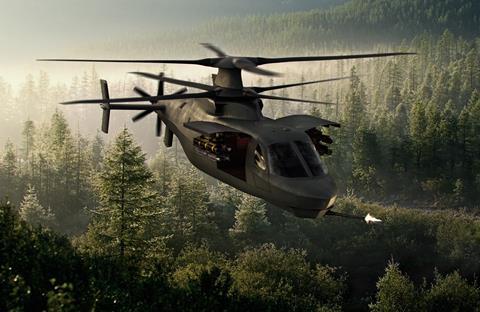 Sikorsky's Raider X concept is built around its X2 compound helicopter with co-axial main rotors and a pusher propeller. That configuration has been flight tested on the X2, the S-97 and recently the SB-1. The Raider X looks similar to the S-97, but is about 20% larger partly to make room for the US Army's engine of choice, GE Aviation's T901-900 turboshaft.
Bell argues that by sticking closer to a traditional helicopter design, albeit one with a wing to provide lift at high speeds, it will be able to offer the army a more affordable scouting aircraft.
"When the aircraft is in the fleet or in the field, if it becomes a big resources drain that impacts everything else [negatively]," says Frank Lazzara, Bell's director of advanced vertical lift systems sales and strategy. "We did not go after a complex propulsor because of the complexity and weight. With weight usually comes cost." Bell also points out that it went with a four-bladed main rotor to reduce complexity. And, the company says its main rotor will be made of conventional materials, making it easier to manufacture.
Sikorsky notes that its X2 technology has been flown on multiple aircraft, and stresses that its rigid rotor system has fewer moving parts compared to a conventional main rotor. Key Raider X advantages include speed and room for payload growth, it says.
"The retreating blade stall that any kind of single main rotor aircraft is going to have, you don't have with this aircraft," says Jay Macklin, Sikorsky's director of Future Vertical Lift, noting that the aircraft could handle additional power in the future. "I think GE is probably going to find an ability to drive more power into the [T901-900] engine," he adds.
Sikorsky also notes that its side-by-side cockpit makes for a wider aircraft body which can hold additional munitions, fuel or soldiers, should the army want to make use of the extra capacity in the future. "While that wasn't an explicit request or requirement on the army's part, you can imagine as they evolve their tactics, techniques and procedures, and try to find new ways to use the asset, that could certainly be a warfighter enhancement," says Macklin.
Both companies expect FARA to be a constantly evolving aircraft, even well after a competition winner is selected. Sikorsky says FARA could include a modular back cabin that would allow the service to quickly swap out munitions for extra fuel or seating for soldiers. Bell notes that it is including extra drag in its aerodynamic test models to account for sensors or weapons that the army might decide to add later.
"I suspect that the scout and reconnaissance role is going to morph quite a long way from the Kiowa Warrior fella with binoculars and a radio," says Corry.
The US Army's aviation modernisation plan
1

2

Currently reading

How Bell's 360 Invictus and Sikorsky's Raider X compare

3

4

5

6