Swap the military uniform for a business suit and you would struggle to tell the difference between UK Royal Air Force (RAF) Air Vice-Marshal Paul Lloyd and the chief executive of an airline, when discussing their collective climate challenge.
He speaks in precisely the same tone and covers the same themes as his counterparts in the commercial aviation world. The talk is about roadmaps, sustainable aviation fuel (SAF) and disruptive propulsion technologies, as the military and airlines pursue decarbonisation head-on.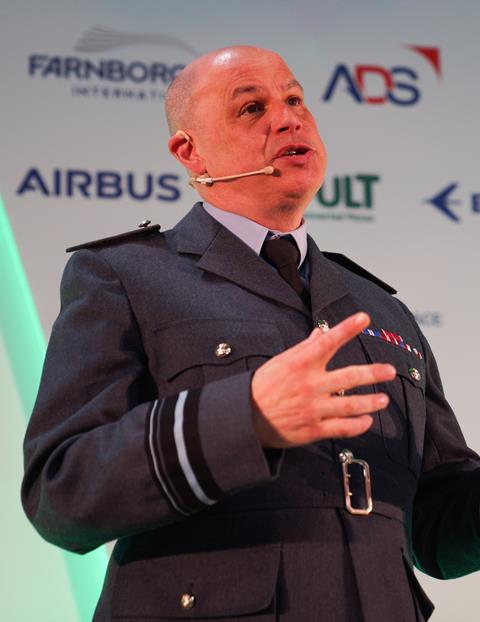 The RAF remains unique among world air forces in setting a date by which it aims to reach net zero. In July 2021, its then-chief of the air staff Air Chief Marshal Sir Mike Wigston established the target as 2040, identifying climate change as a transnational challenge.
LEADING ROLE
"This is super-ambitious," Lloyd told FlightGlobal at the Farnborough International-organised Sustainable Skies World Summit in mid-April, where he was a keynote speaker. "The view was if we don't get ahead of the game, if we don't take the leading role then we'll be left behind.
"It was around setting a challenging date and then working out what would you have to do to achieve it," he says. A more conventional and scientific approach would have been to set a date that was technically achievable, but for Lloyd that date "would be a long time in the future, because we haven't accelerated some of the technologies we need to".
"So, it's the other way around. If you set it in 2040, what would you need to do to achieve that date? What are the challenges and how do we get there?"
The aspirational side of 2040 comes with a hard-edged need to meet UK law. Decarbonising defence is a necessity, as current government legislation requires all greenhouse gas emissions to be net zero by 2050.
In addition, the RAF takes a wider view of the emissions challenge by leading strategic thinking within UK defence as it acknowledges it is "34% of the problem", says Lloyd, who was in January 2021 promoted to his role of chief of staff support, Headquarters Air Command, and chief engineer (RAF). He is also co-chair of the Defence Suppliers Forum Climate Change and Sustainability Working Group at the Ministry of Defence (MoD).
Furthermore, setting a date that is just 17 years away was also designed to galvanise the RAF itself.
"The reason the last chief of the air staff set the 2040 deadline is because he believed it brings it into the consciousness of the workforce now," says Lloyd. "If we let this meander on for another 10 years, because of the way the budgetary cycles work in the military, it could be too late. I know that the new chief of the air staff, Air Chief Marshal Sir Richard Knighton, is as equally committed to dealing with the RAF's sustainability challenge.
"There is also a thought leadership role around the RAF helping other nations, partners, and NATO, in moving forwards as well, in concert particularly with the Americans," he adds.
"The way we are delivering it is in three buckets: a net-zero real estate infrastructure, because we have a sizeable number of 29 bases to deal with; the net-zero aviation part; and bringing 'consciousness sustainability' into our culture, our business-as-usual processes, and our investment appraisals."
OPERATIONAL EDGE
The flying part of the RAF contributes the hardest to abate and largest element of the service's carbon challenge. The trick will be doing this and not compromising the ability to fight.
"Within defence, clearly what can't happen is we trade operational effectiveness or operational advantage for sustainability and net zero. We have got to maintain that operational edge," he says.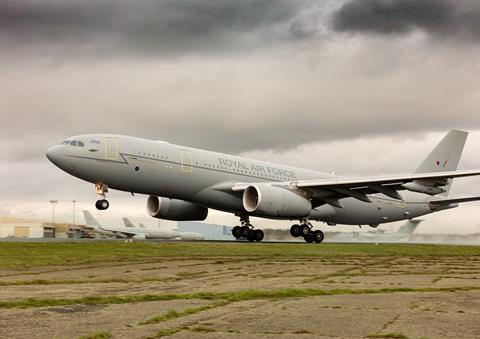 "But the good thing about that is when you look at the work in net-zero technologies a lot of that brings operational advantage to you. For example, if you deploy to a forward base in the future and you can provide your own energy, which will tend to be by solar or whatever, it has a benefit of helping the net-zero [goal] but at the same time it builds resilience because you're no longer reliant on external power."
In addition, moving to a world where more jet fuel is manufactured locally would be a benefit. Today, the UK imports about 60% of the jet fuel it needs and the RAF acquires it from the market.
"We have seen the challenges over the years of instability and issues around supply chains, so if we can generate more, particularly SAF, locally in the UK, that builds resilience, and it is a good thing for the military to have resilience," says Lloyd.
"But also, we're on the journey," he adds. "The world is going to change to these new energy and fuel sources, and we have got to be ready for that. We have got to operate throughout the world, with our allies and partners, and we need to better operate together, and we need to continue to use whatever the new fuels are available to us. If we don't do that, then we'll be at an operational disadvantage."
To coincide with the conference in Farnborough, the RAF conducted its latest in a series of SAF demonstrations, with an Airbus Defence & Space A330 Voyager multi-role tanker transport refuelling four Eurofighter Typhoons over the North Sea with a 43% SAF blend.
Today, all RAF aircraft are qualified to operate on SAF blends of up to 50%, but last November a Voyager was flown for the first time using 100% SAF. Since then, the service has performed "proof-of-concept" flights passing SAF to receiver aircraft including the Typhoon and Lockheed Martin C-130J.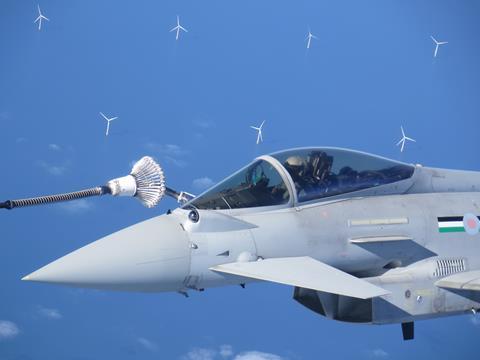 From a pure performance viewpoint, the RAF is not concerned about SAF. "We are more interested in the long-term effects of SAF on fuel systems and seals, because it comes from a different place," says Lloyd.
The RAF, along with its partners Airbus, Rolls-Royce, the MoD's Defence Equipment and Support procurement agency, and others, is analysing the data from these flights to answer all the questions around SAF to be completely confident in its future use.
DELIVERY PIPELINE
The RAF is following the Department for Transport's policy of having at least 10% SAF blended in the UK jet fuel mix by 2030. "We buy off the market through the pipeline [which delivers jet fuel to all UK civil and military users], so if the pipeline is delivering 10% SAF by 2030 we will likely be buying 10%," says Lloyd.
Conversations with suppliers on SAF offtakes are happening. The fuel used during trials was acquired on a one-off basis but, like its airline cousins, the RAF will have to consider signing long-term SAF deals now.
The service is instead encouraging the ramp-up in SAF production, with Lloyd describing its role as a "fast follower, where we are trying to help the system get the process going".
"The fact the RAF is buying it has a value way more important than the physical volume," he notes. "It's more about moving together and trying to get those contracts moving forwards."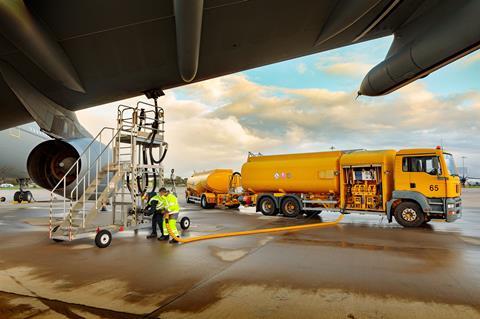 The RAF also has several projects investigating the use of alternative propulsion technologies. In April it announced Project Monet, a joint initiative between its Rapid Capabilities Office, Babcock and Swift Aircraft to develop two experimental test aircraft to showcase the capabilities and potential of a range of sustainable technologies in the military context.
The project will examine apects including the potential for all-electric battery power and synthetic-fuelled internal combustion engines, as well as hydrogen fuel cell and hybrid propulsion.
"Electrification is a totally different way to do business," Lloyd says, and brings with it a plethora of questions. "What is the electrical infrastructure you need? How would you turn the aircraft around rapidly? How do you deal with the whole system around it – it's not just the go flying thing, we need to understand it."
Training and transport missions, and those that currently use helicopters, are being examined. The RAF is also looking at advanced air mobility aircraft, such as Vertical Aerospace's VX4. "We are analysing how that type of technology might fit into the battlespace," says Lloyd. "It's not about the last mile kind of logistics, but it could be the last 100-mile logistics."
The likely availability of such platforms is still five to 10 years away, given current certification targets.
An obvious contender for an electric aircraft is via Project Telum: a plan to provide a carbon-neutral solution for Air Cadet and University Air Squadron flight training, to replace Grob Aircraft G115E Tutor T1s by 2027. The RAF has been testing Pipistrel's battery-powered Velis Electro since 2021 as it investigates the technology.
Lloyd is among many who see partnership and collaboration as key ingredients in progressing defence sustainability. "It is essential that we do this with other air forces. There are several NATO working groups to get the standards set up," he says.
"We also signed last summer the Global Air Chiefs Climate Change Collaboration (GACCCC)," he adds. "Over 50 nations have now signed an agreement to work together on understanding this and collaborating in several working groups."
Air forces from all corners of the globe are responding positively to the challenge defence has on sustainable operations. "It has not been a big effort [to sign people up to the GACCCC]," stresses Lloyd.
"There are the usual bigger players taking the lead, and then some of the other smaller air forces are keen to understand it. They all have very different perspectives and concerns about what climate change will do to them," he says. "Everyone is trying to figure out what they could be doing and how to work together."
It is a conversation that many air forces are engaging with. "I ran the Typhoon team just over two years ago, and I wasn't really talking about this. In that period, it has changed, and it feels exponential," he says.
"Everybody is behind this. It is the most collaborative thing I've ever seen, because if we don't do it together – and that's internationally as well – then we're not going to get there.
"It is important that we show leadership. It is important that we show that sustainability is not just a civil sector thing – the military has a role in that as well."