Aerial assets play a key role in the battle to keep forest and bush blazes at bay. From modified airframes to purpose-built aircraft, we look at what the latest specialist platforms are capable of.
Attributing the rise in wildfires around the world to man-made climate change is likely to ignite strong opposing opinions. But the undeniable reality is that – as the fire season once again threatens many parts of the northern hemisphere – many countries face an annual summer-long battle against the potential human, commercial and environmental devastation caused by these conflagrations.
Specialist adaptations of fixed- and rotary-wing aircraft have long been on the front line in the war against wildfires. However, many of the assets deployed in this specialist, niche market are based on aircraft manufactured decades ago, and suppliers have been marketing a number of variants that they say are more capable against the present-day challenges.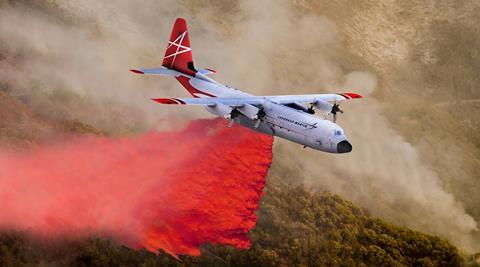 Despite being derived from an almost 70-year-old airframe, the LM-100J FireHerc – like its C-130J military counterpart – deploys the most up-to-date technology and equipment, according to manufacturer Lockheed Martin. The company introduced the concept in 2018 as a response to the growing incidence of wildfires around the world, says Tony Frese, vice-president business development, air mobility & maritime missions, Lockheed Martin Aeronautics.
"The driving concept behind FireHerc is that there is a proven firefighting solution in the military C-130Hs and C-130Js, as well as legacy C-130s flown by commercial operators used in firefighting," Frese says.
"The LM-100J FireHerc variant offers a path forward to deploying integrated technology to support night firefighting, allowing responders to combat fires on an unprecedented 24/7 cycle," he says. "Firefighting missions depend on a number of environmental factors – such as weather and visibility – that can limit a crew's ability to fight and manage a wildfire."
Mission flexibility is a key asset that the C-130's heritage brings to the FireHerc. "It has the ability to support two different retardant dispersion solutions: the gravity-drop Coulson Aviation RADS [retardant aviation delivery system] product line or the pressure-type dispersal Modular Aerial Firefighting System II [MAFFS II]," Frese says. "Both have been certified by the US Forest Service on the Hercules platform to meet strict ground coverage standards."
WELL ADAPTED
Adaptations of established airframes have not only been made to military aircraft. Conair Aerial Firefighting, based in British Columbia, Canada, has been modifying De Havilland Canada Dash 8-400 (formerly Bombardier Q400) aircraft into aerial firefighters for more than 15 years. The seventh Dash 8-400 multirole airtanker is set for delivery to the French government this summer, with one aircraft remaining on order.
Jeff Berry, director, business development, says the Dash 8-400MRE is capable of responding to emergency missions in a variety of configurations. It can transfer emergency personnel or evacuate citizens in the passenger configuration; ship humanitarian or disaster supplies in cargo guise; transfer critically ill patients or provide mobile medical services in the medevac configuration – and also respond to wildfires.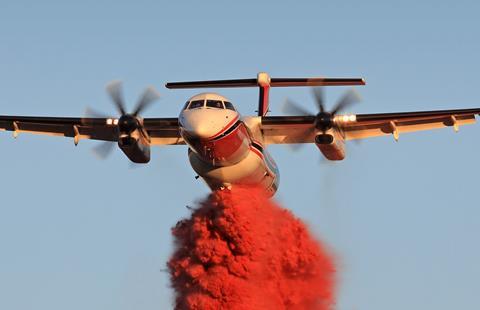 "The aircraft can be reconfigured between roles within hours, offering governments a fast and versatile solution, year-round, for many crisis-response situations," Berry says.
It is the air tanker version that is causing a stir at present. This model went into operation in December 2020, executing its first season in Australia. Then, in early 2021, Conair bought 11 former Flybe Dash 8-400s to convert into aerial firefighters and replace the company's 1960s-vintage Lockheed Electra L188 and Convair CV580 aircraft.
"Air tankers are typically made from older model military or commercial aircraft, which were not designed for the intense environment experienced by aerial firefighting missions. An air tanker's mission means there is a greater likelihood of widespread fatigue damage, grounding the aircraft, or worse," Berry says.
"The cost to maintain and repair older aircraft increases exponentially over time," he notes. "Replacing air tankers with modern next generation models is necessary. But new aircraft are capital-intensive and they require months to years to complete from point of order to point of delivery. Replacing or building larger fleets requires a concrete commitment and long-term plan."
During the 2022 northern hemisphere summer, five Dash 8-400AT aircraft are in operation on long-term contracts with government agencies. By the end of this year, Conair's remaining Convair CV580s will be retired and replaced with the new air tanker, which offers a 10,000-litre capacity to drop water or retardant on wildfires.
"The Dash 8-400 airtanker is the newest, most sustainable air tanker in the world today, fully supported by De Havilland, the OEM," Berry says. "Few large air tankers in the world can boast this level of support.
"There are many Dash 8-400 aircraft in commercial operation today, offering a large supply of not only airframes for future conversion, but also inventory of parts, which means that government customers have the security of knowing their fleet won't be grounded when it is needed most."
The Dash 8-400 tanker can drop 15.9 litres of retardant for every litre of fuel burned, which Conair says is more than double the performance of most large air tankers deployed against a typical wildfire – for example, delivering a total of 60,000 litres of retardant to a fire 60nm [110km] from an air base.
"With today's fuel shortages and increasing costs, the Dash 8-400 airtanker offers customers the most fuel-efficient solution to their large airtanker needs. Less fuel means lower operational costs, plus fewer emissions into our environment," Berry says. "The Dash 8-400's speed and time to climb offer a rapid return from base to fire and back. It can also deploy from shorter runways [1,520m/5,000ft], meaning it can be positioned closer to where wildfires occur."
Berry suggests that, while the aircraft can drop 10,000 litres of water, gel or foam, it is most effective at building retardant containment lines ahead of a fire, working in partnership with amphibious water bombers, such as the De Havilland Canada CL-415 and Air Tractor AT-802 Fire Boss aircraft, which perform drops directly on the flames.
"Water takes away the fire's heat while retardant slows its combustion," he says. "Anticipating future large fires, governments can adapt their aerial firefighting air assets by strategically taking advantage of both water and retardant."
Berry has considerable first-hand experience of these tasks, having led the forest fire aerial response operations in British Columbia for 17 years before joining Conair, now managing more than 50 aircraft covering nearly one million sq km (386,000sq miles) of diverse geography.
"In an ideal scenario, a balanced aerial response using both water and retardant during a rapid initial attack can catch a fire while it's still small, preventing it from increasing in size," he says.
The Dash 8-400 airtanker provides firefighters with an "advanced constant-flow retardant delivery system", he says. This includes a Conair/Moog M3000 controller system that provides enhanced flow capabilities and control, giving command teams the ability to execute drops appropriate to specific wildfire conditions, for example long, lower volume drops for fast-moving grassfires and short, heavy drops for large timber fires, to ensure the water or retardant penetrates through the vegetation to the fire.
ON TARGET
"Accurate drops are essential, not only to stop the fire, but also to maximise the benefits of the [firefighting] medium," says Berry.
Conair has developed what it calls a Flight Envelope Advisory System, which provides enhanced safety data on the airframe, including slow speed and angle of attack. This puts the latest technology into the pilot's field of view, enabling them to stay in the safe zone, minimising exposure to high-risk excursions out of the flight envelope, says Berry.
"Aerial firefighting is a challenging environment. You are flying low-level manoeuvres in wind, heat, and smoke over rugged terrain. Mitigating risk is always forefront in our operations," he adds. "We want to ensure our crews are safe and our aircraft are performing optimally."
Another commercial aircraft being adapted for firefighting is the Boeing 757, a project ST Engineering is developing at its US facility in partnership with operator Galactic Holdings. The Singapore-based company expects to start conversion work next year with the aim of securing a supplemental type certificate for what it dubs the 757P2T (passenger-to-tanker) in 2024.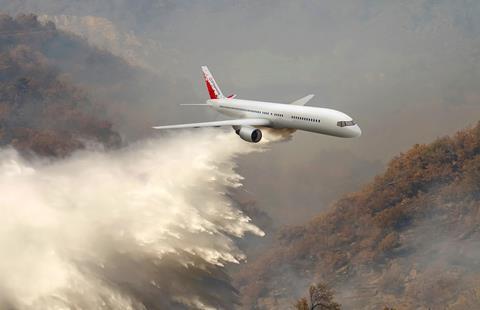 Leon Tan, senior programme manager, says the "key design objective" is to "develop a solution that makes use of available technologies to enhance safety aspects during an aerial firefighting operation", as well as coming up with a more effective and consistent dispersion method to deliver the retardant.
He says the 757 platform is "bigger and newer" in comparison with most firefighting aircraft, "which are getting older and more expensive to operate and maintain". He also notes that the capacity of some existing platforms is limited, while the 757P2T will have a capacity of up to 26,500 litres of fire retardant, making it one of the largest aerial firefighting platforms on the market when it enters service.
Naturally, there is still a place in the global firefighting fleet for aircraft specially designed for the purpose and their descendants. The De Havilland Canada DHC-515 Firefighter programme, launched in March 2022, has a heritage that extends back to the CL-215 and CL-415 from Bombardier.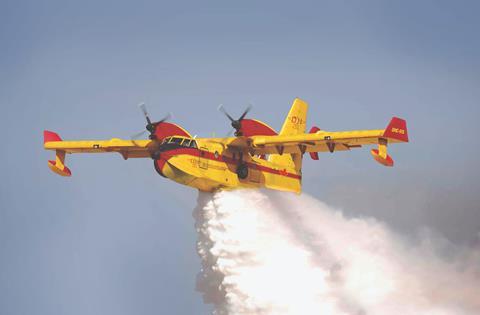 The company is confident that the DHC-515 will build on the history of its predecessors, which have been performing aerial firefighting for more than 50 years. European customers have already signed letters of intent to purchase the first 22 aircraft, pending the positive outcome of government-to-government negotiations, says the airframer, which expects to deliver the first DHC-515 by the middle of the decade.
ENGINEERING QUALITY
De Havilland Canada says the DHC-515 will match the previous models in terms of lifespan, ruggedness and engineering quality. Its final assembly line will be in Calgary, Alberta, where work on the CL-215 and CL-415 currently takes place.
In the sphere of rotary-wing platforms for aerial firefighting, the Kaman K-Max has been a stalwart for some years – and there is no let-up in developments for the aircraft. The company is working with Kawak to develop a water bucket better suited to the helicopter in terms of size, weight and capacity, says Roger Wassmuth, senior director business development, Kaman Air Vehicles.
The new bucket, called the Kawak Cascade, will be available at the end of 2022, and is a lightweight collapsible bucket that can be stowed in the cargo compartment. It has a detachable 1,600 gallons-per-minute pump for a power-fill capability, Wassmuth adds.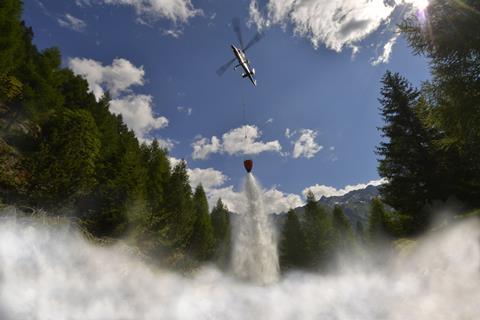 The K-Max differentiates itself from the competition merely by its design, but Wassmuth notes that the aircraft has already distinguished itself in a survey of firefighting helicopters where it was in the top three in all categories – most useful day-to-day in suppression operations; initial attack; direct hand line construction; and deploy short term fire delay tactic.
PRECISION DROPS
"The K-Max was designed to perform vertical reference external lift operations. What this means is the 'V' shape of the aircraft allows the single pilot to have direct view of the external load and thus drop water with precision," he adds.
Also among the rotary-wing platforms is the Firehawk from Lockheed subsidiary Sikorsky. Developed for Los Angeles County Fire Department in the early 2000s from the S-70A Black Hawk transport, "those three [Los Angeles] aircraft are still operational in 2022", says the company.
Since then, Sikorsky says it has adapted the Firehawk with additional mission systems and structural characteristics to improve the safety and performance of the firefighting mission, including an enhanced vertical rate of climb following water drops.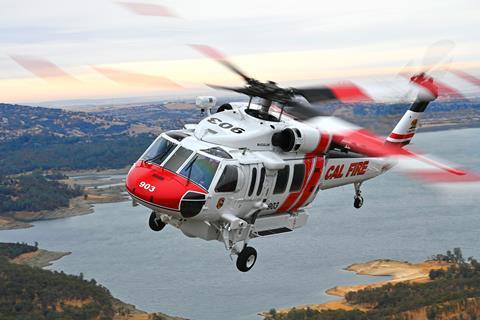 The flight functions in the digital cockpit allow the Firehawk pilot to pre-programme and manage the mission while adjusting flight parameters such as speed, precision hover, heading and altitude. Meanwhile, a four-axis coupled flight control system enables the pilot to hold an exact hover in high wind rescues or when hoisting a victim from a canyon ledge, says the company.
Improved power from the GE Aviation T700-701D engines, and wide chord composite rotor blades, provide greater lift and performance, so that pilots carrying water at 10,000ft in hot conditions are not "living on the edge of their power margin". An active vibration control provides a smoother flight and reduced occupant fatigue, while night-vision goggles and similarly-capable avionics allow night firefighting operations, says Sikorsky.
LONG HERITAGE
The company says the airframe's proven military heritage around the world means it can "withstand the enormous physical stresses imposed on the airframe when repeatedly taking on and dropping 8,000lb [3,630kg] of water".
It adds: "The Firehawk is best suited for initial attack, where you nip the fire in the bud before it expands beyond 10 acres. The aircraft can arrive at a fire quickly carrying 12 equipped firefighters. Once the firefighters are on the ground, the aircraft can then siphon into its exterior belly tank up to 1,000 gallons of water to provide close support by dropping water from the air."
Currently, there are 15 Firehawks operational in California, and the state of Colorado will take its first example in late 2022. Public utility San Diego Gas & Electric also has one of the type on order.