In a side room in L3Harris's site near London's Gatwick airport is a working prototype of the sort of training device that could be ubiquitous later this decade if bullish forecasts for the urban air mobility (UAM) market prove right.
With around a dozen electric vertical take-off and landing (eVTOL) types in advanced development – and some manufacturers sitting on pre-orders for hundreds of aircraft – the requirement for pilots could be in the tens of thousands.
Comprising a seat facing two screens and two basic hand controls, with a virtual reality headset, L3Harris's device has been doing the rounds of industry events, including June's Paris air show. The current generic product is rudimentary, but a more sophisticated version, featuring motion simulation, should be ready by the end of the year, says Sanjay Kaeley, head of product solutions at L3Harris's Commercial Training Solutions unit.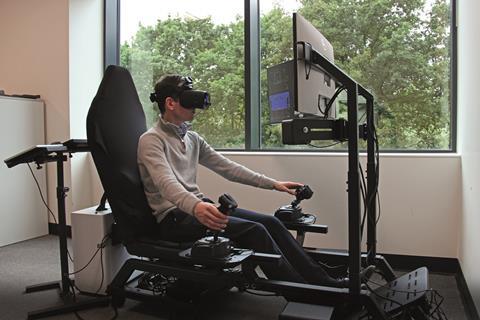 L3Harris is not new to simulation, of course. In its production hall next door, it is building full-motion Airbus and Boeing devices for airlines. However, catering for the nascent eVTOL sector will require a different approach. "Crucially these will have to be low cost," says Kaeley. "The economics of operating eVTOLs are such that no-one will pay for a $20 million simulator. Our goal is to start with a training tool that leverages the DNA of our full flight simulators and flight training devices."
L3Harris's main competitors, CAE and FlightSafety International (FSI), have also been quick to jump on the UAM simulation training opportunity. While L3Harris has not yet announced a formal partnership with any of the eVTOL companies, FSI has signed to be "exclusive developer and provider for flight training devices" for the German-designed Lilium Jet. It follows a memorandum of understanding from FSI's sister business NetJets last year to acquire up to 150 Lilium aircraft.
BESPOKE SOLUTIONS
Meanwhile, CAE is working with Beta Technologies, Joby Aviation, Vertical Aerospace, and Volocopter. "Each of these partners has a different type of arrangement with us," explains Chris Courtney, director of advanced mobility at the Montreal-based group. "For some it's just delivering flight simulation devices. For others, it's doing engineering simulation and helping them through the early stages of getting their vehicle through certification. For others it's courseware and curriculum."
At last year's Farnborough air show, CAE launched its own simulator for the eVTOL market. The 700MXR will "revolutionise flight training for complex urban settings with a compact mini-motion platform and 360-degree field of view visuals that deliver high-fidelity, physics-based simulation tailored to single-pilot operations", says the company, "bridging the gap between the physical and virtual worlds to deliver an unrivalled training experience for future eVTOL pilots".
One of the biggest selling points for eVTOL platforms is simplicity, with manufacturers stressing how easy aircraft will be to control. However, the paradox of UAM is that the environments in which those flying them will operate will be among the most challenging in aviation. The clue is in the urban phrase: light aircraft pilots generally do not need to descend onto a Manhattan skyscraper in a 30kt (55km/h) headwind.
"We are talking about unique mission environments," says Courtney. "The mission cycles will be short. Pilots are going to be exposed to more critical phases of flight. There are airspace issues, and those will require new integration and communications technology, new operating environments for dealing with everything from urban canyons to vertiports, micro-weather conditions and emergency procedures."
That is perhaps why the authorities are taking their time coming up with definitive training standards. "Regulators are all for innovation, but ultimately everything they do will put safety first," says Kaeley. "They will start with the building blocks they use today." Training requirements are likely to include all-new type ratings for eVTOL pilots, because of the aircraft design and the way they will be flown, Courtney says.
In May, the US Federal Aviation Administration (FAA) unveiled a blueprint for managing a sizeable UAM sector by the end of the decade. Covering aircraft certification to infrastructure, the report provides details on how eVTOL platforms might be flown, but little on pilot qualification. Initially, at least, it assumes aircraft will fly no higher than 4,000ft and in controlled corridors under air traffic control, as well as requiring automatic dependent surveillance-broadcast (ADS-B) out systems.
The European Union Aviation Safety Agency (EASA) too has been working out how it might regulate UAM. In June last year, EASA issued what it claimed was the first proposal for regulations for the operation of vertical take-off air taxis, covering airworthiness, air operations, flight crew licensing and rules of the air. While details are still to be confirmed, EASA said at the time that the objective of the move was to "foster the development of a new ecosystem for UAM".
Both regulators are likely to put caution first when it comes to the specific rules, at least initially. "I suspect that the way operations will roll out, it will be VFR [visual flight rules] daytime first, then VFR night-time, and then eventually IFR [instrument flight rules]," says Courtney. "Some folks are designing aircraft to be ready to go for IFR right out of the gate, but I don't know if they're going to get that authorisation."
REMOTE FUTURE
While both EASA and the FAA talk about a future where eVTOL aircraft might be operated remotely, that seems a distant prospect. Until well into the 2030s – maybe much longer – regulators will at least require those carrying passengers to have a pilot on board. Where these aviators will come from is exercising the minds of regulators, training providers, eVTOL developers and their customers, especially at a time when professional pilots are already in such short supply.
The ranks of experienced airline and helicopter pilots seems the most likely source, at least initially. "For our initial cadre of 200 to 300 pilots, we'll be targeting experienced commercial and military pilots," says Bonny Simi, head of air operations and people at publically-listed, Santa Cruz, California-based Joby Aviation, which aims to be one of the first eVTOL developers to have an aircraft in service in 2025, as part of an air taxi service it will operate itself.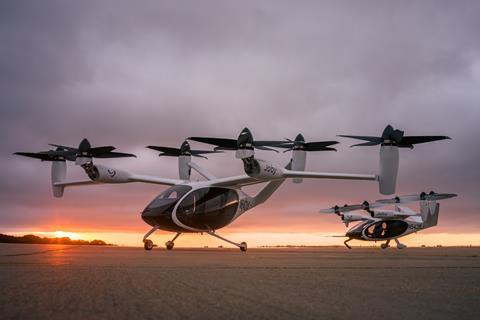 German developer Volocopter agrees. "We predict that the majority of UAM pilots will come from the airliner segment, with some helicopter pilots adding to the mix," says Gilles Savary, crew training manager at the Bruchsal-based company, which intends to launch a trial air taxi service in Paris in time for next year's Olympic Games. "Our goal is to have experienced pilots, ideally with instructors' backgrounds, but we believe we will have a mixture of experience in the UAM pool."
It has even been suggested that UAM could in fact be a solution to the pilot shortage, by creating a buzz that will inspire a generation of youngsters to take to the skies. Another theory is that air taxi operations could be a route for the newly qualified to gain experience, particularly in the USA, where there is a 1,500h requirement to co-pilot an airliner. Without military experience, a year or more of graft as a modestly-paid flying school instructor is the usual path to the flightdeck.
ACCESSIBLE EDUCATION
Simi believes UAM could also make the profession more socially accessible. Joby – which has a deal to provide eVTOL rides to Delta Air Lines passengers at Los Angeles and New York airports – is setting up the Joby Aviation Academy to provide an ab initio route to the front seat of one of its air taxis. "One of the reasons there's a pilot shortage is that it costs too much money," she says. "If we can reduce the entry costs, then it gets down to the level where college grants and loans are available."
Where all eVTOL manufacturers are agreed is on how straightforward the aircraft themselves will be to fly, with most cockpits comprising two sticks – one for speed, one for direction – and two screens. "We use unified flight controls similar to the [Lockheed Martin] F-35, so the basic act of flying the Joby aircraft is ridiculously simple and intuitive," says Simi. "Someone who is not a pilot could learn how to take off and land one of our aircraft in 10 minutes."
Savary says Volocopter's launch product, the VoloCity, is "uncomplicated in design and simple to operate". However, he cautions: "This does not mean it is easy to fly. A commercial airliner has more complex technology, but also has support of dual pilot operations, lots of systems and redundancies. The technical operation of a VoloCity is at a comparable level to a private aircraft with one or two engines, with additional things to be mindful of."
In addition to controlling the aircraft, VoloCity pilots will have to monitor battery levels, adapt to weather and landing locations, and have one or more, perhaps nervous, passengers sitting directly behind them. "A commercial flight of an eVTOL has never been done before, and the city conditions we fly in will be different to a helicopter, so we may encounter the unexpected," Savary says. "We are not taking anything for granted and training is the time to be cautious."
GAINING EXPERIENCE
So what will training programmes look like? Savary expects that for experienced pilots, additional eVTOL training modules are likely to involve four to six weeks of training, although under a "competence-based" model, this might increase or decrease depending on the pilot's ability and instructor's assessment. CAE will develop a training programme, providing courseware and instructors, as well as at least one simulator, which Volocopter will purchase.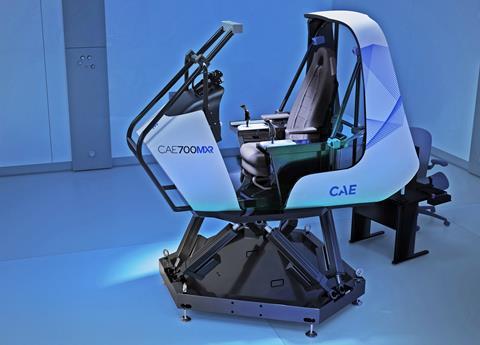 Simi suggests a similar regime, with a six-week programme for 500h-experience pilots who have an existing instrument rating. Joby, in which Japanese car maker Toyota is a significant investor, is also working with CAE to design a bespoke simulator, which it expects to be in use by early 2025. The company will carry out pilot training itself, initially at its California headquarters, but eventually, says Simi, in other locations too.
Lilium's agreement with FSI establishes the US simulator specialist as "exclusive developer and provider of flight training devices for the Lilium Jet", including a representative cockpit that will be used by the German developer's engineers as part of the certification process. This "e-Sim", says Lilium, will enable "pilot familiarisation" before flight testing begins. FSI will also develop and deliver training programmes for pilots and mechanics.
For the simulator companies, creating bespoke training solutions that fit with developers' financial models will be the challenge. "Traditional simulators are not optimised for eVTOLs, so we need a solution that's cost-effective, scalable and incorporates advanced technologies," says Courtney. "Because every aircraft is different a specific training programme must be designed. That sounds prohibitively expensive, but the public expects safe Part 135 operations."
VIRTUAL REALITY
He expects advances in virtual reality know-how to help. "Technology's moving really quickly in this space, which is allowing us to come up with new, innovative ways to do training, and we are working to get these new devices qualified with the FAA and EASA." What Courtney is adamant about, however, is the need for any new eVTOL pilot to go through an extensive programme of training in a simulator, as flying in a UAM environment will be different to what they are used to.
"I cannot emphasise enough the importance of this, not only to qualify a person to operate the aircraft, but for mission-specific training," he says. "If I'm a Part 135 operator, it would make me feel a lot more comfortable if I had a new pilot that had flow this route in the simulator multiple times and we could go through all the things that could go wrong on that route in a safe environment, so that when they go out there and do it, they've already been exposed to it."
Pilots flying eVTOL aircraft will have to be confident of landing in confined areas and elevated helipads and coping with winds from different directions. They will also be keeping a constant eye on energy levels from lithium-ion batteries. "At the end of the day, the x factor is airmanship," he says. "Being able to aviate, navigate, communicate – the basics still exist no matter what. I can give you as much automation as possible, but you will still have to use your common sense."