Resurrecting a three-decade-old aircraft design whose original production run barely crept into double figures takes a certain amount of confidence and self-belief.
But Russia's United Aircraft (UAC) believes there is a market for a modernised version of the Ilyushin Il-114, designated the -300, to provide a domestically-built alternative to foreign types such as the ATR 72 and De Havilland Canada Dash 8-400.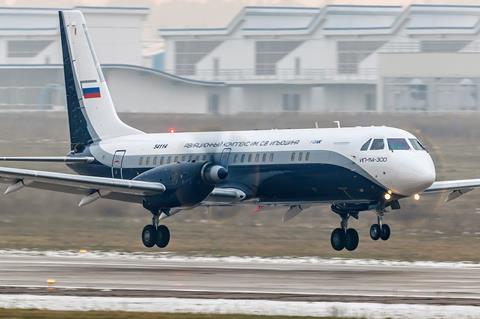 The Il-114-300 owes its revival in part to the Dash 8-400, formerly known as the Bombardier Q400 – a final assembly line for which was the subject of discussions between the Canadian airframer and Russian state technology firm Rostec, as part of a preliminary agreement in 2013 to sell the twin-turboprop to Russian carriers.
Negotiations to finalise a deal establishing a Q400 production plant, possibly in Ulyanovsk, were unsuccessful, with the effort certainly not helped by the international political friction that followed Russia's annexation of Crimea in early 2014.
With potential customers still interested in turboprops, the Russian government turned to upgrading the Il-114 and setting up a new assembly line.
The result of that decision, the Il-114-300 programme, is part of a Russian import-substitution strategy through which the government is trying to reduce dependence on overseas suppliers and revive its own aerospace industry – a sector that suffered in the aftermath of the Soviet Union's collapse as Russian airlines opted to introduce popular Western aircraft.
"We have updated our technologies in the segment of small regional aircraft in order to develop regional transportation within the country," United Aircraft first deputy chief Sergei Yarkovoy, the head of Ilyushin, tells FlightGlobal.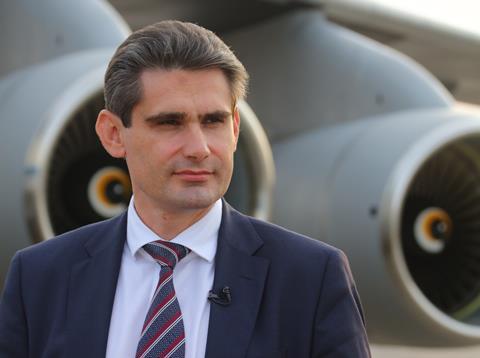 Just a day after the maiden flight of Irkut's MC-21-310, with its domestically-produced engines, the prototype Il-114-300 also became airborne for the first time, lifting off from Zhukovsky airfield for initial stability and controllability tests on 16 December last year.
"Its flight-test programme is under way," says Yarkovoy. "Introducing new technologies, with high level of process automation, we are assembling the second aircraft and are ready to launch mass production."
TURNING POINT
Ilyushin's original Il-114, with its Klimov TV7-117 engines, emerged at a critical point in Soviet history, first flying from the airfield of Zhukovsky's Gromov institute in March 1990 – just four months after the fall of the Berlin Wall.
The break-up of the Soviet Union complicated the development, because Il-114 manufacture was assigned to Tashkent's aviation production organisation located in newly-independent Uzbekistan. The aircraft's test programme also suffered a setback with the fatal loss, attributed to an engine problem, of prototype 54001 during take-off from Zhukovsky in July 1993.
Foreign participation enabled creation of a modified variant, the Il-114-100, certified in December 1999 with Pratt & Whitney Canada PW127H engines and avionics from Collins and Honeywell.
Il-114s made a number of appearances at MAKS Moscow air shows, and a cargo version was developed.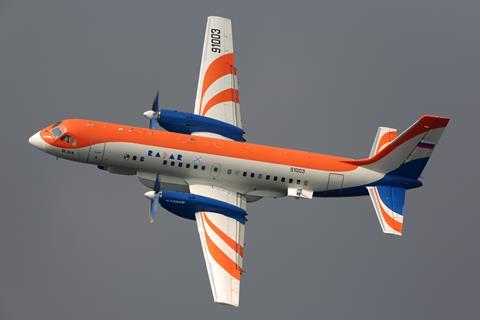 But outside of Uzbekistan Airways and Russian regional carrier Vyborg Airlines, which each introduced a handful of aircraft, the type gained little traction. One of the original Il-114s subsequently served as a radar system testbed with Russian firm Radar MMS.
Dozens of Antonov An-24s and An-26s that the Il-114 was developed to replace remain in service, and the Russian government still believes the turboprop has strong potential – not just as a successor to the Soviet-era types, but as a way of addressing demand for better domestic connections. Russian government regulations on subsidised routes give preference to operators using domestically-built aircraft.
The modernised -300 is Russian-built this time, with the serial production line located at the RAC MiG facility at Lukhovitsy, near Moscow.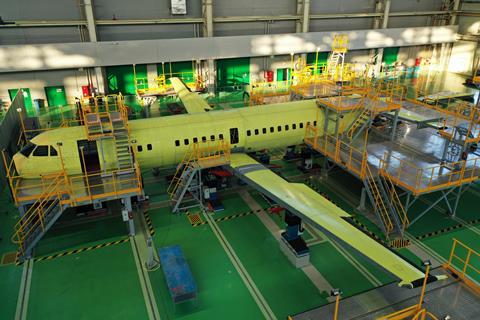 "We try to combine two principles in this aircraft," says Yarkovoy. "On the one hand, to make the aircraft unpretentious to service, easy to maintain, including a low level of demand for airport infrastructure – the aircraft has a built-in ramp, for example, [and] it does not require special equipment for maintenance and pre-flight preparation.
"On the other hand, it is necessary to provide passengers with a modern level of comfort and convenience in the cabin," he says.
"We understand the demand for a large amount of hand luggage, and such baggage that passengers can independently place in the cabin. The aircraft design includes three options for converting the passenger compartment and luggage compartments."
Updating the earlier Il-114 airframe has involved developing a digital flight and navigation suite from KRET, featuring five liquid-crystal display screens, with avionics allowing the aircraft to conduct landings in Category II conditions.
It features TV7-117ST engines delivering 3,100shp (2,310kW), benefiting from parallel work to develop the Il-112V light military transport. The powerplant, which also has a new automatic control system and propeller, underwent four stages of tests fitted in the inboard left-hand position on an Il-76 airborne testbed.
TEST FACILITIES
United Engine expanded its Omsk ground test facilities last year by opening a fully-automated bench for the TV7-117ST, with monitors displaying graphical operational parameters for the engine. Klimov chief designer Stanislav Konashkov says this will enable the company to carry out all the required tests of the powerplant to "ensure its certification on time", and provide a platform to support long-term development work.
Voronezh-based airframer VASO is responsible for several Il-114-300 structures, including wing and tail sections, as well as the engine nacelles, while Ulyanovsk's Aviastar is producing fuselage panels, doors and hatches. Other fuselage compartments are being produced by the Sokol aircraft plant, which is associated with RAC MiG, in Nizhny Novgorod.
Final assembly of the aircraft is being undertaken at MiG's Lukhovitsy facility where an automated jig-less production platform – capable of aligning structures to a precision of 10 microns – has been established to reduce complexity and costs while increasing flexibility.
MiG and Sukhoi have been operating under a unified management structure since early 2020, led by Ilya Tarasenko.
Tarasenko says the companies, which have focused primarily on military aircraft, have undergone changes – modernisation of equipment and retraining of personnel – to diversify into production of civil airframes. Use of digital technologies, previously deployed mainly during early development phases, has been expanded to aid production and product life-cycle support.
The Lukhovitsy plant has carried out joining of the fuselage sections of the second prototype -300 as well as the mating of the wing and tail structures.
"Manufacturing technologies are being developed on this second prototype which will make it possible to establish serial production of aircraft in the shortest possible time," says Rostec executive director Oleg Yevtushenko.
Yarkovoy says the -300 will use several new systems which have been specifically developed for the aircraft and will enter production for the first time. Most of the components are being supplied by various Rostec enterprises.
The aircraft will have an upgraded auxiliary power unit, air conditioning system – featuring domestic composite materials – fire-protection and pressurisation systems, and a lightweight power supply network.
Rostec says the cockpit takes into account "modern standards of ergonomics".
"We're creating a safe, comfortable, easy-to-maintain regional aircraft suitable for Russian operating conditions," says Yarkovoy. He expects the second prototype to enter the flight-test programme this year.
Yevtushenko says the aircraft will be able to serve unpaved runways in remote locations, while being "easy to operate" and economical. He puts the Il-114-300's fuel consumption at about 500kg/h (1,100lb/h).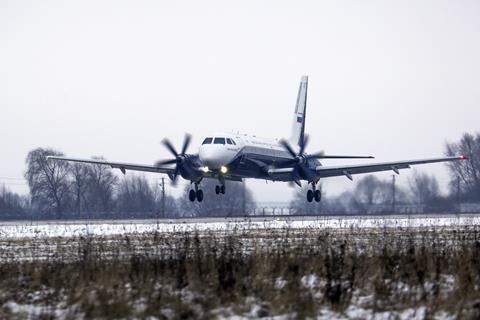 The aircraft has a length of 26.9m (88ft 3in) and a wingspan of 30m and is designed to accommodate 68 seats. It will be able to transport a maximum payload of 6.8t across a range of 755nm (1,400km), with a cruising speed of up to 270kt (500km/h).
UAC says the aircraft will be capable of providing air services to populations in the northern, eastern, and Siberian regions of Russia. It will be able to serve locations with "weak airfield infrastructure" and "difficult climatic conditions", it adds.
"The modern passenger cabin will provide a comfortable flight through the entire range of altitudes," the company states. It says the Il-114-300's design is intended to be robust, with a service life of 30,000h.
TEST FLIGHT
Prototype aircraft 54114 carried out its second test flight, lasting 2h 47min, on 19 January, during which it operated at altitudes up to 2,000m (6,600ft). Its crew of three tested the navigation equipment, radio communications, and power systems.
Ilyushin is intending to increase the frequency of test flights to meet an aggressive schedule, with certification and initial deliveries planned for 2022. Under the serial production plan, the Lukhovitsy plant will ramp up output to 12 aircraft per year.
While the Il-114-300 retains much of the external design of the original Il-114, programme director Maxim Kuzmenko points out that the deadlines for the project have been "tight" and says modernisation of the aircraft's onboard systems is very significant.
UAC general director Yuri Slyusar states that the -300 will "open up new prospects for the Russian civil aircraft industry".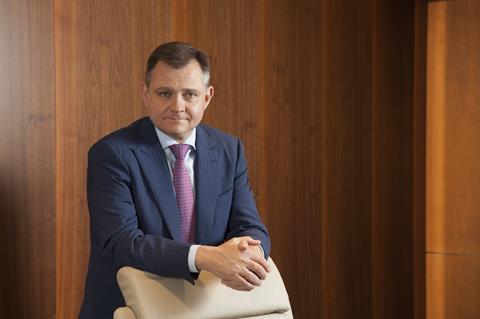 State lessor GTLK has signalled plans to commit to the turboprop by signing a provisional agreement for up to 50 of the aircraft, while regional carriers KrasAvia and Polar Airlines have each expressed interest in becoming Il-114-300 operators.
UAC's latest long-term forecast for commercial aircraft, covering the 20-year period from 2020 to 2039, puts the total demand at 42,130 – of which turboprops will account for 1,960 units. The company believes turboprops with more than 60 seats will account for around three-quarters of this total, although it does not envision a significant increase in the number of operators.
Evaporation of the prospective agreement to build the Q400 in Russia might give the Il-114 a second chance at the success it was unable to achieve the first time round. GTLK's commitment alone, if exercised in full, would more than double the entire production run of its earlier variants.
The fact that MAKS 2021 is one of the few aerospace shows to proceed this year illustrates the continuing uncertainty in the aircraft sector. UAC will be hoping that the -300's presence will make a lasting impression.