Russia's United Aircraft (UAC) has secured upgrade work for Moscow's RAC MiG-31 interceptors and Tupolev Tu-95 strategic missile carriers, while United Engine Corporation (UEC) will provide eight engines for the Tu-160M strategic bomber.
The Tu-95 work will see an unspecified number of aircraft upgraded from the Tu-95MS to the Tu-95MSM standards, says UAC.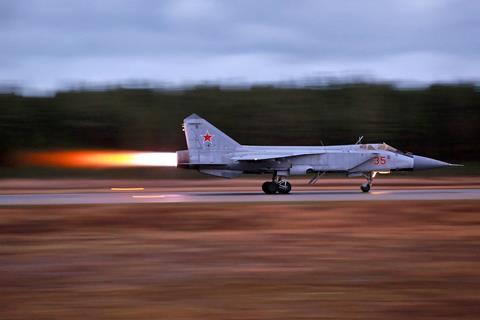 The update is reported to include a new phased array radar and upgraded avionics. The first flight of a Tu-95MSM occurred in August 2020.
Moscow also has awarded two contracts related to the MiG-31. One relates to the "overhaul and modernisation of the MiG-31K fighter-interceptors and carriers of the [Kh-47M2 Kinzhal] hypersonic missiles."
The other relates to upgrading an unspecified number of aircraft to the improved MiG-31BM standard. This adds a new multimode radar, multifunction cockpit displays and the ability to use the Vympel R-37 long-range air-to-air missile.
Both contracts were signed and announced at Russia's Army 2021 event.
Separately, UEC will provide eight Nk-32 Series 02 engines for the Tu-160M fleet. This deal is worth Rb7.5 billion ($102 million) and the engines will be delivered within two years.
Cirium fleets data put Russia's MiG-31 inventory at 133 examples. The Russian air force is also shown to have 42 Tu-95s and 16 Tu-160s.