Almost inevitably, the operational and economic havoc wrought by the pandemic was, sooner or later, going to show up as ripples in air safety. The only real question was how large those disturbances might be.
Pilots' experiences submitted to NASA's confidential – and entirely voluntary – aviation safety reporting system might not have the analytical rigour expected from an investigation authority, but the narratives nevertheless give a convincing flavour of unintended consequences.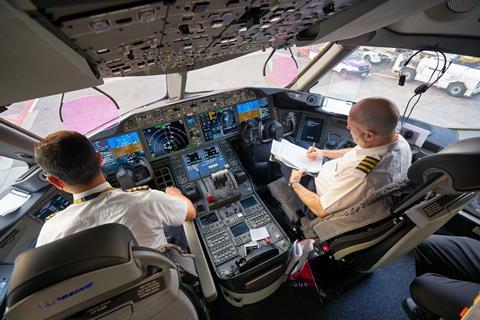 "The biggest threat to the flight was that I hadn't flown in a little over a year – zero hours. This was due to Covid-related reduction in flying at my airline," states a July 2021 submission from a Boeing 787 first officer, describing how they had commenced a take-off roll after misinterpreting the clearance given to a regional jet, and been told to abort by the tower.
"I haven't flown at [this airport] for a long time and had forgotten that they normally clear the smaller aircraft to take off before the heavy, due to wake turbulence," the pilot added.
NEW DISTRACTIONS
Other testimonies cite go-arounds with the wrong flap setting, or having difficulty hearing and understanding air traffic control, as a result of being out of practice for several months, or suffering the effects of fatigue brought on by unusual operating patterns.
Even as the pandemic set in, some cockpit crews recalled being preoccupied by concerns. One entry for March 2020 refers to an unstabilised approach caused when the captain, distracted, had to be prompted by the first officer after missing the need to extend the flaps.
"I realised at that moment that I was pondering the economics of this virus on our airline, and thinking about my fears of a furlough," the captain stated. "Had the first officer not said something, I really don't know how long I would have remained distracted… I never imagined that I [could] be distracted at such a vital time."
Researchers from Embry-Riddle Aeronautical University used the NASA database to analyse incident reports, covering the eight months before the pandemic and the eight months after, and found a "significant increase" in the number of events attributed to decreased pilot proficiency.
"Being legal to fly or complying with the minimum regulatory requirements… does not translate into being proficient," the research paper from February 2021 states.
"The present research determined that lack of practice will affect the pilot currency and proficiency during this pandemic. This might pose a risk and affect aviation safety when the demand for air service increases at a faster pace than the industry expects."
Concerns about this potential degradation of skills have started to emerge in formal investigations.
WORKLOAD WORRIES
French and UK investigators probed two serious instability incidents – almost exactly a year apart – respectively involving an Air France Airbus A318 bound for Paris Orly in September 2020 and a TUI Airways 737-800 descending towards Aberdeen in September 2021.
In both cases the inquiries indicated that prolonged absences from flying could have contributed to the aircraft's deviating from the correct flightpath.
French investigation authority BEA attributed the A318's instability to the crew's trying to manage high workload during a shortened approach to Orly. It stated that the captain – who had logged some 4,200h on A320-family jets – had undergone two simulator sessions but flown just 64h, including two take-offs and two landings per month as the flying pilot, over the six months before the incident.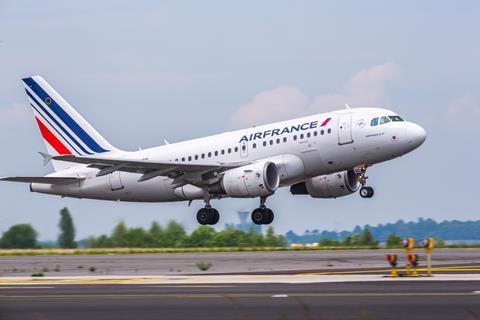 This amounted to a 75% reduction in normal activity, says the BEA, and a similar depletion level was noted for the first officer. Although the latter was also experienced, with 3,200h on A320s, he had flown only 70h in the same six-month interval. For most of the three or four weeks prior to the incident, neither pilot had flown at all.
French civil aviation regulator DGAC's safety arm, DSAC, analysed some 8,000 occurrence reports in various sectors over a 172-day period from 11 May to 30 October last year, finding that about 7% of them appeared to have a "causal link" with the pandemic and the low activity resulting from it.
Its analysis recommends several actions for aircraft operators, including making pilots aware of the risks of late changes in approach path – one of the contributing aspects of the A318 incident, during which the crew was left with a high workload and less time to reduce the twinjet's energy on descent.
The continuing crisis could lead to a "lasting erosion of skills", it adds, and operators should consider such measures as uniformly raising stabilisation thresholds to 1,000ft, as well as avoiding pairing pilots who have experienced similar levels of absence from cockpit activity.
Although the A318 event occurred after the worst trough of the pandemic crisis, during which the number of European flights dipped by more than 85%, the impact on cockpit skills remains a concern as the drawn-out recovery gradually brings more pilots back into line operations after a prolonged hiatus.
"Never before have so many people needed training all at the same time," says UK cockpit crew association BALPA, which has urged the country's government to provide funding to support this requirement.
REBUILDING RESILIENCE
"Piloting is a key example of a safety-critical job and those returning to the cockpit need to refresh their skills and rebuild resilience. Existing requirements for training and recency were not designed with such a prolonged slowdown in mind."
BALPA general secretary Martin Chalk says pilots' motor skills are "not easily forgotten", but adds: "The need to become resilient, to be able to prioritise and manage workload in the real-world environment, is more challenging and needs both practice and exposure."
The pilots of the TUI 737 involved in the Aberdeen incident – during which the aircraft deviated from its assigned altitude, entering an unexpected descent as it attempted a missed approach – had differences in their recency levels, says the UK Air Accidents Investigation Branch (AAIB), but both had experienced "significant periods without flying" in the previous 18 months.
It states, in a bulletin to raise awareness, that the captain had carried out 10 flights in the month prior to the event, while the first officer was flying for only the fourth time in almost 11 months, having completed two flights with a trainer a week earlier.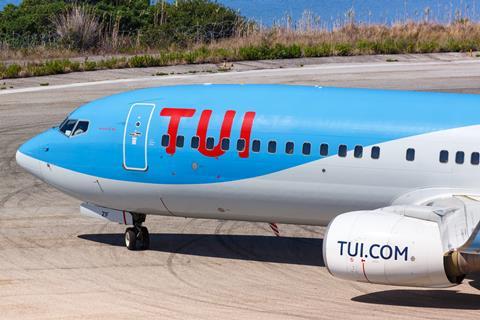 "Both pilots had completed numerous simulator sessions during the [previous] 18-month period to gain or retain recency or to complete their annual recurrent check," the investigation adds.
The TUI incident exposed a weakness in the regulatory framework for maintaining crew currency.
Investigators point out that crews are required to complete three take-offs and landings within 90 days, in order to operate a commercial transport aircraft, but these can legally be undertaken in a full-flight simulator rather than under real operational conditions.
"Simulators have been used not just for the take-off and landing requirements but also to try and maintain crew skill levels when operating in both normal and emergency situations," says the AAIB.
But it recognises that simulators are limited in their ability to replicate high-workload stresses, such as those arising from constant air traffic communications, the presence of other aircraft, and weather conditions.
"It is possible that [the TUI 737] event illustrates that lack of recent exposure to the real-world environment can erode crews' capacity to deal effectively with those challenges," it adds.
"Although this investigation has not established a link between this event and a lack of line flying… a link is clearly one possibility."
The European Union Aviation Safety Agency (EASA) – jointly with the US Federal Aviation Administration, Eurocontrol, Thales and other aviation partners – highlighted the risks of skills degradation in an August 2021 safety analysis.
EASA stressed that reduced activity not only degrades skills but prevents development of further proficiency through practice and insight. A secondary concern of proficiency decay, it adds, relates to spare mental capacity – carrying out a task correctly demands more effort.
"In aviation, highly skilled personnel rely on spare mental capacity mechanisms to be able to perform a large number of tasks successfully without cognitive overload," the analysis states.
SIGNIFICANT RISKS
Declining proficiency can cause time-management problems, reduce situational awareness, and limit the pilot's ability to assess an emergency, it adds. "Cognitive overload decreases the ability to recover from startle and surprise effects which, in turn, further reduces mental capacity, due to a negative limbic brain response, when left unmanaged."
Pilots face a "highly prescriptive" and "procedure-heavy" environment, it says, which creates a significant risk of slips and lapses.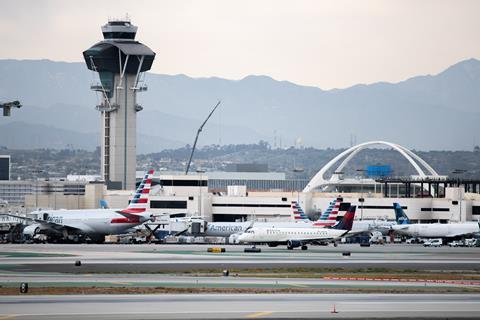 While complex competencies might be more resistant to decay, if sufficiently internalised, multi-step sequences can be more vulnerable. Procedural tasks, including checklists, that require specific or declarative knowledge, can be more susceptible to skill decline than decision-making or psychomotor tasks.
"Cognitive shortcuts for procedures decay rapidly, requiring a significant increase in cognitive resources, in particular for procedures that are normally routine," the analysis says.
It highlights the risks of personnel either overestimating their abilities – "high experience alone is not enough for recency", it says – or underestimating them. The captain involved in the A318 incident at Orly, the BEA notes, had testified to wanting to "push himself" to assist with retraining, and the crew had a lack of awareness of the risks associated with continuing an unstable approach.
EASA also points out that, aside from being out of practice, crews potentially have other abnormal pressures – including job uncertainty, work-life imbalance, health concerns and financial strains – arising from the crisis, which can affect their operational capabilities.
The analysis acknowledges the pressure on training resources, particularly full-flight simulators, but argues that the pandemic offers a "timely opportunity" to advance alternative crew-training techniques and innovations in order to mitigate proficiency decay.
Offloading the simulator burden on to other lower-fidelity devices or media – such as virtual reality – can deliver the necessary training and, in some cases, allow the flexibility of remote learning. EASA adds that competency-based training to maintain proficiency, while more of a medium-term solution, is nonetheless effective in maximising the efficiency of simulator time.
Carriers looking to reintroduce pilots to line flying should consider various strategies: reinforcing training with refresher information on matters such as cockpit preparation, enhancing startle training, and using a safety pilot for a few sectors to support crews returning to operations – while also avoiding assigning challenging routes to pilots with reduced recency.
Operators should also encourage pilots to engage in manual flying. EASA stresses that use of automation "should not be viewed as a mitigation against low proficiency".
Use of automation, it warns, puts "significant demand" on cognitive resources and could increase low-proficiency cognitive-load problems. It adds that automatic systems are still subject to potential failure and that crew must have the necessary skill to fly the aircraft safely by manual means.