Aviation security changed forever following the terror attacks of 9/11. That is hardly surprising, considering that hijackers took the hitherto unimaginable step of taking control of an airliner intent on a suicide mission.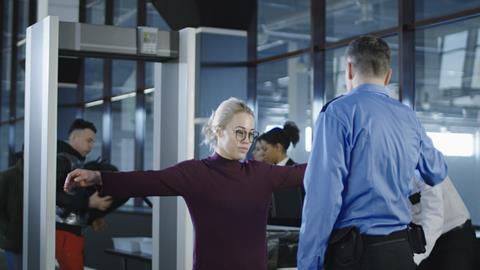 Aviation had long been a target for hijackers, with the first dating back to 1948 when a Cathay Pacific Catalina flying boat was taken over by robbers near Zhuhai. The pilot was shot while resisting the attackers causing the aircraft to crash. This incident, and several others in the 1950s and 1960s, led to airlines advising flight crews to comply with hijacker demands to avoid confrontations.
However, armed simply with box cutters, the actions of the 19 terrorists who took control of the two United Airlines and two American Airlines airliners, ushered in a swift and radical overhaul of the US and international aviation security system. The rush to action saw a raft of proposals to counter hijackers in flight such as sky marshals, armoured cockpit doors, and giving guns to pilots, all of which happened.
FEDERAL CASE
But as Flight International's leader column commented in October 2001: "Plans for sky marshals and armoured cockpit doors on airliners miss the point - terrorists must be prevented from getting on board."
Signed into law on 19 November 2001, the US Aviation and Transportation Security Act established the body that would make this happen. A new security behemoth, the Transportation Security Administration (TSA), was created, making airport security the responsibility of the federal government.
The task was enormous, says John Vermilye, who was drafted in by the TSA in 2002 as an executive advisor on the rollout team to overhaul the airport security regime. "The act required upgraded checkpoint security, federalising the security workforce, a deadline of 1 January 2003 for the screening of all checked bags and the federal air marshal programme," explains Vermilye, who was a seasoned aviation security executive as manager of corporate baggage services at Eastern Air Lines and as manager of industry baggage standards at IATA.
A "war room"-style office was created in Washington for the 35-strong team, says Vermilye, which worked under a $350 million contract awarded by the TSA in June 2002 to a Lockheed Martin-led group of firms. "Everybody knew checkpoints were a weak point. 9/11 taught us that it was not just unaccompanied baggage that was a problem. Checkpoints were a glaring hole and the first one to plug," he explains.
"There were 452 domestic and international airports needing hugely beefed-up screening equipment, new security processes and the re-design of screening areas," says Vermilye. "It was like working in a start-up company. There was an extremely tight, very precise timeline." Over 2,000 consultants and advisors were recruited and trained for deployment to these airports over a period of just a few months to reconfigure screening checkpoints.
Having new detection kit was just one aspect of the new regime; there were hundreds of small and not-so-small items that had to be worked through. "There was a moment, just weeks before roll-out, when I asked about the procedure for opening a locked bag if a suspect object was detected," says Vermilye. Over half of luggage, on average, is locked. Vermilye knew that simply forcing a bag open was fraught with legal problems and practical ones, such as re-packing and the paperwork needed. "It had the potential to get ugly," he says.
A team was immediately raised and had eight weeks to solve the problem. "In a way the solution is simple because unlocking the bag is clearly the best way, but just imagine how many keys there are for all the designs of bag out there. One luggage maker I talked to at the time had 72 different keys for its bags."
In collaboration with the TSA's Security Laboratory in Atlantic City the team designed a key ring with a set of master-keys (these would open about half of locked bags), made guidelines on how to use crowbars and clippers to get into locked bags doing the least damage, procedures on how to re-seal opened bags and Vermilye one night wrote the TSA's ubiquitous "Notice of Baggage Inspection" flier that is inserted into every opened bag. The solution kit was distributed to the 452 airports for use at every checkpoint ahead of the 1 January 2003 implementation deadline.
In 2003, Vermilye founded Travel Sentry after being approached by the Travel Goods Association, which represents luggage makers, to help establish a standards-based system that would permit passengers to lock their bags yet enable the TSA to open them for inspection if needed. This is essentially a super master-key approval system that is now used in 57 countries and provided by Travel Sentry at no cost.
As the anniversary of 9/11 approaches, so too does the 20th anniversary of the organisation founded to prevent similar attacks in the future. The TSA has grown to become one of the world's largest security operators with a workforce of some 55,000 people and a budget of $8.8 billion in 2021.
Federalising aviation security via the formation of the TSA was controversial and there have been many questions over whether it was the right move, but the strongest possible response from the US government to attacks on home soil that killed nearly 3,000 people was inevitable. Prior to 9/11, airport security in the USA was the responsibility of airlines.
"In hindsight, airlines did a terrible job in providing airport security," says Robert Aaronson, who was director general of Airports Council International from 2002-2008 and is now chairman of airport operator Propeller Airports. "Everyone underestimated the threat and the airlines bought the cheapest security they could find."
However, Aaronson is not alone in believing the TSA was not necessarily the right answer. "The US government over-reacted by creating the TSA. It should have created and prepared itself to aggressively enforce a detailed regulatory regime for security and turned responsibility over to the airports working with the airlines. Having said that, the response from governments and industry to 9/11 globally clearly has been successful."
Whether it was the right answer, the TSA is probably here to stay playing a role not only domestically but in helping many countries around the globe with their aviation security.