Loganair first officer James Bushe had to battle prejudice and outdated regulations to achieve his ambition of becoming a professional pilot, after going public about his HIV diagnosis.
"I didn't realise until the day I was diagnosed with HIV how much I desperately wanted to become an airline pilot," says Loganair first officer James Bushe. "That was absolutely it and I could not let the diagnosis stop that."
Diagnosed in 2014, he challenged outdated rules to become the UK's first HIV-positive, newly-licensed commercial pilot in January 2020. He then pushed for further change, announced by the Civil Aviation Authority (CAA) this summer.
"Ultimately, this all stems back to ICAO research of the early 1990s that has neither been challenged nor changed," he says.
Bushe's first hurdle was that the CAA permitted existing pilots who had contracted HIV to fly, but excluded aspiring ones. Supported by the charity HIV Scotland, he began telling his story under the pseudonym Pilot Anthony, gaining support from Members of Parliament. "My university background was law, and this was the first time I found a use for it," he says.
The CAA relented, permitting HIV for initial medicals in 2018, with Bushe publicly declaring his status immediately after finishing line training. "I had that boyhood dream, overcame that barrier and got the job, but to tell that story I wanted to do it as me," he says. "To continue as Pilot Anthony would have perpetuated all the fear, stigma and prejudices even I once had about HIV."
Loganair chief executive Jonathan Hinkles backed his latest employee. "Before James completed his training we had 270 excellent pilots. We now have 271. HIV is not a bar to employment in other industries and there is no reason why it should be so in aviation," he says.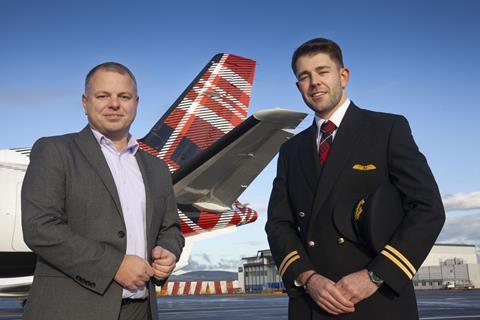 Public stigma remains rooted in a series of AIDS awareness advertisements of the 1980s in the UK, where a tombstone was a visual metaphor. Unlike society, HIV does not discriminate, affecting all demographics. Late heterosexual diagnosis remains stubbornly high in the UK – over half of diagnoses in this group are late, compared with 29% in the gay and bisexual community. By then, HIV is already compromising the immune system and increasing the probability of long-term health complications.
Caught promptly, a daily retroviral pill can suppress viral load to undetectable levels, meaning the virus becomes untransmittable: known as U=U. For people on stable treatment, HIV is now no bar to a normal life expectancy or starting a family.
NEUROCOGNITIVE ASSESSMENT
Until this year, the CAA still required pilots with HIV to keep an operating multi-crew limitation (OML) and undergo biennial neurocognitive assessment: several hours of traumatic testing to failure, attempting to define a baseline to detect cognitive decline. Now working in aviation, Bushe found an ally.
'Pilot B' was already flying when diagnosed in 2009. Concerned by a lack of guidelines, and how the regulator might treat him, he concealed his status. Continuing to pass simulator assessments, he became concerned about the increasing digitalisation of medical records. The pandemic presented the opportunity to resolve this dilemma and join forces with Bushe.
"When I put that uniform on I was just concentrating on flying, but privately it was very different," says Pilot B. "I separated the two worlds. Probably very unhealthily, my process was to delineate my emotions completely. My treatment was working, my flying was working and keeping the two separate was manageable, but when they collided it became difficult."
Conversely, Bushe's employer-approved disclosure integrated his pilot and protestor roles: "There was no bigger motivation than go to work every day, to speak about HIV and to advocate," he says.
Both share an inner fire to effect change. "I've got this ally who feels the same – this great injustice we've got to try and right," says Pilot B. "Initially it was very traumatic colliding my two worlds, but actually it's therapy. Connecting made us both laser focused."
He describes a major turning point: "James and I put our uniforms on, went to Parliament and talked to the all-party group on HIV." Their story shocked MPs, leading to an approach to the Secretary of State for Transport. "That put it on steroids, telling them we weren't messing around. I think that's when they started listening," he says.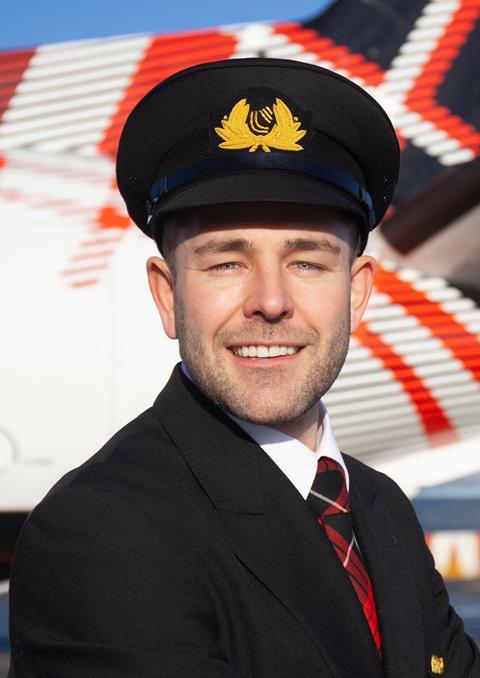 They began challenging the justification for the OML classification and neurocognitive assessments. "I knew that if anybody else wanted to do this, there were no guidelines for them to clearly find out how to make it happen," says Bushe. Months of collaboration with the CAA and doctors produced a pathway: cognitive ability is now tested by simulator like any other pilot, with neurocognitive assessment only performed when decided by an individual's HIV specialist.
"Bigger than that, anyone can come forward until December and declare their status without fear of consequence," adds Pilot B. "The CAA has shown a huge amount of humanity and now has a process that is the most progressive in the world. Anyone who felt they're just a process-driven organisation will see in the new guidelines that they've become a more compassionate regulator."
The CAA announcement came 40 years after the death of Terry Higgins, the UK's first named person to die of an AIDS-related illness. Formed the same year, his namesake Terrence Higgins Trust (THT) assisted Bushe and Pilot B. Through initiatives like opt-out testing, the THT is targeting the end of new HIV cases by 2030.
A campaigning role is rare in pilots; though trained as rule-followers, they do so while considering risk and proposing alternatives. The THT suggests it is more common for professionals to challenge regulators today, with this case being particularly notable. "These are amazing individuals who think this is not right and that policy needs to change. They are not doing it for themselves, but those following after," the THT says.
Bushe's cause was bolstered by the recent BBC series Sky High Club about Loganair, where he describes reframing what a person with HIV looks like as a 'special' experience. "Doing that on national TV is huge. It motivates me to do both as well as I possibly can and particularly in uniform, change hearts and minds about what it means to live with HIV today," he says.
UPDATED SCIENCE
Independently, the UK armed forces also recently removed their HIV-positive service ban, a move only equalled in South Africa. Royal Navy Lieutenant Commander Oliver Brown was diagnosed by opt-out testing in 2019. Naval medics declared him 'limited deployable', bringing restrictions on working aboard ship. Collaborating with the THT, Brown set out the updated science underpinning his case.
"As a modern and inclusive employer, it is only right that we recognise and act on the latest scientific evidence," the Ministry of Defence says.
In 2020, the European Union Aviation Safety Agency (EASA) published a review on certifying pilot HIV, which is available online. It said at the time: "The literature review did not reveal any risk that is not mitigated by the currently applicable implementing rules and associated acceptable means of compliance [AMC]."
When asked if there had been any subsequent update, particularly after the CAA announcement, EASA says: "More research would be necessary to justify any change to the AMC. Future research would need to focus more closely on the specific circumstances of medically certified pilots so as to assess the impact of HIV-positive status, and of the side effects of combined antiretroviral treatment, on their fitness to fly and their general health and wellbeing."
Post-Covid society is familiar with concepts like viral load, testing and restricted freedoms. "Vaccination and track and trace were about a mechanism to prove people were safe to enter a country," says Bushe. "Successful HIV treatment is the same, where I'm safe and cannot pass the virus on to others. There's never been a better time to have that conversation while the connection between a virus and travel is fresh in minds."
Critically for commercial pilots, one in four countries impose movement restrictions on HIV status. "This naturally feels like the next step," says Bushe, noting that some countries conflate HIV and LGBTQ+ when these are separate, overlapping biases.
Any bar to a flying career also raises a question of "post-Germanwings" culture. If individuals aspire to the profession earlier than they would likely contract HIV, and with mental support increasingly important, how could regulators balance their safety case while supporting applicants? Bushe says: "The situation was discriminatory and devastating to someone whose wish since childhood was to become an airline pilot."
He adds: "I'd hope this starts a movement now across the world for anybody with HIV who wants to work in this industry, as a pilot or air traffic controller. We've given them a model to take to their regulator and say: 'all the work has been done'."
Now individuals worldwide, at different stages of their own journeys, are getting in touch. "Challenges are starting to be made," says Bushe. "There was a young person in India recently who applied for a medical, was told no in the same way I was, and is now having a medical with a restriction."
Additional reporting by Karen Speight