"The pandemic has changed the way airlines look at a safe and healthy travel experience," says Dr Tammy McKnight, who joined Calgary-based WestJet in April as its first ever full-time chief medical officer (CMO). "It has taught us that this industry is very much in the business of health."
The Canadian airline, in common with most others, has strong messaging plastered all over its website stressing its commitment, and explanations of the measures taken, to protect travellers from Covid-19 throughout their journey. "From before you depart to after you arrive and at every point in between, we have your well-being at heart and will always put your Safety Above All," says WestJet reassuringly.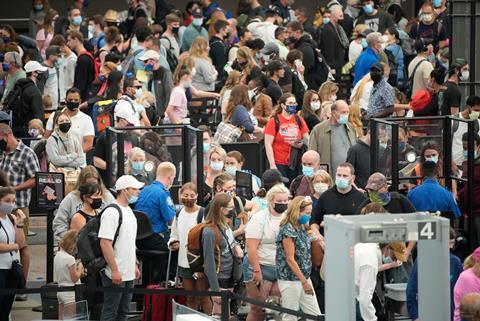 Whether it is WestJet's "Safety Above All", Japan Airlines' (JAL's) "FlySafe" or Scoot of Singapore's "Operation Safe Travels" series of measures, the priority for all airlines is to ensure travellers feel safe and confident to return to the air.
During the past 18 months, the pandemic has instigated a revolutionary change to the travel experience on a similar scale to how airport security was beefed up in a radical way with intensified passenger screening in the aftermath of the 9/11 terror attacks.
At first glance, the invisible threat of the virus has not changed much about the physical nature of the airline cabin. However, the acute financial impact of the pandemic is causing airlines to adapt their cabins to accommodate fewer business-class passengers and more leisure and budget-conscious travellers.
Airports are more visibility affected, with greater social distancing and screens at check-in and immigration to separate travellers.
As they return to flying, passengers will discover an experience that feels familiar but with many new features and procedures brought in to manage the new pandemic-induced travel world, including many inevitable queues.
Airlines have now become largely used to dealing with Covid-19 since the confusion of March and April 2020. "I think at the beginning it was hard. But eventually it has become more of a process to manage for us. We have adapted and it has become part of our daily existence," explains Rossen Dimitrov, chief officer customer experience at Qatar Airways.
With the lightning spread of the pandemic, all travel providers scrambled to work out what virus control measures they should implement. The list grew to masks, personal protective equipment, social distancing, barriers, handwashing, disinfection and more.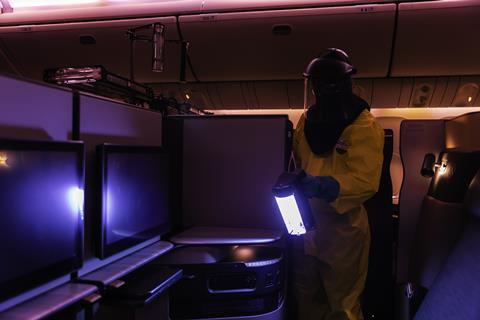 Although nothing had prepared the industry for a pandemic on this scale, it did not come into it cold, with important lessons learned dating back to the SARS coronavirus outbreak in 2003, explains Dr David Powell, IATA's previously part-time medical advisor and a former CMO of Air New Zealand. His job, which has understandably become "pretty much full-time", is to provide medical advice to the association and its members on how to respond to Covid-19.
PERMANENT FOCUS
It is common for airlines to have permanent CMOs on their staff, but it is by no means universal. Most of the European majors and the Gulf carriers have CMOs, and have had for years, but others buy in medical services. The US carriers, for example, used to have large medical departments but increasingly outsourced this function.
The pandemic has caused something of a change in heart. In February, Delta Air Lines appointed Dr Henry Ting as its first chief health officer. Ting, a world-renowned cardiologist, came from global medical provider Mayo Clinic, which had partnered Delta in the early Covid-19 days advising on employee testing, cleanliness strategies and operational tactics to reduce the transmission of the virus.
Whether via an in-house or outside medical team, or from material via industry bodies like IATA, or from rules set out by governments, airlines have been faced with a blizzard of pandemic-related information, often conflicting, inconsistent, and complex, to struggle through.
"Every country has issued different regulations. There has been a great deal of regulatory diversity from the word go," says Powell. After digesting this information overload, it is up to airlines to design a safe cabin environment for both customers and crew.
IATA's role regarding the Covid-19 response from a medical point of view is advisory, not regulatory, providing an effective forum for information gathering and sharing to help member carriers with their response. In addition to its previous outbreak experience, IATA has a variety of invaluable assets already in place, says Powell.
The first resource he turned to as the pandemic swept across the world was IATA's Medical Advisory Group, a team of 10 airline medical directors with years of experience in aviation medicine. This group in turn refers to a document called the IATA Medical Manual, a 100-page book that "covers many of the facets of airline administration and operations from the medical perspective". It is basically the A-Z of how an airline runs its medical operation and upon review, IATA's medical experts believed the Medical Manual and IATA's other on-line advice was "pretty much appropriate", says Powell.
With this as a foundational piece for airlines, one of Powell's main tasks has been co-ordinating and translating guidance and information for IATA members from CAPSCA, the key global aviation health body that most people had never heard of, until now. Established in 2006, CAPSCA is the Collaborative Arrangement for the Prevention and Management of Public Health Events in Civil Aviation. It is a voluntary, cross-sector programme managed by ICAO with support from the World Health Organisation.
"CAPSCA is designed to respond quickly to events of medical concern in aviation," says Powell. He takes part in weekly CAPSCA meetings, and it is the main global platform creating guidance for aviation and public health.
One of CAPSCA's key recommendations is encouraging states to bring in Public Health Corridors, where two countries agree to mutually recognise their public health mitigation measures to establish travel between them. ICAO has developed an online implementation package, regularly updated with the latest science, to support the roll-out of these corridors.
"It looks at the entire passenger journey, with as many as possible touchless processes at the airport, the use of social distancing, mask-wearing, surface cleaning, controlled boarding processes and others," says Powell.
On the ground and in flight, airlines have translated this guidance into their daily service provision, coupled with local rules on traveller vaccination and virus testing. "There is an entire patchwork of different solutions and different approaches by countries and airlines," he says.
At JAL, the changes have concentrated on cleanliness and sanitation, the meal service and reducing contact points as much as possible throughout the journey, says Akira Mitsumasu, the carrier's vice-president global customer experience & marketing.
FOOD HYGIENE
"We have removed all procedures that involve handling any food or drink in an open environment. All food is either pre-packed or has a lid on it. This might not make any difference [in health safety terms] but it is a huge factor in how passengers view safety."
Lavatory cleaning is a clear focus area. "In our premium cabins they are cleaned after every use. It is a lot of extra work, and we also have to do it very quickly," says Mitsumasu.
JAL also went live in July with contactless facial recognition systems at check-in, security and boarding for international services at Tokyo's Haneda and Narita airports.
The first issue any transport provider must address is virus transmission. With Covid-19 the spread is mainly caused by breathing in air when close to an infected person who is exhaling small droplets and particles that contain the virus. By design, modern airliners have the upper hand here with environmental control systems (ECS) that exchange the entire volume of cabin air for clean outside air every two to three minutes.
The ECS also contains High Efficiency Particulate Air (HEPA) filters, which the makers say provide hospital-grade 99.9% filtration efficiency, which effectively removes viruses like Covid-19. Airbus, for example, has fitted such filters to all its aircraft manufactured since 1994.
The number of reports of on-board transmission is low, based on the number of published cases globally, Powell says. "The risk has proved, as we thought, to be low compared to other indoor spaces. You would expect that with controlled airflow, highly efficient filtration, mask wearing and everyone facing the same way [in their seats]," he says. "This is actually the less difficult of the two main problems to solve." Much harder is the issue of importation, especially with the incubation period of the virus, which is why governments have imposed strict border control measures.
For many months after the outbreak of Covid-19 the issue for passengers was the fear that sitting around them would be someone who they could infect them with the virus. "I am seeing a change," says Qatar's Dimitrov, particularly as travellers know their fellow passengers and the cabin crew are likely to be vaccinated. "People are still cautious, but the fear is gone."
Airlines are already discussing what measures will remain as restrictions begin to be lifted. The main questions are which things are the least effective in terms of protection, and which are the most disruptive and difficult. The most important protection is ensuring all passengers do not have Covid-19 in the first place and the critical tool is the vaccine.
"Now, we are taking the opportunity to discuss with people in technical operations and safety and look at what the best technologies are going forward, especially with sanitisation," says McKnight at WestJet. "Our decisions will always be based on the data and on evidence."
Mask wearing can be controversial, but Powell believes they will be slow to disappear. "They are a reasonably effective measure, and whilst annoying they are not hugely intrusive, with the exception of disruptive passengers in certain markets."
In time, business-class service will return to food being plated up and delivered by hand, says Dimitrov. However, masks and gloves will remain, as will the increased sanitation measures and the use of contactless technologies. "These items will become part of our new normal," he says.
Whether it is on-board equipment, extra cleaning or longer turnaround times, the extra cost of Covid-19 protection measures is steep, but unquantified. The team at JAL has talked a lot about this issue, but there can be no compromises to keep passengers safe and restore confidence. "This is our top priority now. Customer service comes first," says Mitsumasu.
"This is not something that will end. The pandemic may end, but once you become conscious of something like hygiene safety it won't go away. You can't undo it," he believes.
"At Qatar Airways, we don't meet the minimum standards – we always exceed them," says Dimitrov. "Some of the measures will simply become the cost of doing business. But you need to be smart about the need to manage costs." This means thinking carefully about how amenity kits are designed, perhaps replacing a comb with a disinfectant. The carrier works closely with its ground handlers, airports, and caterers on managing costs at all points in this new reality, he explains.
The what next depends on how well the world controls Covid-19. "We are in a transition phase between pandemic and endemic, with different countries at all different points along that journey," says Powell. Over the coming months, we will all discover how long this transition will last.
Auditing airlines' health safety standards
To demonstrate the comprehensive nature of the Covid-19 protective measures they are taking, many carriers have turned to independent bodies to audit their processes and procedures. The Airline Passenger Experience Association – known as APEX – has teamed with global airline marketing consultancy SimpliFlying to create the APEX Health Safety powered by SimpliFlying rating.
"As more travellers return to the skies, APEX wants customers to know the verified steps being taken by airlines worldwide for their well-being," says Dr Joe Leader, chief executive of APEX. It is a free and extensive online process, with airlines awarded a tier status of Gold, Platinum or Diamond after evaluation by the SimpliFlying team, explains Shashank Nigam, chief executive of SimpliFlying.
A total of 25 carriers have been audited so far, with another 15 in the pipeline. Airlines place the APEX Health Safety badge on their website to create awareness of their achievement.
The well-known airlines rating service Skytrax launched its Covid-19 Airline Safety Rating in March 2020 and finished its first assessment in July, explains Edward Plaisted, chief executive, who has made about 40 flights, flying as much as he could during the pandemic. "We pursued Covid-19 ratings because we wanted to have a system based on real-time, physical inspections," he says. One of its main on-site tests is swabbing to check the cleanliness of the cabin. Seat belt buckles are common infection hotspots.
Prior to Covid, Skytrax had about 40 staff performing its rating work. That has fallen to 20 at present but will grow as travel restrictions are relaxed, says Plaisted.
"The most common question I get from airlines is 'how do I get a five-star rating?'," says Plaisted. "But it is somewhat intangible. There is no one item. It is a combination of how effective, consistent and disciplined all of the standards are at an airline and how well teams manage procedures."
The audits also enable carriers to discover new opportunities to improve, says Nigam. For example, SriLankan Airlines realised following a question in the APEX-SimpliFlying audit that turning the aircraft auxiliary power unit off during a turnaround meant the HEPA filters were not fully operational. It changed its operating procedures accordingly.