With a background in engineering, Spencer Hoggarth now oversees training at MRO firm Flying Colours. Having just opened its largest hangar so far, the business sees developing new recruits as vital to growth
How did you get involved in aviation?
My father was an aircraft mechanic, so you could say it runs in my family. From a young age, there was always a fascination with the aerospace industry. I attended the Southern Alberta Institute of Technology in Calgary and completed the aircraft maintenance engineering course. After receiving my aircraft maintenance engineer (AME) licence and gaining the US Federal Aviation Administration airframe and powerplant licence, I moved to Peterborough to accept a position as an AME with Flying Colours.
What does an aircraft technical trainer do?
The aircraft technical trainer position is a new role for the business, so to some extent I'm still shaping it – which is just great, and a rare opportunity. Flying Colours recently added online learning to its training offering and I'm responsible for developing and establishing this as a viable method of sharing skills and knowledge across the company.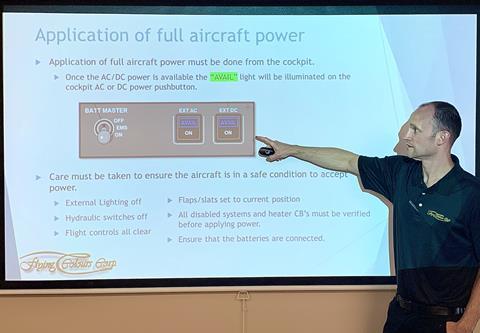 What does your typical working week look like?
It's pretty varied. As administrator of the online Learning Management System, there's a multitude of weekly tasks. Typically, this involves creating relevant online modules, classroom teaching, distributing online course material and on-the-job training. The online courses are very effective in providing maintenance training using a variety of materials and visual aids. As a new project I'm also evaluating its effectiveness to establish what works and what doesn't, as the plan is to streamline this as a means of training across our facilities in Peterborough, Ontario, St. Louis, Missouri, and Singapore. We're growing rapidly. This helps to keep the team current without having to waste time travelling. It's clear that this is where we need to move in order to keep training accessible to all employees as the company evolves.
What is your favourite part of the role?
I enjoy seeing the progress made by the technicians during training. Not only in terms of skill development, but also their dedication and patience. A well-structured, clear path really helps the training succeed. It makes the educational journey much more enjoyable for everyone and achieves their goals faster. Having a background in maintenance allowed me to work on many different aircraft types. That variety is now replicated, but the variety is represented by the different divisions. I liaise with colleagues from avionics, cabin refurbishments, completions, maintenance, modifications and paint divisions, so there is always something new to learn.
What do you find most challenging?
Keeping up with the constant changes of a growing business is always challenging, but in a good way! For example, I'll put together a new lesson, then a week later that lesson needs to be updated because of a procedural change. In addition, the industry is changing so quickly – a few years ago avionics and connectivity were not at the forefront of aviation but now if the connectivity system isn't working, the aircraft won't fly. This means I need to stay on top of all the different sector developments. Selecting the right teaching methods for each trainee is a challenge as some work better than others depending on the participant, but the investment in teaching tools such as the online ones has definitely made that process easier.
As aircraft become more complex, is this helping or hindering practical maintenance and keeping the team current?
Every new type of aircraft has become better at "self-diagnosis". The large array of onboard sensors helps the aircraft "tell' the technician what might be wrong, which is great, but it in no way replaces an experienced technician. The technician must have a solid understanding of how the system should operate before a diagnosis is made. There will always be a practical side of maintenance, at least until robots exceed humans in dexterity. The flip side of this is that the advanced aircraft also give us many new components to learn about. With every advancement in technology, technicians have to stay up to date so the online learning is vital. Dealing with new aircraft is always interesting, although you can't underestimate the knowledge needed to deal with older machines.
If you would like to feature in Working Week, or you know someone who would, email your pitch to kate.sarsfield@flightglobal.com