The lighter side of Flight International.
Anti-social media
Has British Airways' ban on employees posting on social media platforms while engaged in professional activities backfired?
Several pilots have built huge personal Twitter, TikTok and Instagram followings with their spectacular photos and videos from the cockpit depicting the likes of the aurora borealis and iconic aerial cityscapes.
As ambassadors for the flag carrier, they provide the sort of positive publicity and goodwill BA would need to spend millions on advertising and charm offensives to achieve, helping to make flying and the brand exciting and glamorous again after what has been a rough few years.
Some, however, appear to have found a way around the po-faced prohibition.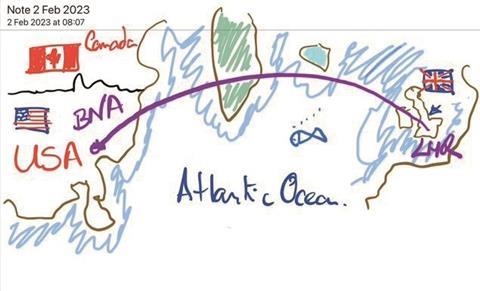 @JonnyLutton says he has employed a courtroom artist for future tweets.
"The budget is very tight," he remarks. "I can confirm this was commissioned while at my home and not at LHR or on a jet."
Travelling fur-st class
When you are the only airline serving remote communities – indeed their only practical transport link to the rest of the world – you mess with the service your customers are used to at your peril, particularly when domesticated animals are involved.
So it was when Loganair hiked the charge for carrying pets from £20 to £100 for a return journey, a decision chief executive Jonathan Hinkles revealed recently was one of the most controversial in his time running the small Scottish-based airline.
Loganair's move, in 2018, sparked an "internet storm" and accusations of profiteering from its clientele, Hinkles admitted to Aviation Club luncheon guests. He says the carrier had no choice: too many passengers were taking their pets on their trips simply because it was cheaper than paying for kennels. Loganair was turning away those who needed to take their pets because there was no room in the hold.
Hinkles won back many fans during the pandemic. Loganair was one of the few airlines in Europe that continued flying throughout, carrying everyone from essential workers heading to North Sea oil rigs to patients to hospital appointments on the mainland.
Lunch failure
Evidence surely that media hospitality budgets are not what they were.
An invitation arrives from an electric vertical take-off and landing (eVTOL) developer to mark diaries for a midday media event at which it was due to make a major programme announcement.
"Since it will be at lunch time," advises the sender, "please feel free to bring your lunch."
Say again
Real-time transcripts – where an individual, or possibly an AI device, simultaneously types what a speaker is saying – are notorious for mishearing certain words.
At Boeing's recent earnings call, the Truss-braced Transonic Wing project appeared as "trust-based transonic win".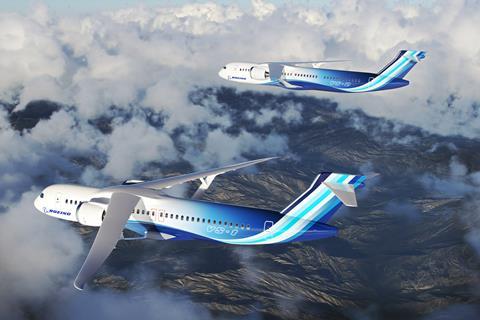 Roo-d response
The person behind Ryanair's Twitter account is a genius of sarcasm.
"Ryanair, where's the pouch? Can I pay extra for one?" demanded one user, with a picture of the Irish airline's minimalist seatback.
The reply? "It's a seat not a kangaroo."
Underslung hero
"When they told me it was some kind of pilotless fighter proect, I didn't think they meant this!"