The lighter side of Flight International
Wright way round
When the Ohio Bureau of Motor Vehicles wanted to design a new licence plate, what better icons of the state to choose – aside from wheat fields – than its most famous sons?
So attached to a banner that reads "Birthplace of Aviation" in a sky above green hills, a leafy tree and a distant cityscape is the Wright Brothers Flyer.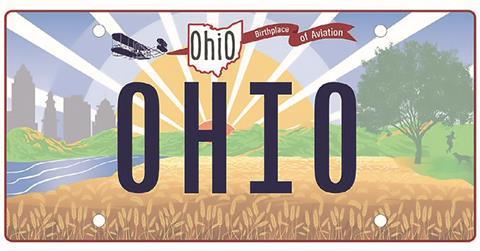 The bureau proudly revealed the design in a tweet.
There was just one problem. Rather than trailing the banner, the famous aircraft appears to be pushing it. The bureau admitted its error in a subsequent tweet: "We are aware that the plane on the new Ohio license plate unveiled this morning was oriented in the wrong direction. We regret this mistake and have fixed the image."
More than 35,000 plates were already printed, and these have been recycled.
Ohio's claim to be the birthplace of aviation was already controversial. Although the Wrights lived in Dayton most of their lives, the first heavier-than-air powered flight in 1903 took place, of course, near Kitty Hawk, North Carolina.
Navy blues
We don't know where to begin with this since-deleted tweet from defence firm Sierra Nevada, congratulating its customer, the US Navy, on its 246th birthday.
Now, we are prepared to grant the authors some artistic licence, but the aircraft is a Eurofighter – a Luftwaffe one at that – not a type that has been configured for carrier operations as far as we are aware.
What's more, the angled launch deck is pointing in the wrong direction, and the jet has apparently taken off with spectators all over said deck.
To Sierra Nevada's credit, they did at least manage to depict US weapons on the aircraft.
Jetpacks up for grabs
Personal jet-powered flight has been a fantasy of many aviators since James Bond – at the time portrayed by Sean Connery – famously used a jetpack to escape from a chateau roof in the 1965 film Thunderball.
Now the original jetpack prototypes designed by a more recent developer, New Zealand's Martin Aircraft, are up for sale, together with design and branding rights.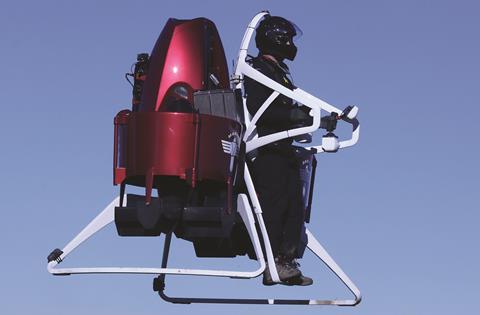 It comes three years after the Christchurch-based firm ran out of money, despite securing backing from Chinese investors.
Martin Aircraft spent almost 30 years developing a jet-powered personal flying system, and had secured a microlight certification from the Wellington authorities.
The company exhibited its system – a backpack powered by a V4, two-stroke gasoline engine, driving two ducted fans, and controlled by the pilot with a pair of joysticks – at the 2015 Dubai air show, with the United Arab Emirates reported to be showing an interest.
Pitched at the first responder and military market, the jetpack was the brainchild of inventor Glenn Martin, who had begun work on his concept in his garage in the 1980s.
"The Martin Jetpack is a unique flying machine that was nearing production when the company closed," says auction company Skylarc.
"This is an opportunity to own one of these machines or for an enterprising organisation to finish the development and bring it to market with most of the hard work already done."
Also going under the hammer are two multi-axis simulators, four Rotron rotary engines, and a range of spare parts.
Lack of legroom
IATA's recent AGM conference hotel was the very centrally-located Boston Park Plaza, known for its expensive, but not expansive guest rooms. One participant noted that the space between the bed and the wall was too narrow to pull her rollaway suitcase through.
Even some high-ranking delegates expressed surprise at the tight quarters.
Sir Tim Clark, Emirates Airline chief executive, quipped to a journalist: "Did you also find your bathroom in the closet?"