The lighter side of Flight International.
Museum piece
Emirates has revealed an Airbus A380 in a special livery dedicated to Dubai's latest attraction, the Museum of the Future. Several more similarly-painted superjumbos are being deployed.
The initiative "underscores the airline's unwavering commitment to support Dubai's vision to become a hub for innovation and testbed for emerging technologies", says the press release.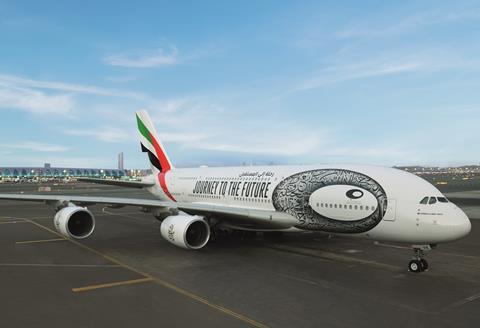 But is there some irony in promoting the Museum of the Future on a type that – following Airbus's decision to cancel the programme in 2019 – has been very much consigned to the past?
Bird's eye view
You can take the controllers out of the east London weather, but you can't take the east London weather out of the controllers.
At least that seems to be the case for London City airport, whose tower personnel no longer work at the facility but instead – through the magic of digital tower technology – oversee the traffic from 115km away, in the cosy Swanwick en route centre near Southampton.
But air navigation service NATS' London City watch manager Lawrie McCurrach says the "immersive" nature of the high-definition panoramic view means the chill of an airport downpour is felt just as keenly.
"You forget you're not at the airport and you're actually in sunny Swanwick," he says. "You still get all wrapped up and get your jacket on."
And – as predicted by us last year – the controllers are having to cope with the occasional "huge bird face" popping up in front of the cameras, admits NATS engineering deputy service manager Graham Lewis.
"We have to constantly remind ourselves that we can't tap the screens to get them to go away," he says.
May the air force be with you
The Royal Australian Air Force marked Star Wars Day on 4 May ("May the fourth…") by posting this image on its Facebook page of one of its Airbus Defence & Space KC-30As fuelling Y-wing starfighters from the franchise.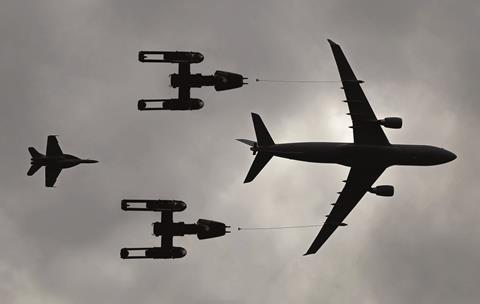 "Crews from No 33 Sqn train with a wide variety of receivers," notes the service. "While the KC-30A isn't rated to provide coaxium [a highly-prized fuel that enables travel through hyperspace], it can carry more than 100t of jet fuel – giving these starfighters the flying range to reach a galaxy far, far away."
Un-Oxfordable
Speaking at a rather-belated New Year event – towards the end of May – in a venue in central London, Airbus chief executive Guillaume Faury proclaimed that the company was investing in a new UK facility for its rotorcraft business.
"I'm very pleased to confirm that we are starting construction of a new Airbus Helicopters headquarters building at Oxford airport with a value of…," he said, pausing momentarily, before adding: "…in excess of £40 million."
After noting the wording in the speech, Faury remarked: "I hope that's not my team telling me it's going to be more expensive."
Back later
Aerospace firm Honeywell's website features, among many high-tech products, a range of alternative navigation systems designed to step in and assist aircraft in finding their way around when GPS satellite signals are interrupted.
Alas, no such comfort for visitors to the website recently. On a number of pages – including those showing alternative navigation equipment – a notice popped up informing them that the company was currently experiencing "interruptions" and "intermittent outages" and that it was "working diligently to restore services".
"Please check back at a later time," it suggested.