The lighter side of Flight International
When at sea…
"I wonder if I could enlist the help of Flight International in my so-far unsuccessful one-man campaign to get the [Lockheed Martin F-35] Lightning renamed Sea Lightning when aboard either of the UK's aircraft carriers?" writes J McNeill of Glasgow.
"Thus far I have had little traction with the Royal Air Force or Royal Navy," he laments.
"If it was good enough for the Seafire, Sea Hurricane, and Sea Harrier, it's surely good enough for the Lightning!"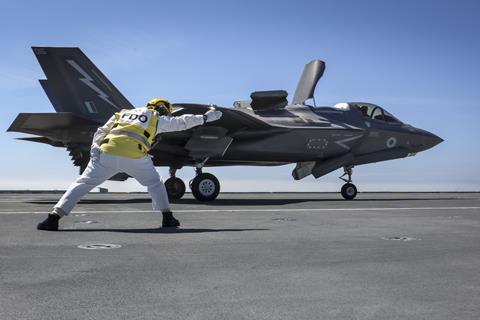 This reminds us of one rumoured justification for the selection of 617 Sqn – the RAF's legendary Dambusters – as the UK's first operational F-35 Lightning unit.
"They're very good over water", a service official is said to have quipped.
ACAS of mistaken identity
Perhaps the labour strife experienced by South Africa's aviation industry over the past few months was on the mind of someone at the country's accident investigation department when they wrote up the report on an August near-miss incident at East London airport.
Because both the report's glossary and narrative insist that the Boeing 737-400 involved was fitted with version 7.1 of the "Advisory, Conciliation and Arbitration Service (ACAS)".
Which would probably come in handy during those trickier rounds of pilots' collective bargaining talks. But not when trying to avoid a light aircraft that strayed into your approach path, when you'd rather have a different sort of ACAS – an Airborne Collision Avoidance System – to help steer you out of trouble.
XXX-plicit
If there wasn't enough potential for schoolboy sniggering over the name of Swedish regional airline BRA, when it unveiled plans for a sustainable fuel test flight on 16 September, the choice of backdrop added an extra source of playground-level mirth.
It depicted an ATR 72 turboprop – not a photo but an artist's impression. As such, it had been drawn with a dummy registration featuring the Swedish prefix but a blank suffix – reading SE-XXX.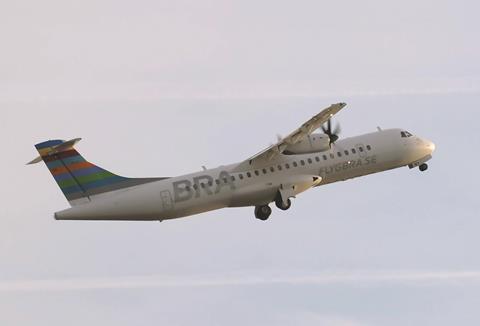 Shut up at the back, or there'll be extra homework and environmentally-friendly detentions all round.
Delta blues
Earlier this year, the World Health Organization began assigning names to variants of Covid-19 after letters of the Greek alphabet. The previous convention – based on where the variant originated – had drawn complaints from the citizens of Kent and India, who were not particularly keen on the place they called home being associated with a deadly bug.
However, the WHO clearly failed to consult the chief executive of a leading US carrier when it christened the, so far, most virulent strain of the coronavirus. Since May, Delta Air Lines' Ed Bastian has steadfastly referred to the "B.1.617.2 variant" – scientifically accurate, but not exactly snappy.
Casting a spell
Despite failing to land a trade agreement, UK Prime Minister Boris Johnson appeared to mention a surprising bit of transatlantic harmony after meeting President Joe Biden in Washington in September, at least if you were watching the subtitles of a Sky News interview.
According to the transcript, the two had sorted out the "spelling dispute that's been going on for ages".
To those wondering whether that means the US government will start using 'colour' rather than 'color', or rebrand the 'Department of Defense' as the 'Department of Defence', some explanation is probably in order.
The transatlantic dispute to which Johnson referred was actually the row over commercial aircraft subsidies.
Clearly the subtitling system wasn't oven-ready enough to cope with the words 'Airbus-Boeing' and used a poor substitute instead of doing the job properly.
Much like Johnson did with a certain other trade deal.
Dive, dive, dive!
Clive Rogers sends in this screenshot from the app of this year's Goodwood Revival, the celebration of the glory years of British motorsport, highlighting one of the event's airborne stars. Or is it?
"It seems someone hasn't checked the spell checker, or the famous Battle of Britain aircraft was even more versatile than we thought," he says.