The lighter side of Flight International.
Goose kidding who?
Emirates' decision to use a Canada Goose as its brand ambassador is an eyebrow-raiser, given the species' notoriety in the annals of birdstrike history, but the Dubai-based airline is also being mercilessly ribbed over its advertising by fellow goose buff Air New Zealand.
If you take a gander at the Emirates promotion, you will see it shows a Canada Goose – apparently named Gerry – relaxing on board an Airbus A380 while the rest of the flock wearily follows in-trail.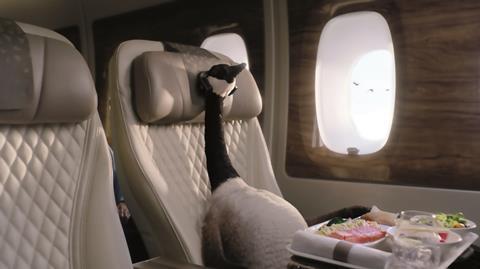 But Air New Zealand has responded with its own advert, featuring its long-running 'Dave the Goose' character, who seems to be in a flap over Gerry's choice of conveyance.
"I have finally convinced my old mate Gerry to stop doing his own flying, like me," he says. "Only problem is, he got the wrong airline. What are you doing on Emirates, Gerry?"
Presumably the inclusion of geese rather than, say, the falcon or kiwi, is all to do with long-distance travel, but you have to wonder why neither airline went with the undisputed king of long-haul flight, the Arctic tern. If only because, in their tit-for-tat over bird-related advertising, they could claim that one good tern deserved another.
Meanwhile, Emirates is offering its regular customers "free tickets to the future" – a chance to win a trip that includes a visit to the city's new museum dedicated to "innovative and futuristic ideologies, services, and products".
It reminds us of the rather scathing apocryphal remark Australian pilots used to make when landing after a trans-Tasman flight: "Ladies and gentlemen, welcome to New Zealand. Please don't forget to put your watches back 20 years."
Sibling rivalry
Sister airlines they may be under the parentage of IAG, but there seems little love lost between British Airways and Vueling, if a recent Twitter exchange is anything to go by.
Responding to a Vueling passenger's complaint on Twitter about a delay to the take-off of BA8073, and lack of communication from the airline, the Spanish airline posted: "Hello Robert, if the flight is operated by BA, please contact our colleagues directly."
Its sibling's curt correction, openly on the social media channel: "Hi Vueling, this flight isn't operated by BA. It's a codeshare operated by you."
It's all Boeing wrong
There is obviously not a Total Aviation Person in charge of Air France's official online fleet photo gallery. One of the "Airbus A330s" looks very much like a Boeing 777.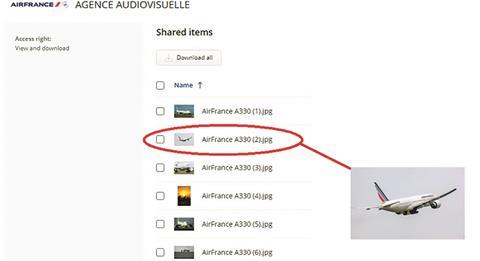 Sheffield shuts… again
As Oscar Wilde almost said, for a city to lose one airport may be regarded as misfortune; to lose two in the course of a few years looks like carelessness. Sheffield will achieve that dubious accolade when the loss-making airport it shares with nearby Doncaster winds down in the next weeks. DSA lasted 14 years, three more than the ill-fated Sheffield City, which opened in 1997 in an attempt to emulate the capital's Docklands business airport, and closed in 2008.
A big problem for DSA was that it is not that near Sheffield. Manchester, Leeds-Bradford and even East Midlands, all better served by airlines, are within 75min drive of the Yorkshire city.
Ian Goold
We are saddened to report the passing of Ian Goold, a former air transport editor with Flight International. Beginning his career as a British Aircraft Corporation apprentice at Brooklands, he worked on the Vickers Super VC10 and BAC One-Eleven programmes, as well as Concorde.
He switched professions in 1973, joining this magazine, where he spent 20 years. Until shortly before his death from cancer, aged 74, he was writing for a number of aerospace journals, and had his last bylined piece in Flight earlier this year – a retrospective on the de Havilland Comet.
An award-winning journalist who was as passionate about accuracy in reporting as he was about aircraft, he will be much missed by colleagues in the aviation media and wider industry.