The lighter side of Flight International.
Smashed it
As this year's sadly rain-affected Royal International Air Tattoo drew to a close, a much-anticipated appearance by a US Air Force Boeing B-52H bomber could have been viewed as a disappointment, since it involved just a single flypast at RAF Fairford in Gloucestershire.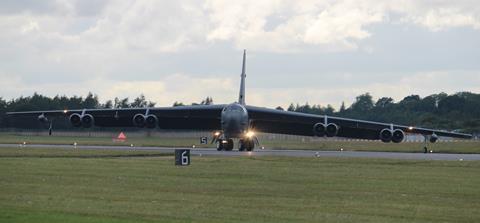 But to spice things up a bit after landing, the crew demonstrated a unique capability of the veteran type, conducting a so-called crabbing taxi along much of the 3,050m (10,000ft)-long runway.
Trailing behind a follow me vehicle, the "Buff" made an impressive sight, with its wing outrigger wheels occupying the full runway width. So much so, in fact, that the left-hand wheel – the one in contact with the ground – made a direct hit on nine clusters of runway edge lights.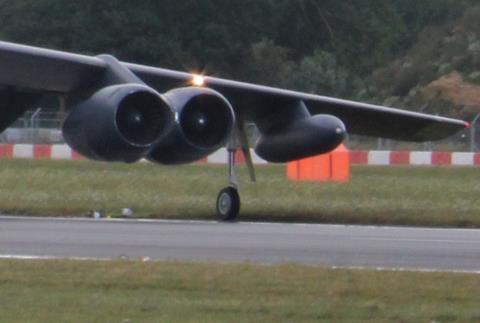 No doubt this resulted in more work for volunteers taking part in the end of show FOD plod, where litter and other potential hazards to aircraft are collected.
Chocs away
Another Concorde has gone on display at Aerospace Bristol – the museum that celebrates the aviation heritage of the city where the pioneering supersonic transport was designed.
But this time it is made of chocolate.
The 2m-long confection, produced by Zara's Chocolates and designed by Luke Jerram, is one of five local landmarks replicated in chocolate to celebrate Bristol's 650th birthday (or at least when it was granted county status).
The exhibit is wrapped in gold foil, but in October 10 members of the public will be invited to ceremonially smash it – and the other models – and taste the chocolate, which will also be distributed to foodbanks in the city.
Top art
Congratulations to Paul Couper GavA, who is the winner of the 2023 Guild of Aviation Artists' Aviation Painting of the Year for this work, called Tip and Run.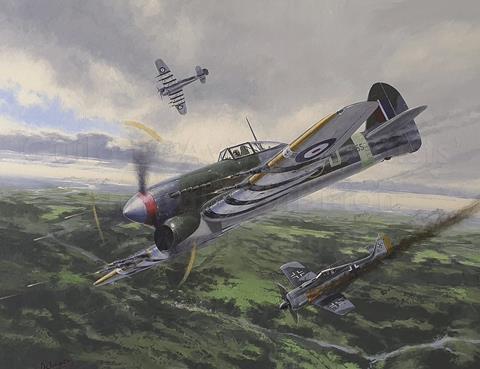 Bright sparks
With all the hoo-ha about the disruptive potential of a new generation of electric aircraft, David Lye writes to remind us that it will soon be the 50th anniversary of the first manned flight exclusively powered by batteries.
On 21 October 1973, US inventor Fred Militky and German pilot and developer Heino Brditschka built and flew the MB-E1, a Brditschka HB-3 single-seat sailplane fitted with a Bosch motor and Varta lithium-cadmium batteries.
The first flight lasted just 9min at an altitude of just under 1,000ft. There were several follow up flights of similar duration, but no production aircraft resulted, and it took several decades before battery technology came back into vogue again.
However, as Lye points out, the first electric-powered flight could be argued to have taken place many years before – almost 90, in fact.
On 9 August 1884, the French army-owned airship La France – with a zinc-chlorine battery powering a 1.5hp Siemens engine – flew for 23min and returned to its point of ascent. Six other successful flights followed in 1884 and 1885. However, according to the Science Museum website: "Owing to the heavy weight of the batteries, electric power did not provide a solution to the longstanding problem of airship propulsion."
Positive PR
What the press release says: "Positive profit warning: Finnair updates its profit outlook for 2023".
What it means: "We think it's only fair to warn you that we might actually make some money this year for a change."