In her role as president and chief executive of international trade body the Association of Air Medical Services, Cameron Curtis can combine her two passions, aviation and healthcare, while helping her 600 members to deliver a quality service
How did you get into the aviation industry?
My interest is in healthcare. I was especially impressed by the critical care that air transport providers contribute to the aviation industry. I previously worked for the Regional Airline Association as director of meetings, where I first made contact with people from the sector.
How has your career progressed?
I have a bachelor's degree in music theatre from Christopher Newport University in Virginia, but I fell into the non-profit world through meeting and event management. I like the holistic approach to helping people in their communities, and I realised that healthcare is at the root of that. This passion is what ultimately brought me to my current position as president and chief executive of the Association of Air Medical Services (AAMS) and Medevac Foundation International.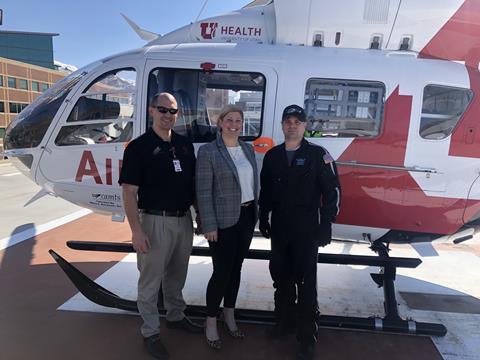 What are the highlights?
Building revenue streams, grant programmes, and expanding membership at a variety of healthcare organisations has been my focus for the past seven years. Some of those highlights include my roles as executive director for the Society of Interventional Oncology and the Association for Clinical & Translational Science. My current position at AAMS combines both my passions for aviation and healthcare.
Who are the members of AAMS and what is the organisation's mission?
Our mission is to serve international air medical and critical care ground transport providers. We have 600 members that represent 300 companies, including critical care transport nurses, doctors, operators, mechanics, and manufacturers. A total of 12,000 members have access to AAMS services.
What challenges are your members facing from the coronavirus pandemic?
A lack of resources related to equipment shortages, including ventilators, as well as appropriate masks and gloves. They are on the front line as trained responders in infectious diseases but never before have they had to deal with an outbreak of this size and scale with a lack of equipment to keep them safe.
What is your vision for AAMS?
To unify the industry so we can focus on what's most important. That includes supporting our emergency medical services providers, by supplying the resources they need to deliver safe and quality life-saving care to communities around the world, and to educate the public on how the medical transport industry works in their communities.
What resources do you offer your members?
Weekly Town Hall virtual meetings are open to anyone in the industry to learn and discuss relevant topics and we will continue to add more webinar content. We offer our Medical Transport Leadership Institute, which leads to a certified medical transport executive credential, as well as our Safety Management Training Academy, which delivers the certified medical transportation professional credential. Our annual Air Medical Transport conference is scheduled for 2-4 November 2020 in Nashville, Tennessee, and will attract 2,300 attendees and exhibitors with more than 130 education sessions on topics such as safety management and theory, as well as hazard analysis and planning.
What is your day-to-day schedule?
Currently, it is coronavirus all the time. When members are not dealing with a major pandemic, I will resume my regular in-person meetings, continue to learn as much as I can about this industry, as well as getting to know our members and legislative issues.
What is the most exciting part of your role?
The most exciting part is to work for this community of professionals that are trained to be on the front line with dedication and no complaints. The public doesn't completely understand rotary-wing, fixed-wing and ground transports, and all the people that touch those segments, such as hospital personnel, mechanics, nurses, part manufacturers, pilots and others. Now that I am meeting all these people, I have an opportunity to make changes that will better support our members in their local communities.
What is the biggest challenge?
Today, it is coronavirus and the learning curve to come into this space. While I am not a medical professional or a pilot, I am here to support them and will prove to our members that I can learn and support them in their work.
What areas of growth for AAMS will you pursue?
My priority is to provide more education – online and in person – for all the professionals in this industry. I want to look at welcoming equity, diversity, and inclusion to really impact this space. Also, it is time to find a way to build the pipeline to attract future flightcrews that are trained with quality of hours versus quantity.
If you would like to feature in Working Week, or you know someone who would, email your pitch to kate.sarsfield@flightglobal.com