Mohammed Al Husary is co-founder and executive president of UAS International Trip Support, which provides a range of travel planning services to high-net-worth business clients in 31 countries worldwide.
How did you get into aviation?
I've been immersed in aviation since childhood. From the 1950s, my father, Hisham, was a pioneer of aviation and instrumental in the development of civil aviation infrastructure in many countries in the Middle East. He must have passed on his passion to me. When I was 20 years old, I co-founded UAS, spurred by a vision to provide trip support to places that no-one had managed to before.
What does a typical day look like?
There is no typical day. Our client demands can be last-minute, emergency missions, or intricate, well-planned operations that cross continents. Basically, whatever the aviation need, no matter how complex or unusual, we can deliver. Our experience, local and regional expertise, and global network ensures we have the connectivity and connections to make anything possible.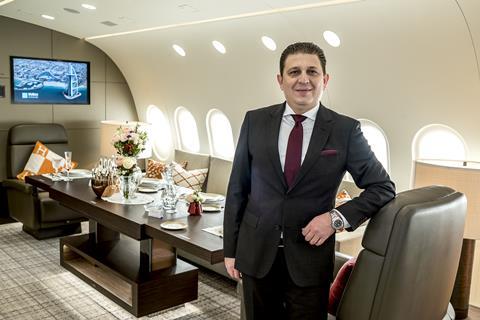 What is your biggest career highlight?
I'm exceptionally proud of what UAS has achieved over the past 19 years. It's gone from a handful of employees to the global team it is today, with a ground presence in 31 countries worldwide and the loyalty of clients that include royalty, heads of state, and VVIPs. From a personal point of view, I was really honoured to be presented with the Lifetime Achievement Award at the Sapphire Pegasus Business Aviation Awards 2018, to be named in the National Business Aviation Association (NBAA) Top 40 Under 40, also that year, and to be invited to join the board of the Middle East Business Aviation Association.
What's next for the company?
Right now, UAS is focused on taking business aviation to the next level and setting a new standard in what clients can expect from every stage of their mission. We're taking all the competencies we've developed by advancing technology in trip planning, executive travel and air charter to a new level to revolutionise the customer experience. We'll be supporting operations to many international events throughout 2020, such as the Tokyo Olympics, the US presidential election, and Expo2020 in Dubai. We will also be continuing to grow our global network by forming powerful alliances in places where demand is high, forming mutually beneficial relationships with strategic partners globally and maintaining our network of best-in-class suppliers, as well as adding to our number of international stations. The importance of further developing goals around sustainability will also be a priority for us throughout 2020. All in all, the aim is to consistently improve UAS innovation, quality, and sustainability standards far and wide.
How do you see trip planning evolving?
Technology is completely transforming trip planning. For something that was still done in a traditional way until recently, technology has taken it to an entirely different level – making it easier, faster, more efficient, and, importantly, more cost effective. We developed our technology suite, UAS Evolution, to eradicate the pain points of traditional trip planning. Our flagship product, UAS Flight Evolution, is a flight planning and weather app we also use in house. Other solutions in the suite include powerful, user-friendly tools for communications and service co-ordination. This technology streamlines workflows, provides direct access to vendors, and helps to eliminate mistakes. Looking at the new generation of electric vertical take-off and landing aircraft, we're seeing how digitalisation is transforming traditional aviation and we're investing in being at the forefront of how trip planning merges with this in the future.
Do you have any advice for young people coming into the industry?
I think the best advice to give young people coming into the industry – or any industry – is that they must have passion and purpose. In other words, you must have a "why" to be disruptive. Ask yourself why you want to be involved in this industry… What problem do you want to solve? Once you have your "why", then you must consider the "how". This is where commitment and work ethic come in; you must assume responsibility for your own self-development. Never doubt that you can make a huge difference.
We believe in helping the next generation of aviation professionals to ensure a bright future for the entire industry. Our internships allow students the opportunity to work in the service provider environment and obtain real-world experience. UAS is a key sponsor of the annual International Operators Scholarships, presented in co-ordination with NBAA and the International Operators Conference committee. When it comes to the UAS family, globally, we have a lot of young employees in who we invest expertise, training, and time so we can be assured that they are the best representatives of our standards all over the wor