The grins were wide at ZeroAvia's stand tucked inside a Paris air show hall in June. The firm's chief executive, Val Miftakhov – an industry champion of hydrogen-electric power solutions – was shaking hands with the first customer to book a production slot for its under-development ZA600 hydrogen-electric engine.
That customer was not an airline, but an air finance company, London-based Monte, represented by Timothy Eyre, its chief operating officer. Monte, an aircraft lessor, and financier, was founded two years ago with the "sole ambition of supporting the aviation industry's transition to net zero carbon emissions".
Monte is one of the first lessors seeking to introduce aircraft in the nine- to 19-seat range retrofitted with all-electric, hybrid-electric, or hydrogen-electric engines, cashing in on customer demand for lower-carbon flying with popular types such as the Beechcraft King Air, Cessna Grand Caravan and De Havilland Canada Twin Otter.
Other lessors are concentrating on clean-sheet, all-electric-powered types such as the Eviation Alice and the Heart Aerospace ES-30. Firms such as Monte, Aerolease Aviation, Avmax Aircraft Leasing, and Rockton are the first movers among air finance players betting on a wave of aircraft able to deliver better sustainability performance than today's models.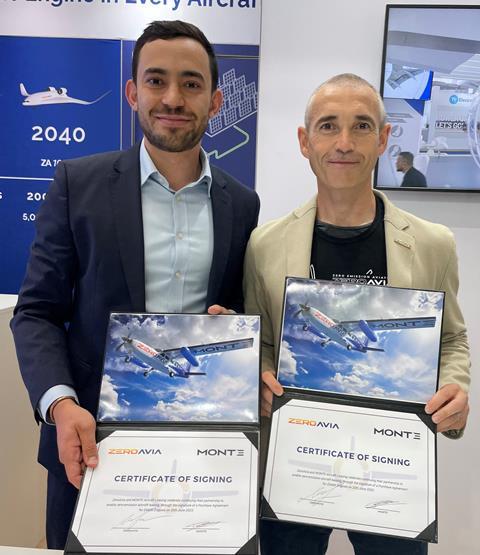 At the Paris show, Eyre was upgrading a memorandum of understanding (MoU) for up to 100 ZA600s to a definitive purchase deal. With ZeroAvia saying it is on track to meet its 2025 certification timeline, the first engine deliveries are slated for later that year.
Monte is working with several potential operators to retrofit the first aircraft with the ZA600. ZeroAvia is aiming for the Grand Caravan as the launch airframe.
While Monte may be a new name, its predecessor Montrose Global Aircraft Management has been around since the early 2000s, carving out a niche in the market financing regional turboprops in the nine- to 30-seat range.
With its intimate understanding of this asset class, it felt a natural move to be a pioneer in the transition to lower-carbon propulsion systems and become one of the world's first zero-emission aircraft lessors.
"As we saw this new propulsion technology being developed, and following early conversations with some of these technology partners, we realised that it was the perfect environment to create Monte because we have always focused on this asset class," says Eyre. Today, Monte has a fleet of 35 aircraft either owned or managed in the regional turboprop space with lessees around the globe.
Eyre sees the retrofit opportunity in both business and decarbonisation terms. The market size, with the aircraft being eyed for retrofit all powered by the venerable Pratt & Whitney Canada PT6, is huge. "If you look at the entire PT6 engine market there's up to 20,000 aircraft currently suitable for retrofitting with hydrogen, battery electric or hybrid propulsion technology," he says.
"This is a fantastic opportunity to implement significant emissions reductions in the regional aviation industry but one that we also believe makes sound business sense. We founded Monte to help operators access this technology," says Eyre. "A lot of these regional operators need financing or leasing solutions because they don't have the ability on their own balance sheet to finance a fleet conversion programme."
OPERATING COST
For any carrier, a critical consideration when discussing aircraft financing is the monthly operating cost. "An exciting thing about these conversions is we think it will bring about significant reductions in operating and maintenance costs," says Eyre. "The lessee can benefit from this, but they don't always have the means or the capital to implement this conversion. And that's where we think Monte comes in as the conduit to access this technology."
Eyre stresses that Monte is "technology agnostic" when it comes to selecting partners. It has four so far, also including US company Ampaire, Australia's Dovetail Electric Aviation, and the UK's Cranfield Aerospace Solutions (CAeS).
Its deal with Ampaire is to acquire 50 Eco Caravans – the hybrid-electric upgrade of the Grand Caravan; Monte will buy up to 50 powertrains from Dovetail to enable battery-electric conversions on new and existing Caravans, and hydrogen-electric conversions on new and existing King Airs. Dovetail is targeting certification of the battery-electric-powered aircraft by 2025.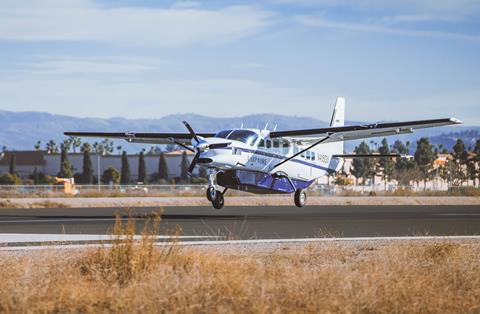 Monte's letter of intent (LOI) with CAeS is to buy 40 modification kits to convert Britten-Norman Islanders to hydrogen-electric power.
The lessor is talking with its partners about turning these early commitments into firm orders, as it has with ZeroAvia, says Eyre.
While the size of the retrofit market is attractive and offers a faster route to bring lower-emission types into service, hopefully within the next 18 months, the company's strategy extends to new types as well. "Monte will have a dual strategy, both of conversion and of fleet replacement," he notes.
"It is really important to have relationships not just with retrofitting partners, but also to have those relationships with clean-sheet OEMs like Eviation, and we are talking to a few others as well," says Eyre. In May, Monte signed an LOI with Eviation to acquire up to 30 of its all-electric Alice aircraft.
EARLY ADOPTERS
The aim is to lock in early delivery slots for these programmes so that the lessor can capitalise on strong interest among carriers to be early adopters of this technology. "As we get closer to an entry into service date, the interest from lessees has really increased because they're able to fully understand what is involved in terms of aircraft performance, operational and maintenance costs and emissions reductions," says Eyre.
Depending on the technology, Monte estimates overall operating and maintenance costs for low-emission solutions are 30-50% lower than the equivalent kerosene-fuelled aircraft.
To date, Monte has signed MoUs with some 25 operators to explore the conversion of turboprops to a new propulsion technology, whichever is best suited to its operation. These range from the likes of Greek regional airline Cycladic to Belize City's Maya Island Air, both of which fly Grand Caravans today.
Monte has teamed with a selection of technology partners to reduce its risk, and to have the ability to offer operators a variety of solutions. "We know from being in this market for over 15 years that hydrogen will not work for everybody, just as battery electric won't work for everyone," says Eyre.
"Candidly, when we started two years ago, one of the most important questions was how do we pick the right technology partner? Not just from a team, track record and timing perspective, but also looking at it from a funding perspective, which is very important," explains Eyre. "We are really pleased with the OEMs that we've partnered with because we do have a high degree of confidence in them and their success."
The exploration phase with operators involves a deep dive into the carrier's operations and route network. "Working with our technology partners, we are conducting feasibility studies on our operators' route networks to establish the most suitable technology for their operations," says Eyre.
If the answer is positive, Monte and the operator will move on to selecting the most suitable aircraft to be retrofitted, work on building a financing solution for the operator and secure the engine retrofit slot.
There are many elements to be thought through, but "it is important that we work together with both the operator and the OEM to solve these challenges and integrate these aircraft into the operator's fleet successfully", says Eyre.
Monte currently has 240 commitments for powertrains with various OEMs, and is confident of fulfilling this order. "We already have 25 operators, with a combined fleet of over 150 aircraft, signed up to work with us to explore conversion opportunities," Eyre says.
"We are confident that as we move closer to certification and start to confirm delivery slots, we will be able to increase this number significantly, which will not only allow us to meet these engine commitments but exceed them."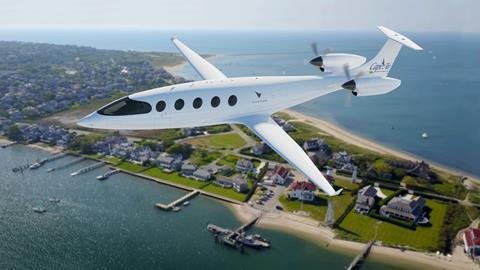 Jep Thornton, a managing partner at Miami-based Aerolease, has been in the air finance business since the early 1980s, and has seen his fair share of technical advances in aerospace.
He views the disruptive challenge of reducing aviation's emissions as being as great a change as the arrival of the jet age in the 1950s. "We are in a propulsion technology transition, due to global warming and also the availability of potential credible technology," he says.
And Thornton wants Aerolease to be involved as early as possible, which is why the firm placed an LOI for 50 Alice aircraft at the Paris show. He points to provisional orders for the Alice from players like DHL Express and regional carrier Cape Air as proof that the market is taking the product seriously.
"For me, the biggest thing is learning about battery technology and understanding the development path," he explains. "It's one thing reading it in the press, but if I can get on calls with actual battery manufacturers as an invested party in this adventure, we can achieve a different level of intelligence."
IMPROVING PERFORMANCE
Thornton sees the development of the Alice as a work in progress, and a nine-seater type is easily the smallest aircraft Aerolease has been involved in. However, as batteries improve, the performance of the aircraft will improve, delivering more range and payload.
"What we've ordered and what we think we will end up taking delivery of is going to be a much better product and possibly a much different product," says Thornton.
As a Swedish company it is only natural that Rockton, which its managing director Niklas Lund describes as a "boutique lessor", takes a serious view of the environmental movement.
The firm has moved to exclusively focus on sustainable and climate-change mitigating aviation investments and assets inspired by corporations taking to heart the Nordic region's environmental movement, explains Lund.
After selling off its portfolio of regional aircraft and engines in the past few years, Rockton was seeking a new direction. The lessor's research told it that pressure to meet sustainability targets in the corporate and capital markets was only increasing and was an opportunity for the firm.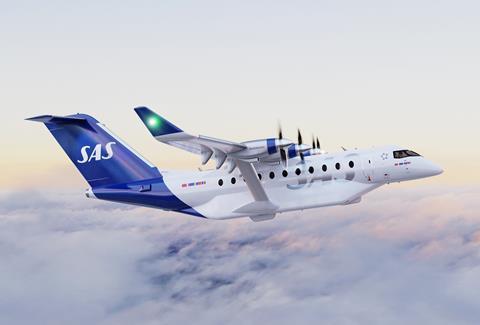 It has started in familiar territory with a firm order in May for 20 of Heart's hybrid-electric ES-30, plus 20 options. Heart says the 30-seater will have a range of 108nm (200km) in all-electric mode, 216nm in electric plus hybrid mode with 30 passengers, and 432nm in this mode with 25 passengers. The plan is for service entry in 2028.
"The reason we're getting into it is simplistically these assets will be sought after," says Lund. He points to Air Canada, Mesa Air Group and United Airlines investing in Heart as a strong vote of confidence.
"They would not even pick up the phone if you were developing a conventional 30-seater, but they are doing it in earnest because they know they have to start where the furthest range and highest payload is available at the current state of technology development," notes Lund.
Heart's move from an all-electric aircraft to a hybrid-electric configuration last year is a smart play to introduce the ES-30 with a reasonable range and payload, and as battery performance improves the prospect of moving to all-electric operations arrives, says Lund.
"It means that when you replace batteries a five-year-old aircraft will have better performance than when it was new, and that's quite intriguing for the owner of that asset," says Lund.
Rockton's main target market is among Europe's regional carriers, where the pressure to find sustainable solutions, especially in a region where environmental reporting to prove green credentials will be increasingly important.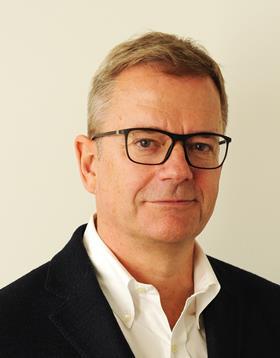 There might also be incentives, as there has been in electric cars, to introduce the technology. "The sense is that regional carriers know they will be the first ones to take this on. We're comfortable with the demand side," says Lund.
Rod Williams, chief commercial officer at Universal Hydrogen, has seen strong interest among the traditional turboprop lessors for this technology, as well as interest from the larger leasing players.
It lists three lessors: Abelo (formerly Elix Aviation), ACIA Aero Leasing, and Canada's Avmax among its customers for kits to convert either ATR 72-600s or De Havilland Canada Dash 8-300s into hydrogen-powered aircraft.
Universal Hydrogen has 16 customers and a total of 247 orders for its hydrogen conversion kits, with certification due in 2025 and the first deliveries of production units slated for the same year.
In February, Madhu Vijay found an exciting career move to become chief financial officer of Ampaire, the Los Angeles developer of hybrid and electric propulsion technologies. He had spent 22 years at operating lessor Aviation Capital Group (ACG), gaining vast experience in the air finance world.
SUSTAINABILITY MISSION
He was attracted by Ampaire's pragmatic approach of starting with hybrid-electric powertrains to obtain operational experience before moving to clean-sheet designed aircraft, and the chance to work for a company with a strong sustainability mission.
His time at ACG qualifies him to judge the role of lessors in this emerging sector. "What lessors are inherently very good at is managing the asset and the residual value of the asset over time," explains Vijay. "This is what they're trained to do," he adds.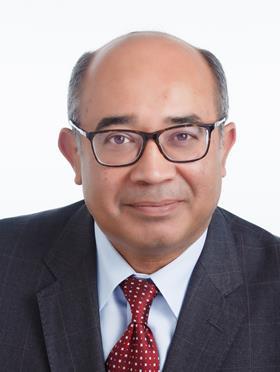 "The huge benefit I see for these new technologies is twofold. One, because the technologies that we are creating can be retrofitted; this changes and extends the useful asset life," he says. "Secondly, with the promise of fuel burn savings of 50-70% and significantly lower maintenance costs [promised by hybrid-electric aircraft], the economics make good sense. If you're coming up on an overhaul on an engine, why would you spend that money on yesterday's technology when you can upgrade that technology and extend out the useful life of these assets?"
As the market grows, and electrification delivers on its environmental promise, "the lessor community becomes a very important part in ensuring that these markets remain stable, real and large", says Vijay.
Williams says Universal Hydrogen has also found interest from the financial community in financing elements of the entire hydrogen fuel value chain. "I would say financiers in general see an opportunity as the industry transforms and what everyone believes will be a significant amount of capital required to finance that transformation," he explains.
The infrastructure issue, such as hydrogen delivery and storage or battery charging, is as big a challenge as producing the powertrains and aircraft themselves, Eyre admits. "It is a massive change and a huge opportunity," he says. "We are conducting feasibility studies with operators on their infrastructure requirements."
The lessor is exploring how to solve these questions with its customers and may have unique challenges. For example, some of Monte's customers are the sole carrier flying into an airfield with little or no facilities and perhaps intermittent power.
The reason lessors are turning MOUs and LOIs into firm orders is down to the progress manufacturers are making with the technology. "The timing side is generic for all these developers, and it solidifies when the OEMs can give you firm performance guarantees," says Lund, and is the same for any aircraft contract.
As the development and certification process for technology such as ZeroAvia's ZA600 and Eviation's Alice advances, and the performance promises become a reality, expect more lessors like Rockton to have the confidence to join the party.