In-flight connectivity (IFC) providers may have seen a lull in activity over the past two years as their airline customers were largely grounded by the Covid-19 pandemic, but there is an upside. Demand for onboard Wi-Fi, which was already growing rapidly before the global health crisis, accelerated even more as people were forced by national lockdowns to shift their professional, social and educational lives online.
As IFC providers head to the first face-to-face Aircraft Interiors Expo since 2019, they are keen to show off the new products and services they have been working on to ensure that they are in the best position to compete and tap into this increased, seemingly unstoppable, global demand for connectivity.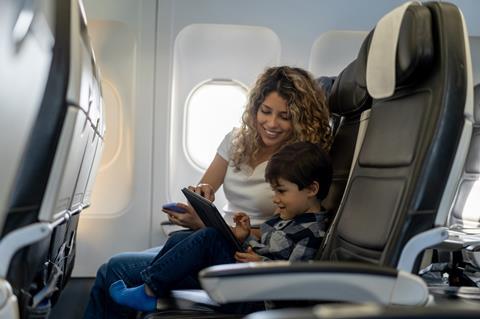 "We've seen a lot of change in the in-flight connectivity market over the last couple of years," says Andy Masson, vice-president product and portfolio management at Panasonic Avionics. "What we have seen coming out of the pandemic is a big shift in the way that people act on the aeroplane. We've seen that reflect in the use of connectivity in the aeroplane, and we're seeing it in our numbers."
Research carried out by Panasonic last year "indicated to us that there has been a behavioural shift – certainly in terms of online behaviour", notes Masson. He points to greater demand for productivity tools such as Microsoft Teams and Google Docs, adding that "this has been mirrored on the personal side as well, in the number of people on social media and using connected devices to stay in contact".
These changes are also being reflected in the requests that Panasonic is receiving from airlines, says Masson, with "a bigger push for more bandwidth, connectivity and for that service to be offered more widely". He adds: "We've always had the assumption that connectivity was focused on the business user, but an awful lot of people are using it for personal use. Our suspicion is that's just going to continue, and the trend will proliferate because everyone's very used to that as a service now."
Some airlines used the time during the pandemic to equip existing aircraft with IFC systems, or to place orders to ensure their future assets are connected.
MAJOR CONTRACTS
Notable IFC deals inked over the past couple of years include Delta Air Lines' selection in 2021 of Viasat's Ka-band connectivity solution for more than 550 narrowbody aircraft; LATAM Airlines Group's decision earlier this year to install Intelsat's 2Ku system on up to 160 single-aisle aircraft; and Saudia's announcement last year that it would equip 35 new Airbus A321neo and A321XLR jets with Inmarsat's GX Aviation in-flight broadband solution.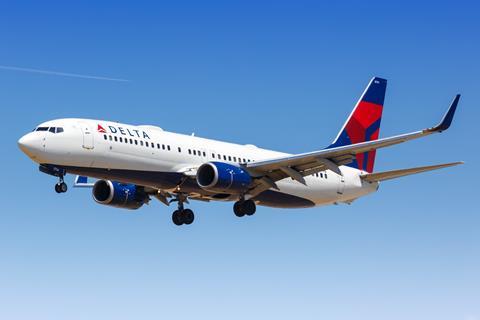 Saudia will be the launch customer for Inmarsat's new OneFi platform – a single portal interface through which airlines can monetise IFC by offering ancillary products and services to passengers in real time on their own personal devices. Inmarsat senior vice-president in-flight connectivity Niels Steenstrup says the pandemic caused it to accelerate the launch of OneFi.
"A lot of airlines have recognised that they can use connectivity to generate ancillary revenue, from purchasing a Wi-Fi session and being connected, to having sponsors who are willing to pay for that access," says Steenstrup. "We've seen a fair number of those types of models, and an increase in interest as airlines look to increase ancillary revenue."
Summing up the impact of Covid-19 on the IFC industry, Steenstrup says: "I think if you were drawing a curve, you would have pre-pandemic where there was a steady climb in the need for connectivity, a drop off a cliff where everything just stopped almost for 12 months or so, and then there was a slow climb back out which is now an accelerated climb."
While some aspects of the IFC sector were quieter during the pandemic, the volume turned up to maximum on merger and acquisition activity. The market was stunned in November 2021, when California-based Viasat announced plans to acquire its London-headquartered rival Inmarsat in a transaction valued at $7.3 billion.
Few details have been disclosed on how the proposed combination could affect the two satellite companies' IFC offerings, but both sides appear positive about the deal.
"We see it as so transformative – these are both great companies with complementary assets," says Don Buchman, vice-president of commercial mobility at Viasat. "I think we're going to bring a lot of value to our current customers and our future customers." Details such as how IFC services will be branded "will be determined post-acquisition", he adds.
STRONG COMPETITION
Steenstrup views the tie-up as "a significant positive", but stresses that "we're head-on competitors today and we're head-on competitors until the minute the deal closes". He adds: "Viasat has a good reputation in IFC in North America, and Inmarsat is strong and has a good reputation in IFC globally outside North America, so the two together are a very strong combination. I think together we will be able to bring really good services to passengers and airlines."
The proposed Viasat/Inmarsat combination follows the sealing up of earlier M&A activity between IFC providers Intelsat and Gogo Commercial Aviation. Virginia-based Intelsat completed its $400 million acquisition of Gogo in December 2020 and announced in July 2021 that it had dropped the Gogo name and branded all of its IFC and entertainment offerings as Intelsat.
Earlier this year, Intelsat announced that it had emerged from its financial restructuring process as "a private company with a substantially strengthened capital structure". Frederik van Essen, vice-president business development and managing director at Intelsat, says the company has "more than halved" its debt since entering restructuring, and is in a strong position to participate in future consolidation activity.
"What we're seeing in the market is a measure of consolidation and in order to participate in growing scale in the IFC market, it's very important to be financially stable and in a healthy position," says van Essen. "Clearly, if you look at the dynamics in the market and the talks in the industry, moves will be made. That is, in my view, inevitable and Intelsat – given its existing size in the satellite industry and especially in IFC – is definitely right in the middle of that and part of that dynamic."
INTEGRATED SOLUTIONS
The integration of Gogo has gone "really well", says van Essen, and improvements have been made to its 2Ku IFC solution. This is something that Intelsat will be talking about and promoting during AIX, along with its $2 billion roadmap to create a "unified global network" and the introduction of more flexible software-defined satellites.
"We've started to make a lot of upgrades to the [2Ku] network, so many airlines that were used to the old Gogo [system] would not recognise the current experience," says van Essen. "Speeds and throughput have gone up, latency has gone down, and there's much more capacity available."
In early April, Alaska Airlines extended its existing partnership with Intelsat by selecting its 2Ku solution for 105 new Boeing 737 Max aircraft.
Going forward, van Essen sees telecommunications networks becoming more unified and interoperable with satellite-based IFC, resulting in a simplified process to log on to the internet in flight. For passengers, this will mean that "you get on an aircraft and your phone just works, you don't have to go via portals and pull out your credit card to get a session, you will be billed your normal subscription", he says. For airlines, decisions over whether to go with Ka- or Ku-band IFC, for instance, will become less of an issue as terminals become more sophisticated.
"Really technical choices that [airlines] felt they had to understand – that's going to be less and less important, and more generic," predicts van Essen.
Another significant development in the in-flight entertainment and connectivity world during the pandemic was Global Eagle Entertainment's filing for Chapter 11 bankruptcy protection in July 2020, its subsequent sale to new owners and emergence from restructuring as the newly-rebranded Anuvu.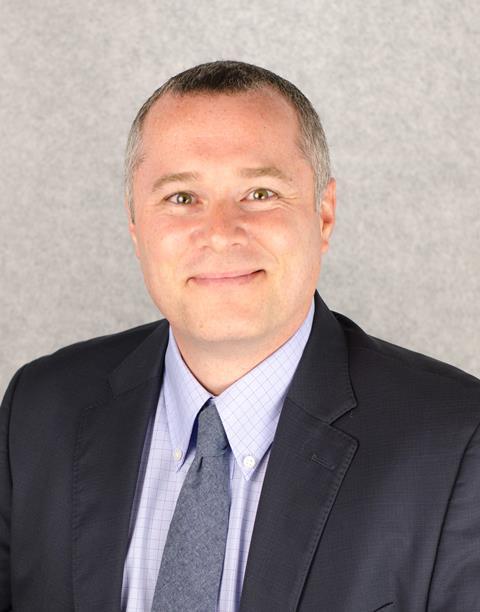 Explaining the new name choice, Anuvu executive vice-president connectivity Mike Pigott says: "We wanted to send a strong message to the market that we had a new vision for mobile connectivity, and a new strategy to deliver that to our customers."
Anuvu has traditionally provided Ku-band IFC services to airline customers including Norwegian, Southwest Airlines and Turkish Airlines, supported by the leasing of capacity from a variety of satellite operators. Earlier this year, however, it signed a capacity deal with satellite operator Telesat for about 10GB of Ka-band capacity, as part of what Anuvu describes as its "bridge to LEO" strategy. This will see it eventually offering IFC services using Telesat's upcoming Lightspeed low-Earth orbit satellite network.
Anuvu has also, for the first time, invested in its own satellite constellation, in partnership with Astranis. It plans to launch two MicroGEO high-throughput satellites in early 2023, with six more to follow.
"Today, we're a Ku provider in aviation using the GEO [geostationary] arc, and we've done that globally," says Pigott. "We see a future world – a five-year vision, call it – where there's going to be the GEO arc as a key part of our operation, and a LEO arc for low-latency services and global coverage."
The MicroGEO satellites are smaller than other satellites in geostationary orbit and take months, rather than years, to build.
"The advantage we get is a lower cost and targeted performance for our mobility customers," says Pigott. While Anuvu's decision to invest in the MicroGEO constellation reflected its desire to have "our own control over some of our assets", Pigott stresses that the company "still expects to lease a tremendous amount of capacity on the market because we expect performance demands to continue to skyrocket".
MARKET ENTRANTS
On the LEO front, Telesat is not the only operator with plans to enter the IFC market. London-headquartered OneWeb aims to offer LEO satellite-based IFC services to airlines from the second half of 2023, while public charter operator JSX announced in late April that it would be the first airline to adopt SpaceX's upcoming Starlink in-flight Wi-Fi service.
OneWeb vice-president mobility Ben Griffin says there are "several airlines that are interested in being the launch customer" for its IFC service, and announcements could be forthcoming at AIX.
"We do certainly intend to announce some fairly big things [at AIX], so we're looking at that as a target point for really putting a stake in the ground," says Griffin. "We will definitely be intent on making a bit of noise and having a bit of fun."
LEO operators bill low latency and full global, pole-to-pole coverage as their key advantages over GEO satellite-based IFC competitors. Griffin also points to the electronically-steered array antennas that OneWeb intends to use, which he says weigh less, create less drag and are easier to maintain than their mechanically-steered counterparts. OneWeb has agreements in place with two terminal manufacturers – GDC Advanced Technology and SatixFy UK – although Griffin says it is open to entering additional deals with other producers.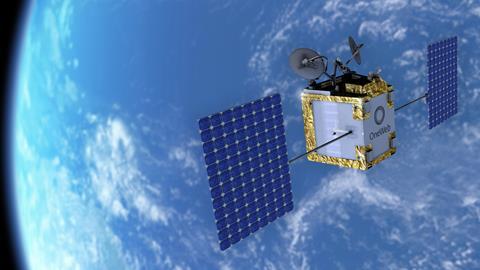 Telesat, meanwhile, signed an agreement with ThinKom Solutions last year to collaborate on integrating the latter's Ka2517 mechanically-steered phased array antenna with the upcoming Lightspeed LEO network. The Canadian satellite operator also plans to use Anuvu's Airconnect IFC terminal for Lightspeed, and is evaluating electronically-steered antennas as well, says Philippe Schleret, Telesat's regional sales vice-president for North America.
Telesat expects to begin launching Lightspeed in 2025 and to offer full global services the following year. Schleret predicts that LEO satellites will be a "game-changer" for the IFC market.
In response to the threat, geostationary satellite operators are making LEO moves of their own. Inmarsat, for instance, last year unveiled its Orchestra network, which it says will "seamlessly integrate GEO, LEO and terrestrial 5G into one harmonious solution". The network will, in the future, include 150-175 LEO satellites.
One thing existing IFC players and new entrants alike are banking on is that demand for connectivity will continue to rise. "The propensity to connect will only go one way," predicts Griffin. "As the demographic gets younger and more willing to connect, I think that will just increase organically."