The market for giving ageing airliners a second life as converted freighters continues to thrive despite the return of commercial belly hold capacity and new pressures on the global economy.
Demand for freighter aircraft soared during the Covid-19 pandemic, as passenger jets were grounded and belly capacity consequently dwindled, leading to the announcement of several new passenger-to-freighter (P2F) orders and conversion programmes.
Conversion specialists report continued strong demand for the aircraft they are modifying – both on the widebody and narrowbody fronts – and they are confident this will continue, despite the challenges of rising inflation, the effects of Russia's invasion of Ukraine, and ongoing coronavirus-related lockdowns in China.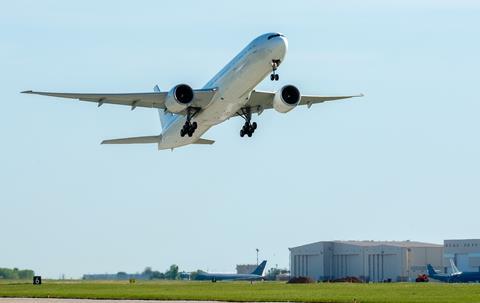 The most recent global air cargo data from IATA showed an 11.2% drop in demand and a 2% contraction in capacity for April, compared with the same month in 2021, driven by the effects of the Omicron variant in Asia and the Russia-Ukraine war. Despite the "challenging" operating environment, however, IATA director general Willie Walsh said there was "cause for some optimism", and that "the supply/demand imbalance is keeping yields high".
Aside from an acceptance that there may be some short-term dampening of demand on the e-commerce side, Walsh's optimism is shared by P2F conversion specialists and freighter lessors, which expect demand for their aircraft to be strong in the coming years.
"Our demand remains very, very, very strong as we come out of the pandemic," says Mike Berger, chief commercial officer at Air Transport Services Group (ATSG), the world's largest owner and operator of converted Boeing 767s.
"From a 767 standpoint, our orderbook is completely full for 2022 and 2023. We delivered 15 newly-converted freighters last year, we'll do another nine this year and we anticipate doing at least 14 next year. We continuously have four or five conversion lines for the 767 running at all times at IAI [Israel Aerospace Industries] in Tel Aviv," Berger says.
NATURAL STEP
ATSG announced last year that its leasing arm, Cargo Aircraft Management, had secured 20 Airbus A330 conversion slots with Germany's Elbe Flugzeugwerke (EFW). Berger says the company sees the A330 as "the natural next step of the 767", which is "becoming more difficult to source".
Demand for the converted A330s has been strong, adds Berger: "We had such great demand for those 20 slots that we secured another nine. So we control 29 A330 slots and 20 of those already have deposits on. From a demand standpoint it's been really great."
The past couple of years have also seen a flurry of activity in the 777 freighter conversion market, with new entrant Mammoth Freighters announcing last September the launch of its 777-200LR and 777-300ER P2F conversion programmes. Kansas Modification Center (KMC), meanwhile, teamed up with Wichita State University's National Institute for Aviation Research (NIAR) in September 2020 to begin a conversion programme focused on the 777-300ER.
Boeing, which manufactures purpose-built 777 freighters, is also mulling a 777 P2F programme of its own and will make a decision in the coming months on whether to proceed. "We recognise the demand for a 777 converted freighter option," says the US airframer. "We are studying options and anticipate communicating our next steps to customers later this year."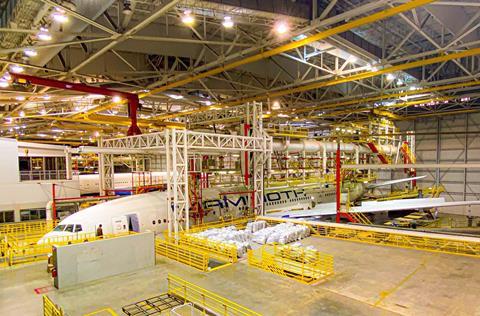 Brian McCarthy, vice-president sales and marketing at Mammoth Freighters, says it was always expected that the 777 would become a candidate for conversion, "because of its flight efficiency, its engines, its overall utility and the promise of 220,000-230,000lb [99,800-104,300kg] of cargo". The pandemic "accelerated its availability", says McCarthy, and Mammoth was able to acquire 10 777-200LRs from Delta Air Lines.
"These -200LRs became the catalyst to launch into the programme, while offering significant programme stability and a significant technical benefit to study, test and perfect our systems and installations," he recalls.
COMMON SISTERS
"For those who don't know it, the -200LR fuselage shares the same wing, wing centre section and landing gear that the -300ER sits on. So these airplanes were so close in terms of being common sisters that it was not going to present any challenges, while offering us the base airplane to get started with the STCs [supplemental type certificates]," says McCarthy.
Once Mammoth has secured the STC from the US Federal Aviation Administration (FAA) for the 777-200LR – which it expects to happen by the end of next year – it will look to amend the certificate to include the -300ER.
Canada's Cargojet Airways will be the launch customer for Mammoth's -200LR, having signed an agreement in November 2021 for two initial 777-200LRMFs plus two options, and two 777-300ERMF options. Earlier this year, Saudi Arabian Airlines placed an order with Mammoth for the conversion of seven 777-300ERs plus five options. McCarthy says there are nine additional 777-200LRs that are "fully committed", although the customer has not been disclosed.
"We have at least 20 airplanes that are fully committed and we are in final discussions for orders that will bring us well above 35," says McCarthy. "This is a little bit unprecedented for a brand-new programme – especially a widebody – to have this type of initial activity, but it is a sign of a market that is trying to become more prepared for the future."
He adds: "We basically have an entire world that is trying to become more prepared for natural disasters, pandemics, wars, insurrections and supply-chain disruptions. I think shippers are joining forces with new operators as they attempt to decentralise their dependency on historic providers of lift, so you've got logistics giants that are getting into the airline business… and airlines that are now adding cargo arms to their passenger operations where, historically, they didn't really play in the main-deck cargo arena."
VOLUME ADVANTAGE
Wichita's NIAR WERX expects to receive FAA certification for the 777-300ER freighter conversion programme it is working on with KMC in the second quarter of 2024. It is also seeing "strong demand" in the market, says Eric Kivett, 777 programme manager at NIAR WERX, who points to the converted -300ER's volume advantage over the purpose-built 777F.
"The 777-300ER offers tremendous volume – approximately 25% more volume than the Boeing [777] factory freighter," says Kivett. "We've done studies that show with today's average densities that the factory freighter – the 777F – will depart far less than its max cargo capability from a weight perspective because it is volumed out. The -300ER offers 10 more pallet positions, 25% more volume and payload approaching the carrying capacity of the 777 freighter."
Backbone Freighter Leasing in April became the launch customer for NIAR WERX/KMC's converted 777-300ER, placing three firm orders for deliveries in 2024 and 2025, plus options on seven additional conversions in 2025, 2026 and 2027.
In addition to the 777 work, NIAR WERX will begin performing P2F conversions for Precision Aircraft Solutions later this year. It expects to perform 12-24 conversions per year for Precision, with a focus on Airbus A321 narrowbodies.
ATSG will deliver its first two A321 freighters this year, and expects to deliver "four or five" of the type next year, says Berger. The converted narrowbody has been "extremely well-received" in the market, he adds, owing to its efficiency and popularity as a passenger jet, particularly in Europe and Southeast Asia.
"When we first got into making the decision to get into the A321, we viewed it as a natural replacement for the 757 which, obviously, has gotten very old," says Berger. While the pandemic "breathed another life into the 757, just because the demand for cargo freighters was so strong", he observes that it "is not an inexpensive airplane to fly" and the engines are "becoming very difficult to source and repair". Therefore, "the A321 is a great replacement for that".
Berger also sees the A321 as "a real up-sell candidate" for the converted 737-800, because it offers "four more positions", which can be attractive to "the Amazons, the DHLs, the UPSs and the FedExs of the world" when they require incremental capacity during peak periods.
"The A321 is a natural replacement for the 757 as that retires and sunsets, but it's also turning out to be a real eye-opener for some who are flying the 737-800," he suggests.
Lufthansa Cargo introduced a converted A321F to its operations in March, and is due to take delivery of a second this summer. The aircraft, which are being converted in Singapore, are operated under a wet-lease agreement by Lufthansa CityLine.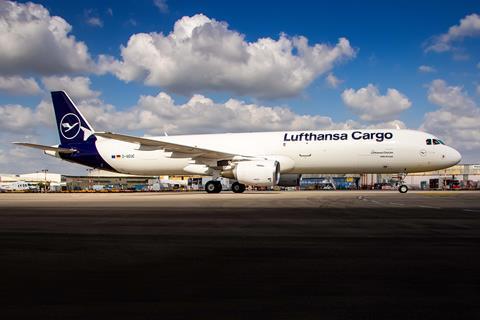 Lufthansa Cargo chief commercial officer Ashwin Bhat says the carrier decided to introduce the converted A321F in response to growing e-commerce demand for same-day deliveries across Europe.
"Consumers [are] demanding more and more a same-day or next-day delivery," says Bhat. "Looking at expected growth rates of cross-border e-commerce business within Europe, we expect a stable growth in the intra-European airfreight market, hence we have invested in this segment."
He describes the A321F as "a great option for Europe", adding: "Compared to the large number of 'classic' narrowbodies, for example the 73-4F [737-400F] and 757F, it has low noise emissions and significantly less fuel burn per transported tonne, and thus CO2 emissions."
MARKET OPPORTUNITY
The boom in e-commerce has also given rise to demand for even smaller aircraft to be converted into freighters. Earlier this year, Embraer launched a freighter conversion programme for its E190 and E195 regional jets after spotting a gap in the market for a cargo aircraft that sat between smaller turboprops and larger narrowbodies.
"We had been watching the cargo market for a while and, with the pandemic, we saw trends that we'd seen before but they were really accelerated," says Rodrigo Silva e Souza, Embraer's vice-president of marketing for commercial aviation.
Growth in the e-commerce market became "exponential", he adds, and demand for same-day delivery "started to become standard" rather than exceptional.
"This requires a different type of distribution which involves having smaller aircraft than the traditional widebodies," says Silva e Souza, adding that a move towards regional rather than centralised distribution "requires a type of capacity that doesn't exist today". This, combined with the fact that the E190/195 passenger fleet is ageing and being replaced by new-generation E-Jet E2s, meant that "now is the time" for the Brazilian manufacturer to launch a P2F programme.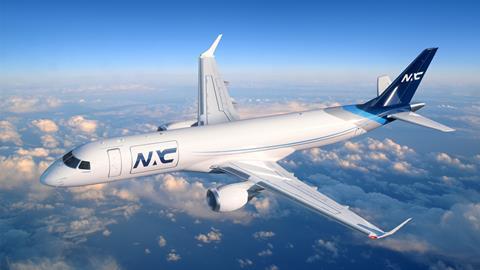 Regional aircraft lessor Nordic Aviation Capital (NAC) signed up to become launch customer for the programme in May, agreeing in principle to take up to 10 E190/195 conversion slots with deliveries starting in the second quarter of 2024. Silva e Souza says that NAC is "finding a large number of their customers are interested in the conversion".
In June, another undisclosed customer signed a firm order for up to 10 converted freighters. Embraer is in "the final phase of negotiations" with a number of interested parties and expects to announce "at least two other deals" in the near future.
The programme is "still in the engineering phase" and Embraer will start to prepare a hangar towards the end of this year, ahead of conversion work beginning in 2023 and anticipated certification in 2024.
For now, Embraer will keep the conversion work in-house, although Silva e Souza says that "there is a good possibility that demand will be higher than our output in Brazil and we may consider someone else third-party, or building a second conversion line outside Brazil".
Silva e Souza says he discovered while talking to designers that the E190/195 was originally "designed with standard cargo pallets in mind", but Embraer had found itself in a "chicken and egg situation" until the recent rise in demand for airfreight.
The airframer is already looking further into the future, when Silva e Souza says the E2-family could "potentially" also be a candidate for conversion.