Even if the home-turf showcase of the Paris air show had not joined the long list of exhibition casualties, Airbus might have struggled to scrape together sufficient material around which to build the sort of upbeat media event schedule to which it has become accustomed.
Over the year since March 2020, the point at which the pandemic started to throttle the global air transport system, Airbus took orders for just 66 aircraft – only three of which were widebodies: two of them A330s for military tanker conversion.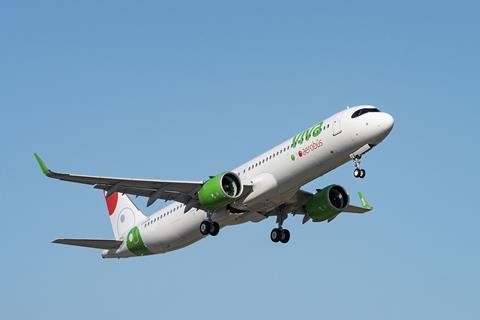 Airbus has kept its production rates at around the same low level for the duration and, although it is looking to raise monthly A320-family output from 40 to 43 aircraft in the third quarter of this year, and 45 in the fourth, the prognosis for near-term long-haul manufacturing rates remains grim.
But while the crisis has stifled Airbus's regular activities, chief executive Guillaume Faury argues it has given the airframer a chance to prioritise an overhaul of its industrial operation and advance its "backbone" digital design and manufacturing project at a time when aerospace is embarking on the most radical shift in design considerations since the advent of jet propulsion.
NEXT GENERATION
"We've more visibility on what we want to do with the next generation of products, a better understanding of the depth of changes in architecture and the core nature of aerostructure assembly to enable digital design and production of aircraft," he said, outlining the company's priorities during an April briefing.
"[The pandemic] and the low level of production is providing a window of opportunity to accelerate change. This will provide [capability] to [bring] into service modern products in a much more efficient way in future. This will improve the cost base at that point in time."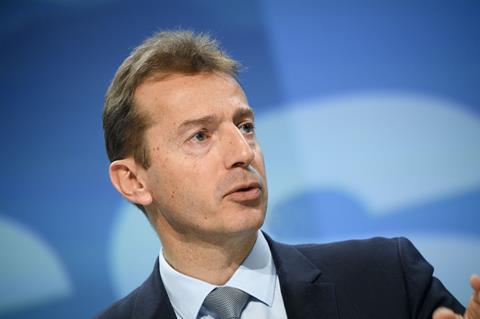 Airbus has determined that aerostructures will be a core activity to be integrated closely with its main industrial chain, and will combine its operations in France as well as those in Germany, creating two wholly-owned and managed aerostructures companies rather than maintaining the previous supplier-client relationship.
"We aim to become more resilient toward unexpected changes that will inevitably happen from time to time," says Faury. "To enable the ramp-up of more complex and more innovative products, faster than before, and to drive our competitiveness by consolidating and simplifying our industrial set-up – which today is still partially fragmented across the company, our subsidiaries and suppliers."
He says the airframer will place fuselage aerostructures assembly "at the heart" of its production system.
Stelia Aerospace, which notably builds forward fuselage and cockpit sections for the Airbus range, will be brought together with the Airbus operations managed at Saint-Nazaire and Nantes.
The Saint-Nazaire site specialises in assembling and equipping A320-family forward sections, as well as forward and centre sections of A330s.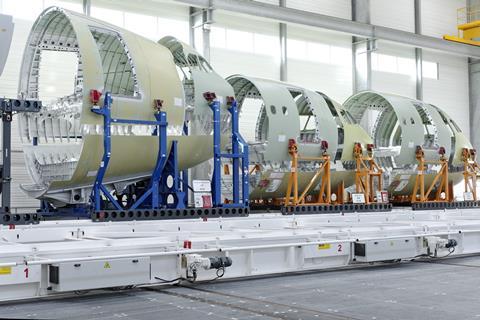 Airbus's Nantes facilities produce centre wing-boxes for the airframer's entire commercial range, along with radomes, ailerons for A330s, A350 fairings, and other miscellaneous structures.
Similarly Airbus will combine the Premium Aerotec operations at Augsburg, which specialises in fuselage sections, with those of the shell-building facility at Nordenham and the thermoplastics and sheet-metal centre in Bremen.
The re-organisation will simplify governance and interfaces, Airbus believes, allowing the French and German operations to be "more agile" and support a "stronger assembly value chain".
But the Premium Aerotec detailed parts activities will be spun off into a separate German-based entity. Faury says this will "give life" to the business and provide an opportunity to expand, "but not as a core activity of Airbus". Divestment of this entity is "one of the scenarios we'll investigate with partners", he adds.
"We believe it's the right time to transform our industrial system into one digital design and production stream, which also prepares for the next-generation aircraft that is likely to have a different architecture compared with today," says Faury.
Such architectural changes will be driven by the environmental pressure to move away from fossil fuels and towards alternative sources of power.
While Airbus and Rolls-Royce are carrying out emissions tests of 100% sustainable aviation fuels, with an A350-900 testbed, expanding their use is only part of the airframer's strategy to decarbonise air transport.
Airbus has steered away from focusing on batteries as a source of power for future commercial aircraft, believing the energy required for designs larger than regional aircraft is too great. The company views hydrogen as a more promising fuel source, but one that demands a complete rethink of aircraft architecture and airport infrastructure.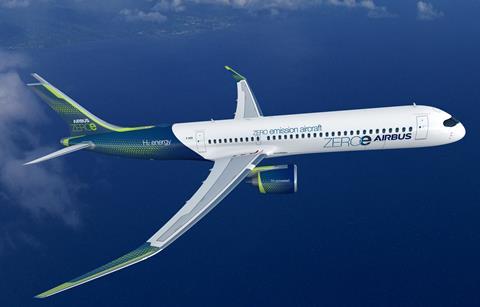 The company has been examining various aircraft configurations – from conventional arrangements to blended-wing body and propeller-driven designs – and Faury believes Airbus will be able to narrow its options over the next five years, enabling it to progress towards a formal programme for entry into service in the mid-2030s.
INNOVATIVE CONFIGURATIONS
It is exploring a range of innovative technologies including the use of standalone liquid-hydrogen engine pods, and implementation of superconducting systems to reduce the weight of electrical power transmission components.
While Faury considers industrial preparation for the future to be a priority for Airbus, he stresses that there is "no major revolution" planned in the short term.
More immediate concerns, he says, centre on management of deliveries and the backlog of almost 7,000 aircraft. Having responded to cuts in production rates caused by the dip in demand, Airbus's suppliers face a tricky reversal of the process as the recovery progresses – complicated by the non-linear nature of that recovery, with China and the USA showing signs of acceleration while Europe lags.
"We fear the problems, the main risks ahead of us are on the supply chain," says Faury. "This rollercoaster situation is very difficult to manage for a long-term industry like ours."
He says Airbus is focusing on "transparency" with suppliers, running preparatory scenarios and putting "watchtowers" in place to increase the visibility on the response readiness. Faury says the company is still in the "big wake" of issues on the demand front and is starting to see "challenges" regarding supply.
Airbus expects a "steep" single-aisle ramp-up over 2022-2023 but it is still defining the precise rates, he says, and giving an estimated figure would be "premature". While it is aiming to match last year's delivery level of 566 aircraft, the path is yet to smooth. Deliveries surged to 72 in March after a weak total of 53 for January and February combined. Stored aircraft, a symptom of delivery snags, increased in the first quarter, driving up by €785 million ($941 million) an inventory figure which Airbus had been working to bring down.
Faury hopes to have the visibility required for production decisions by the end of June, but says the company has yet to reach this "tipping point".
"We've already given indications to the supply chain outside of our firm horizon," he says, adding that the airframer is exploring "what's reasonably possible" to achieve with them. "We'll solidify those numbers and communicate at a later stage once we enter that firm horizon."
Airbus experienced considerable bottlenecks during ramp-up of A320neo production, largely relating to engine supply. While Faury says these issues were overcome, he says the powerplant supply chain is "complex", with "some specific parts always at the edge".
"It's premature to say that engines will not be a limiting factor again in the ramp-up," he cautions. "I'm more optimistic on that front than was case previously. But I would be prudent."
GOVERNMENT SUPPORT
While Airbus has been restructuring it has taken advantage of government-finance schemes and other negotiated labour measures to retain "thousands" of staff, says Faury, and the company has the personnel it needs to hike single-aisle production.
Airbus slashed long-haul production at the same time as it lowered single-aisle rates, and Faury wants to prioritise returning its widebody production "back to break-even as soon as we can" – but signals that the long-haul sector is unlikely to recover before 2022.
This part of the market had been struggling under soft demand and global economic malaise even before the havoc wrought by the pandemic.
Airbus's order and backlog figures for the past decade illustrate the slackening interest in widebodies. FlightGlobal analysis indicates that orders for nearly 600 twin-aisle aircraft were cancelled in the 10 years to the end of 2020.
These included 116 A380s, of which 70 were struck off in the immediate aftermath of Airbus's decision to terminate the beleaguered double-deck aircraft programme in early 2019.
But the A350 family accounted for over 320 cancellations, the equivalent of one cancellation recorded for every two A350s ordered over the decade, although this has been partly driven by the way the A350 programme has evolved including Airbus's shift away from the -800 variant.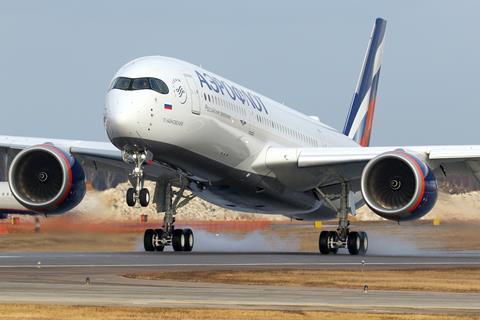 The A330 – which underwent a re-engining programme to emerge as the A330neo – fared relatively better, with a ratio of one in five, but this was still double the rate of A320-family cancellations.
While the long-haul market prior to the pandemic has been weak, Airbus's backlog has been surprisingly resilient over the course of the crisis. The airframer has engaged in deferral negotiations and avoided a heavy wave of cancellations.
Of the 115 aircraft struck from its books during 2020, more than half had been cut in the first three months of the year, before the pandemic's effects had fully begun to emerge.
The most notable impact has been the absence of orders. Airbus's total order figure, which has typically risen by around 1,000 aircraft annually over the last decade, actually fell in the 12 months subsequent to March 2020.
Airbus's tasks taking immediate precedence include concentrating on the company's cash preservation and earnings beyond 2021.
The airframer's A220 family continues to show promise, with cumulative orders of around 650 aircraft, but the programme remains loss-making with relatively high cash usage, and will probably not break even until the assembly lines at Montreal Mirabel and Mobile, Alabama, achieve a healthy loading approaching 170 aircraft per year – a position which Airbus does not expect to reach until around the middle of the decade.
Given the projected upturn of the single-aisle market and the prolonged stagnation of the widebody sector, Airbus believes its long-range A321XLR – intended to offer narrowbody economics on long-haul routes – is a critical part of its product strategy.
Faury says the XLR programme "remains on track", with service entry planned for 2023, even if the crisis delayed plans to set up an additional A321neo production line in Toulouse: a step confirmed on 12 May.
Although overall Airbus orders fell in the year to March 2021, the firm figure for the A321neo actually rose by 46 aircraft, illustrating the popularity of the twinjet, which accounts for 47% of all A320neo-family orders.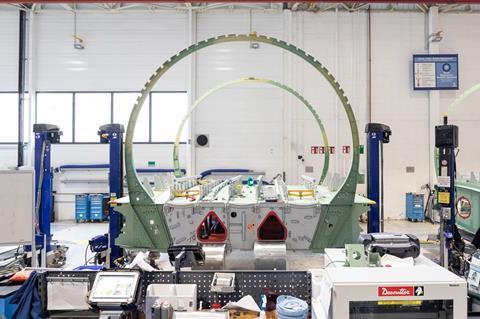 Airbus's plant in Hamburg Finkenwerder has taken delivery of the first A321XLR centre wing-box from the Nantes manufacturing facility, one of the first major sections to be handed over for the structural assembly of the XLR's centre fuselage.
DESIGN MODIFICATIONS
The component has undergone substantial design modifications and reinforcement in order to accommodate the XLR's increased take-off weight, as well as the need to allow new fittings and supply lines to support the aircraft's characteristic large aft centre fuel tank. Two other centre wing-boxes for flight-test aircraft are undergoing assembly at Nantes and the first for a customer aircraft will enter production in the fourth quarter of this year.
Airbus might have to forego a big-bang Paris air show centrepiece, but Faury hints that the airframer is looking towards addressing customer requirements post-crisis – notably in the widebody freight sector, where he admits the company's presence has been "weak".
Faury promises to be "more aggressive" in this market. Airbus only offers a single dedicated freighter, the A330-200F, which has sold poorly and has no orders outstanding.
"I don't like the idea to remain weak on that segment in the future," he says. "We believe we have the products to be able to be more aggressive in the future.
"We think it's not healthy to have only one player exclusively in the market for a segment that is very significant and has been resisting well in the pandemic."
If Airbus is considering developing the A350 as a freighter, and opening a new front of competition with the Boeing 777, it has yet to confirm such a plan and indicate a timeframe. Something for a future air show, perhaps.