With the financial impact of the coronavirus looming over lead funders of the development of electric vertical take-off and landing (eVTOL) aircraft, the nascent industry is set to receive a small boost from the US Air Force (USAF) in calendar year 2020.
The service has committed to fund $25 million-worth of eVTOL projects in fiscal year 2021 through its Agility Prime initiative, and plans to continue investments in the years after to help accelerate the novel aircraft toward achieving operational capability by FY2023, says Will Roper, assistant secretary of the air force for acquisition, technology and logistics. It also has commited to becoming an early adopter of the technology.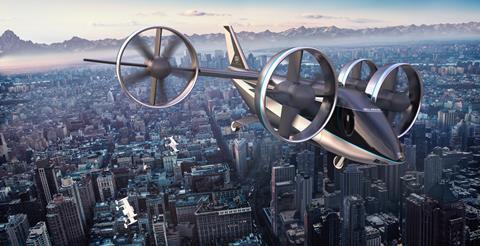 The service hosted an online conference during the week of 27 April to explain its Agility Prime approach to aircraft developers. Instead of asking for a bespoke military aircraft, the US Department of Defense (DoD) has opted to work with companies to accelerate testing and certification of commercial eVTOL aircraft.
"We've been on the line with a lot of the eVTOL companies this week, as we go through Agility Prime kick-off, and it's very clear from all of them that the way the US Air Force needs to engage is as an accelerant of a dual-use market, not a funder of a DoD-unique production line," says Roper. "There's a definite concern and fear because historically, that's how we would engage. The way that we're engaging on Agility Prime is not as a funder of research and development."
The USAF is looking for vehicles that can carry three to eight personnel; have a range of greater than 86nm (160km); can fly at speeds greater than 88kt (160km/h); have a flight endurance of more than 1h; and which will achieve first full-scale flight prior to 17 December 2020. Potential government uses include military cargo transport, disaster relief, medical evacuation, firefighting, installation security, border security, search and rescue, and humanitarian operations, the service believes.
The USAF is also coordinating with the Department of Transportation, Federal Aviation Administration and NASA to create standards and a path for certificating eVTOL aircraft.
However, developing a certifiable aircraft is an expensive undertaking.
"Just to develop one experimental aircraft its about $100 million to $150 million. To certify that aircraft is $700 million to $1 billion," Mark Moore, Uber's engineering director of aviation, said during the Agility Prime online conference. "These are really, really high stakes."
But if private financiers are confident in a larger market, which includes US government customers – and can therefore see a larger potential return on investment – they may be more willing to fork out cash, he says.
"For both the Department of Defense and NASA to be helping to reduce risk, to show the breadth of missions that these technologies can apply to, it really helps the investment community to understand and to stick with this, even during trying days such as we are going through right now," says Moore.
Helping to organise a path to certification, a process which has previously been murky for highly autonomous eVTOL platforms, also floats the market, says Van Espahbodi, managing partner and co-founder of aerospace start-up investor and consultancy Starburst Accelerator.
"Government plays a major role in setting the vision and timing expectations for certification," he says. "This increases confidence for investors and budget owners to capitalise."
Moreover, as aerospace companies' internal research and development money, as well as venture capital funds, become pinched by the economic headwinds stemming from the coronavirus pandemic, the USAF's financial commitment is welcome news to the industry, says Mike Hirschberg, executive director of the Vertical Flight Society.
"Every bit helps," he says. "And Agility Prime being really primed to spend money and to provide support to companies who have aircraft that want to flight test, it really does come at a critical time."