Urban air mobility (UAM) has become the new frontier in aviation, driven by a desire for small, quiet and sustainable aircraft to provide mass transportation for intra-city, short-haul and regional travel.
What seemed like a pipe dream less than a decade ago looks set to become a reality, as the sector's early movers prepare their innovative, electric vertical take-off and landing (eVTOL) aircraft programmes for commercial service within the next three years.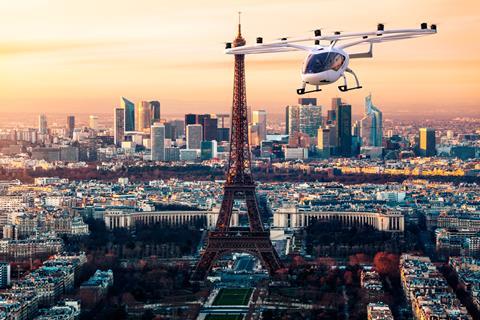 In its recent analysis of the global UAM market, management consultancy Roland Berger forecast there would be around 160,000 eVTOL aircraft in service by 2050, generating annual revenues of $90 billion.
ACTIVE PROGRAMMES
"In just a few years [this sector] has gone from 'pie in the sky' concepts to a bustling industry with a multitude of passenger drones, air taxis and longer-range jets in development or undergoing trials," says Roland Berger. The report identifies around 100 active programmes in development globally, with more than half based in Europe.
"The market's flight trajectory is clearly only going one way," says Roland Berger. The consultancy attributes this bullish outlook to the strong backing from investors in UAM developers, despite the "lack of a proven business model".
"Investment in start-ups hit $907 million in the first half of 2020 – almost 20 times the level in the whole of 2016," says the report. This interest has continued into 2021, with millions more pumped into the market.
What has become apparent in recent years, according to Duncan Walker, co-founder and chief executive of leading UAM infrastructure developer Skyports, is the shift in the type of investor. "Huge amounts of capital are flowing into the sector from blue chip, gold plated institutional investors and strategic partners [such as Uber Technologies, United Airlines, Stellantis and Baron Capital Group]."
He describes the willingness of these companies to invest in the fledgling UAM sector "as a good indication that they view this market as low risk, and likely to happen".
Their backing is also a reflection, Walker adds, of a maturing industry, rising confidence in the technologies being developed, and positive regulatory developments such as the introduction in 2019 of the European Union Aviation Safety Agency's (EASA's) new special condition for VTOL (SC-VTOL) airworthiness regulations – the dedicated certification standard for Europe-based eVTOL aircraft.
"Two years ago, I would have said there is no way the UAM market will become a physical reality for another decade, but my view has since changed," says Walker. "Since then, I've witnessed a palpable desire among governments, regulators, technology companies, established and start-up aircraft manufacturers and infrastructure developers to work together to create this new mass transportation market."
A key turning point for Walker came in October 2019, following the successful public demonstration in Singapore's Marina Bay of partner Volocopter's 2X eVTOL prototype and Skyports' first full-scale air taxi vertiport, dubbed the Voloport.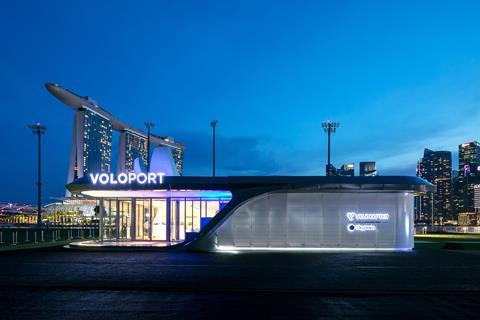 "Public acceptance of this new form of transport has long been the primary hurdle [for UAM developers] and at this event we and Volocopter successfully demonstrated in real time the UAM market in action," says Walker.
His view is echoed by Germany's Volocopter, which is aiming to be first to market in Europe with the production version and fourth iteration of its two-passenger, 19nm (35km)-range, 18-motor eVTOL air taxi, known as the VoloCity.
ENVIRONMENTALLY FRIENDLY
"We have notched up over 1,000h on the test fleet to date in our quest to create a safe, efficient and environmentally-friendly aircraft," says Volocopter chief commercial officer Christian Bauer.
The Bruschal-headquartered company, one of the UAM market's early pioneers, recently raised €200 million ($239 million) in an oversubscribed Series D funding round, bringing the total investment to €322 million. "This has put us on track to launch commercial services with VoloCity in 2024 following certification," says Bauer.
He says gaining public approval of the aircraft and the UAM concept is a primary hurdle if Volocopter is to stick to this aggressive timetable. It is working well so far. As well as the public demonstration in Singapore, the company has also conducted successful public flights of test aircraft in Dubai, Helsinki, Las Vegas and Stuttgart.
In September 2019, 12,000 spectators in the German city took part in a survey led by the University of Stuttgart to gauge the public appetite for the 2X. The study revealed that nearly 70% of respondents would be likely or very likely to use the eVTOL aircraft: a result Bauer describes as "remarkably high".
APPROVAL RATING
A survey conducted following the demonstration a month later in Singapore of the full 2X air taxi experience delivered an approval rating of 75%. The majority of respondents at both events noted that the X2's low noise profile "exceeded their expectations", says Bauer.
However, feedback from both surveys reveals that there is little public appetite for autonomous eVTOL operations, which is the end goal for Volocopter and the UAM sector.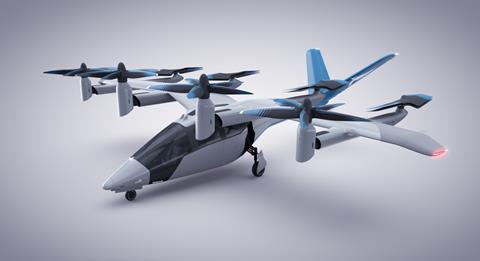 "I cannot see pilotless passenger aircraft entering service before the end of this decade at the earliest," says Michael Cervenka, chief executive of UK start-up Vertical Aerospace, developer of the five-seat VA-X4 eVTOL aircraft.
"It's a potentially long journey to automation, which will likely come with the rise of the new digital friendly generation," Cervenka says.
To gain the public's trust in pilotless aircraft, industry must demonstrate the vital role that unmanned air vehicles – of which eVTOL types are after all only an extension – play in everyday lives, such as organ transport and cargo delivery, and illustrate the important developments in this technology. "It's about education and reassurance," Cervenka says.
There is also no defined regulatory path for autonomous passenger vehicles currently, he says, "so the industry's focus for the time being must be on growing public acceptance for the piloted [eVTOL] models".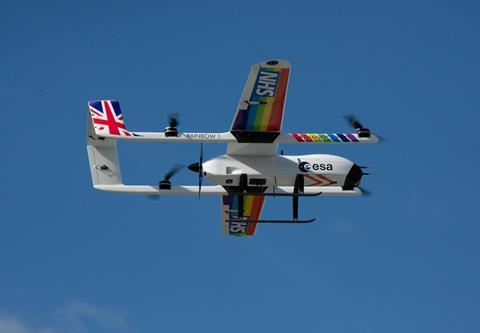 Due to enter service in 2024, the electrically powered X4 is designed to carry a pilot and four passengers up to 104nm (192km), which Cervenka says will "open up the short-haul transport market in a compelling way".
"The X4 will be one of the safest and quietest passenger aircraft on the market, with a noise footprint 30 times lower than a helicopter in cruise and 100 times quieter than a helicopter in hover," he says.
First flight is scheduled later this year from the company's Bristol base, and the company plans to increase public engagement with the X4 through airborne demonstrations and marketing surveys as the programme progresses.
Such is the importance of societal acceptance to the success of UAM operations that EASA launched a dedicated study in November 2020 designed to evaluate the public's appetite for commercial passenger eVTOL services.
Set for publication in May 2021, the study is designed, says the regulator, "to gauge EU citizens' preparedness to accept this new mode of transport and collect their possible concerns and expectations, for instance related to safety, security, privacy and environmental impact."
The study includes research work as well as a survey with the residents of six unnamed European cities, which EASA describes as a "potential target market for the future deployment of UAM". The results "will help us prepare an impact assessment and a future regulatory proposal and will also serve to raise awareness of UAM across the EU", it says.
COMMERCIAL SERVICES
Paris is the frontrunner to host Europe's first commercial eVTOL aircraft services, with a 2024 launch timed to coincide with the Olympic Games in the French capital. In preparation for the launch, an industry consortium led by Airports de Paris (ADP), RATP Group, and Choose Paris Region, is creating what it describes as a "full UAM ecosystem around the Paris region".
Starting in June at Pontoise-Cormeilles-en-Vexin airfield, 25km northwest of the capital, some 30 participants from across the aerospace industry including Airbus, CAE, Pipistrel, Safran Electronics and Defense, Skyports and Volocopter, will begin a series of trials supported by EASA and Eurocontrol covering five key areas.
These span vehicle development, for manufacturers and equipment suppliers; urban infrastructure, targeted at energy companies and vertiport designers; operations, for suppliers of intermodal solutions, maintenance, or digital platforms; airspace integration, involving suppliers of unmanned traffic management or communication/navigation systems; and public acceptance. Led by laboratories or research institutes, the last of these will deal with social and environmental issues.
"We expect Pontoise airfield to become a technical playground and act as a sandbox for acceptability challenges," says ADP's head of innovation and corporate venture Sebastien Couturier.
He adds that public engagement in the trials will be key to the venture's success. "The local community will be an active stakeholder in the project and will be invited to participate in live showcases, and offer their feedback," says Couturier.
The trials are expected to last until the end of 2023. "By that time, we should have acquired sufficient relevant information and operational data in order to launch the selected routes for the Olympic Games in 2024 and beyond," Couturier says.
"We hope the success of this venture will also provide a springboard to further expansion of UAM operations throughout Europe."
Skyports' Walker describes the UAM market as a "new form of transport for everyone, which just like airline travel, will eventually become normalised".
Everything is going in the right direction, and it will be "capital and brains that get us to the end point", he says.