There was hardly a whisper about the topic of climate change during Abu Dhabi's IDEX defence show in late February. The only mention of the element carbon were enquiries about the carbonfibre used in making the numerous unmanned air vehicles on display.
In an increasingly unstable world – where there is a war being waged in Europe, and heightened tensions in many geographies including the Asia-Pacific region – the throng of tri-service visitors to IDEX could be forgiven for ignoring the defence sector's carbon footprint. Unlike the commercial aviation world, it is simply not top priority.
However, military leaders are waking up to the challenge. "Climate change is reshaping the increasingly complex global security environment and the department of the air force must adapt and respond to that threat," secretary of the US Air Force (USAF) Frank Kendall wrote in his introduction to the service's Climate Action Plan in October 2022.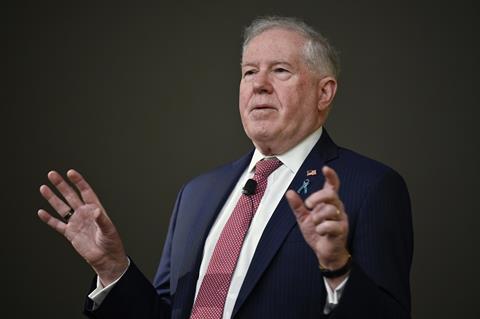 "We must prioritise air and space dominance in a security environment shaped by a changing climate, yet also recognise and reduce the department's role in contributing to climate change," Kendall says. "Department capabilities that provide air and space dominance and global reach are fed by a steady diet of fossil fuel, representing the bulk of the Defense Department's carbon footprint and a continual burden on our changing climate."
During its annual summit in Madrid in June 2022, NATO's new Strategic Concept recognised for the first time "climate change as a major security challenge for NATO in the decade to come".
CRISIS MULTIPLIER
At the summit, the first high-level dialogue on climate change and security brought together NATO allies with partner nations and other global stakeholders. "From the High North to the Sahel, climate change is a crisis multiplier," NATO secretary general Jens Stoltenberg notes.
"More extreme weather devastates communities, and fuels tensions and conflicts," he says. "Climate change matters for our security, so it matters for NATO. That is why NATO is determined to set the gold standard on addressing the security implications of climate change."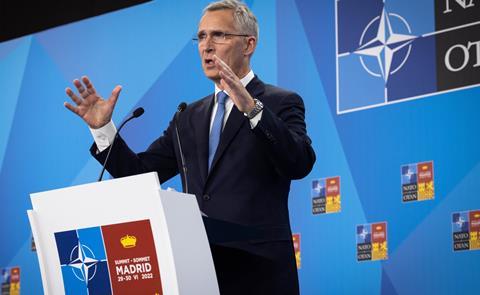 The military leaders who are seeking to understand the impact of climate change on warfare are clear there must be boundaries.
"We cannot compromise our military effectiveness," Stoltenberg says. "NATO is about preserving peace through a credible deterrence and defence. Nothing is more important. If we fail to preserve peace, we will also fail to fight climate change."
"Our mission remains unchanged, but we recognise that the world is facing ongoing and accelerating climate change and we must be prepared to respond, fight, and win in this constantly changing world," says Kendall.
Major General Karsten Stoye, the head of Eurocontrol's Civil-Military Co-operation Division, last year wrote: "In defence, a suboptimal operational outcome is not acceptable, because our opponents may not be under the same constraints.
NEW TECHNOLOGIES
"Until new technologies offer levels of performance as good as or better than current technologies, the ability to adopt less environmentally-damaging equipment may be limited," he adds. "In simple terms, a quiet, low-emissions fighter aircraft may be great in peacetime, but it needs to survive in combat to be of any value."
Over the past few years, under intense pressure to decarbonise, players in the commercial aviation world have developed roadmaps indicating how they intend to reduce their impact on the environment. The over-arching target is an aspirational goal of achieving net-zero carbon emissions by 2050 – adopted by ICAO in October 2022.
A handful in the defence sector are setting targets too, some matching, or even exceeding the plans of their commercial cousins. Last June, Stoltenberg announced the decision by NATO as an organisation to reduce its greenhouse gas emissions by at least 45% by 2030, and down to net zero by 2050. "All allies are committed to reducing their greenhouse gas emissions as part of the Paris Agreement," he adds.
One of the leaders is the UK Royal Air Force (RAF), which might be the only service to have revealed a specific target – and the aspiration is ambitious.
In July 2021, chief of the air staff Air Chief Marshal Sir Mike Wigston, identifying climate change as a transnational challenge, said: "In the UK, current legislation requires all greenhouse gas emissions to be net-zero by 2050, but I have set the RAF the challenge of net-zero by 2040, because everything I see and hear tells me that 2050 date will come forward.
"The way we power our aircraft, the way we power our bases, the way we talk to our supply chain, to our industrial suppliers about their carbon and sustainable practices, are all going to be things that we are going to have to tackle," Wigston says. "It will take decades and we need to start now."
The RAF and NATO are the exceptions rather than the rule by setting targets, but others will follow as awareness grows and priorities change. Last year, at the instigation of Wigston, the Global Air Forces Climate Change Collaboration was formed, bringing together 40 air forces on six continents to share best practices, lessons learned and ideas.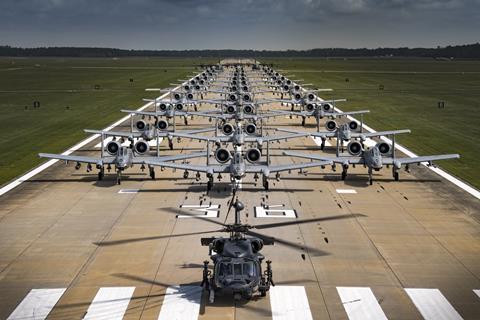 "In our experience, sustainability was low down the priority list, but it has been climbing the ladder over the past few years and while delivering operational effectiveness as cost-effectively as possible will always be the top consideration, this issue is right up there and will remain so," explains Adam Healy, principal consultant at global strategic consultancy Roland Berger's London office.
One of the big challenges for the defence sector is actually measuring the size of its carbon footprint. Military bodies were exempted from reporting their emissions when binding greenhouse gas reduction targets were set for the first time for industrialised countries in the 1997 Kyoto Protocol.
POOR DATA
"Military emissions are part of what is counted, but the data is not good," says Stoltenberg. NATO has developed the first methodology for measuring its greenhouse gas emissions, both civilian and military, to help guide emission reduction efforts.
"It sets out what to count and how to count it, and it will be made available to all allies to help them reduce their own military emissions," he says. "This is vital, because what gets measured can get cut."
Nobody disputes that the main contributor is predominantly emissions from burning fuel in operations, and specifically air operations, but there are emissions from day-to-day activities like running the vast military estate of buildings and transportation, in addition to those associated with the building of the aircraft, ships and land vehicles.
The commercial aviation industry's share of global greenhouse gas emissions is approximately 3%, with various estimates of the military's stake being between 1% and 5%, but certainly in the low single-digits, says Miguel Lopez San Gregorio, senior consultant at Roland Berger. The firm has been focused on aerospace and aviation sustainability since 2017 and is working on sustainability strategies for armed forces and the defence supplier ecosystem.
The consultancy is undertaking a major study to by mid-year produce its own estimate of emissions from defence supply chain activities and military operations across multiple domains, says San Gregorio. "It is a complex task as sustainability in defence covers so many areas," he says. "However, one thing is certain: if the military and supply chain does nothing, the impact of the sector will rise as a proportion of the global total as other industries decarbonise."
LOW UTILISATION
In peacetime operations, the utilisation of military aircraft such as fighters is low. "With [Lockheed Martin] F-16s flying only 150 hours a year you can be justified to ask: what's the problem here?," asks Richard Aboulafia, managing director of AeroDynamic Advisory. "The military is a fraction of commercial flying."
This view is highlighted by the fact that of the 26 billion gallons of jet fuel consumed in the USA in 2019, only 10% was by the military, says Michael Winter, principal fellow advanced technology at Pratt & Whitney.
In the commercial world, the obligation to decarbonise is often referred to as the "license to operate". For the main polluters – airlines – this means that unless they find routes to achieve net-zero emissions, they will go out of business either through regulation or increased costs.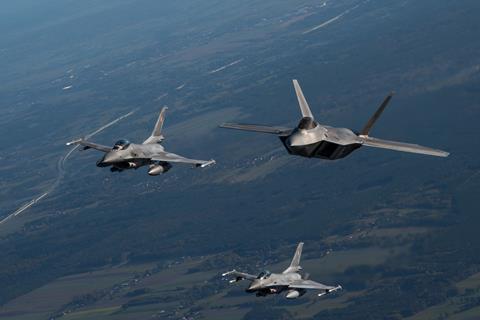 The defence sector acknowledges that it must reduce the impact of its military activities on the climate, but strategists understand that climate change brings different challenges in comparison with the commercial world.
"The prioritisation of environmental topics is changing fast," says Jose Antonio Coll Guzman, head of sustainability at Airbus Defence & Space. "For the defence sector, it is not only a topic of emissions, but also of energy dependency, supply chain vulnerability and the effects of climate change on future operations."
Dr Duncan Depledge, a lecturer in Geopolitics & Security at the UK's Loughborough University, is undertaking a project to assess the impact that achieving net zero carbon emissions by 2050 will have on the UK's armed forces.
"Defence has a carbon problem," he wrote in an Oxford Academic article in February. "The strengthening of net-zero emissions targets in response to the deepening climate crisis is forcing militaries to find answers to the question of how to wield force effectively within the constraints of a net-zero world."
Depledge tells FlightGlobal there are three prongs to the carbon problem for militaries. "The thinking for the first problem is that climate change is going to lead to increased conflicts, certainly increased insecurity, and instability.
"The second is that as the world warms as more carbon enters the atmosphere, climate change itself is going to alter the operating conditions for defence," he says. He notes that in its Climate Action Plan, the USAF observed one example of the impact of climate change: "Across the globe, extreme heat and humidity are a detriment to our ability to execute operations including impacting aircraft performance and payload capacity."
The third element of the carbon problem is fuel use in operations. "The mitigation piece is critical because defence itself is a huge consumer of fossil fuels. It burns a lot of carbon and it's going to have to address that as well," says Depledge.
CARBON COMBAT
Taking this thinking a step further, he introduces the concept of 'low-carbon warfare', with one of the key questions being: "can you have a high-carbon military in a low-carbon world?" The answer surely must be no.
"If pressure to decarbonise military forces continues to build, Western societies will need to confront future threats to defence and security with a much smaller carbon 'bootprint' than they do today," he says.
"Then the challenge becomes how to retain or even enhance military operational effectiveness while supporting action to mitigate the climate crisis, reducing a costly reliance on fossil fuels (as well as on petro-states such as Russia), and maintaining the support of societies increasingly concerned about environmental issues," notes Depledge.
"This gives rise to some uncomfortable and complex questions. Such as, what is the acceptable carbon cost for the military?"
As an example, he asks how people would respond to another 'War on Terror' scenario. "Are we prepared, as a society, to bear those costs again, not just in terms of the human or financial cost, but also because there would be a carbon cost of that conflict too?"
While there are philosophical questions for society to answer about warfare and carbon, leading defence manufacturers are making strong moves to address the due diligence required to meet their Environmental, Social and Governance (ESG) responsibilities, says Healy.
"While the E in ESG is difficult to abate in the short-term because that's about emissions from fossil fuel use in operations, the defence industry has been generally good on the S and G front, making strides on board and workforce diversity and improving the quality of reporting on ESG topics," he says.
"Some manufacturers have started working with supply chains to report on and manage their environmental impacts, but finding meaningful, cost-effective and sustainable solutions is anything but trivial."
According to Guzman: "Like in other sectors, the first step [for a defence manufacturer] is to decarbonise its industrial footprint (buildings, industrial operations, logistics, etc) wherever possible, this includes carbon offsetting."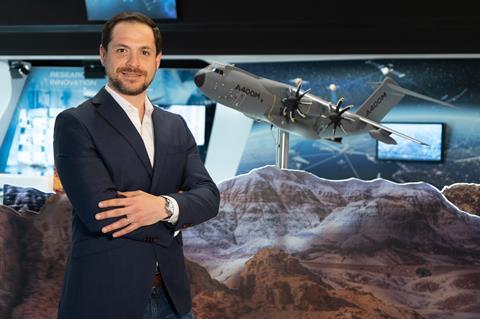 "The defence industry is in a relatively unique position, with fewer manufacturers making dedicated and specific products for a focused marketplace," says Healy. "In this small and highly qualified supply base it is not easy to swap suppliers. This puts the onus on the entire supply chain to work together to decarbonise."
In its ESG report, Raytheon Technologies stresses the need to attract, develop and retain world-class talent. This talent increasingly wants to join a firm that puts sustainability at its core, and if defence entities do not have a strategy in this regard, they could become less attractive places to work, it says.
"It has been observed that the further you get from the front line the more of an issue this becomes for recruitment," says Depledge. "If you go into the military to drive tanks or fly fighter jets, [sustainability] is not really a big issue. But if you are set back from the front line in more of a supporting role then people will ask whether they would prefer to work for a 'clean' organisation rather than a 'dirty' one."
QUICK THINKING
There are a multitude of questions and challenges for the defence sector to consider, but progress to answers is at an early stage, argues Depledge. "Decisions must follow quickly if such thinking is to have any significant bearing on the character of military operations in 2050," he says.
"This leaves little time for consideration of what the pursuit of low-carbon warfare will mean for the future character of military operations, how it might intersect with other trends such as advances in automation and AI [artificial intelligence], or how it could be affected by major ruptures in the international security environment."
The debate around the defence sector's impact on and reaction to climate change is in its infancy. However, there are leaders already tackling the issue head-on hoping that many others will follow, and quickly, as the military ponders how to deal with its 'carbon problem'.