Foreseeing a day in the not-too-distant future when pilotless helicopters may fly to people in need of rescue, Collins Aerospace's next generation hoist, the Pegasus, will have the ability to be controlled digitally – even eventually wirelessly.
The company anticipates the Pegasus will enter production in 2021 and doesn't foresee it being used on an autonomous helicopter anytime soon. However, with customers testing autonomous helicopters, such as Sikorsky's S-70 Black Hawk Optionally Piloted Vehicle, Collins wants to be prepared.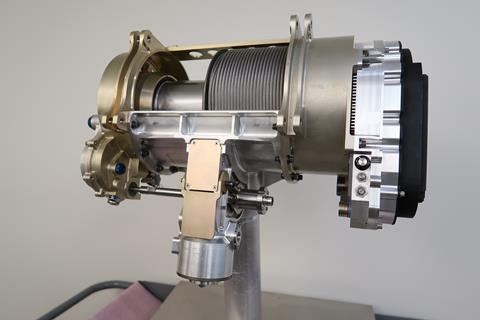 "These hoists are in operation for decades," says Samir Mehta, president of mechanical systems with Collins Aerospace. "And so, what we're doing is building in the ability for the hoist to be able to perform that kind of mission in the future."
In the near term, the ability to digitally control the Pegasus hoist could allow multiple people to operate the hardware, including pilots in the cockpit who could use an app to take over control should the primary operator become preoccupied, says Mehta.
A digitally controlled hoist also collects a lot of data about its operational history and health. For example, the Pegasus will be able to track its load, speed, cycles and temperatures, says Mehta.
That extra information spinning off the hoist could help operators avoid overheating, a problem which can damage the machine. Overheating can also force cooling off time, a major problem during busy, high-tempo periods of repeated rescues, such as during a nature disaster.
Ultimately, the company is hoping the digital technology it is incorporating into Pegasus will allow it to be used more often, while avoiding unnecessary maintenance.
"If you provide it with a digital backbone, you get closer towards condition-based maintenance," says Mehta. "Now, you're really only changing parts, components and assemblies when they need to be changed, not necessarily based upon some sort of predetermine overhaul or when the part actually fails."