Erickson signed a development agreement to integrate its S-64 Air Crane helicopter with Sikorsky's Matrix autonomous flight control software.
The Portland, Oregon-based company plans to conduct an autonomous flight demonstration in 2021 using the technology, it disclosed at the Heli-Expo trade show in Anaheim, California on 29 January.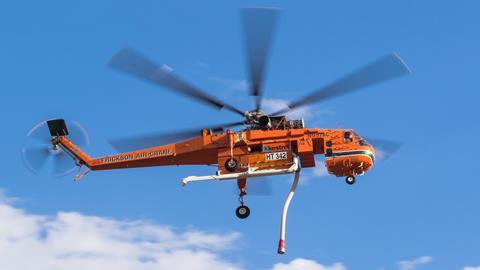 The S-64's mechanical flight controls will be removed and replaced with fly-by-wire controls. It will be a process similar to Sikorsky's efforts in 2019 to transform a UH-60A, the oldest model of the Black Hawk, into an autonomous helicopter, says Erickson.
In particular, Erickson believes the Matrix system's sense-and-avoid abilities could allow the S-64 to conduct firefighting water drops during night or in low-visibility situations, such as when a pilot's sight is clouded by smoke.
"We've had missions where the smoke was so bad we literally couldn't see the fire on the ground and so [we were] unable to drop [water on the fire]," says Hayden Olson, vice-president of aerosystems with Erickson. "We want to be able to expand how often we can operate in those conditions and do it safely."
Chris Van Buiten, vice-president of Sikorsky Innovations, adds that autonomy is a safeguard against cognitive overload for aerial firefighting pilots who may be distracted or overwhelmed when flying complex missions.
Previously, Sikorsky's Matrix-controlled helicopters have relied on sensors, such as Lidar, cameras and digital terrain obstacle databases, to guide their autonomous flights.
Erickson is still determining what it aims to do in its first demonstration of the autonomous S-64, though the flight would likely include the helicopter showing its ability to do water drops and pickups. The company may attempt a logistical demonstration after that.
Though firefighting is the initial interest, an autonomous S-64 could also be useful for military cargo resupply missions, as well as longline load lifting or natural disaster responses, says Dempsey of Erickson.
The technology could eventually enable one-pilot or unpiloted operations, says Van Buiten of Sikorsky.
"We talk about the 2-1-0 switch: two crew, one crew, zero crew," he says. "[For example], if a horrible day ever happens and we're tasked to drop concrete on the Fukushima nuclear reactor… we'd be delighted to flip the switch on zero [crew flight] and have this big heavy lifting machine running sorties unmanned to save the day."
In addition to building the S-64, Erickson flies 20 examples of the aircraft itself for firefighting or air lifting services. Including its own aircraft, the company says there are about 45 S-64s in operation around the world.
Erickson plans on eventually offering the autonomy technology as an upgrade to operators of the S-64. Matrix is one part of a larger upgrade package the company is developing, called the S-64F+.
Erickson believes there is a market for 50 to 100 upgrade packages and new-built examples of the S-64F+. Eventually, all production-new Air Cranes would be manufactured to the S-64F+ configuration, the company says.
But the manufacturer is offering few details about the S-64+ configuration, saying that it is still in development.
The aircraft is to have a new engine that would increase range, fuel efficiency and payload capacity. The engine model has not been selected as the company is evaluating its options in consultation with Piasecki Aircraft, it says.
The helicopter would have composite main rotor blades, says Erickson. It would also have an "improved water cannon."
Erickson says it does not know when the S-64F+ configuration would be available for delivery, citing the need to receive a certificate from the Federal Aviation Administration, as well as decisions on various subsystems that have yet to be made.
The S-64 is the civilian version of the 1960s-era Sikorsky CH-54 Tarhe, a twin-engined heavy lift helicopter built for the US Army which has its cabin carved out to allow for carrying special loads. The firefighting version carries a 10,000 liter (2,650gal) water tank in its belly. The S-64 can also be used as a cargo air lifter using a sling.
Erickson purchased the intellectual property behind the S-64 from Sikorsky in 1992. A handful are produced each year from scratch or via remanufacturing legacy CH-54 airframes at the company's facilities in Medford, Oregon.
Most recently, the firm delivered an S-64 to the Korean Forest Service in November 2019, with another due for delivery in South Korea in 2020. Additionally, it plans to deliver one S-64 in 2020 and a second example in 2021 to Italy's fire and rescue service.
Correction on 30 January: Removed incorrect Erickson executive from quote and replaced with Hayden Olson, vice-president of aerosystems.