Robinson Helicopter's deliveries fell by about 33% to 196 units in 2019.
Kurt Robinson, president of Robinson Helicopter, says he couldn't discern a single cause behind the downturn, though he noted the decline was relatively even across worldwide markets.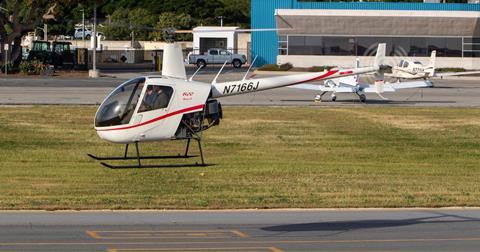 "About 72% of deliveries were outside the US and 28% in the US… which percentage-wise is the same as it was in the prior years," he says. "There's a lot of different explanations I heard. Everybody played different economists about what is happening, but just in general, we decided it was a little bit slower year."
The company says it sold 19 units of the R22, 123 units of the R44 and 54 units of the R66.
The firm saw a strong sales uptick in the last three months, says Robinson.
"We're seeing worldwide our orders have picked up. And, based on that, we set our production rates for the year," he says. "Currently, we're producing one R22 per week, two R66s per week, and three R44s per week. At that current rate, we're actually sold out the first six months for both the R44 and the R66."
Robinson says the company can't explain what is behind the recent growth in orders.
Robinson Helicopter produces light, single-engined helicopters which are frequently used for pilot training, as well as police work, newscopter work, utility services and private flying. The R22 and R44 have a piston engine, while the R66 is powered by a turboshaft.
Correction on 29 January: Article changed to note the R44 is piston-powered, not turbine-powered.