The US Army says it has conducted manned-unmanned teaming between the Boeing AH-64 Apache attack helicopter and two different unmanned air vehicles (UAVs).
An AH-64E, a Textron Shadow RQ-7BV2 Block 3 tactical UAV and a General Atomics Aeronautical Systems MQ-1C Gray Eagle Extended Range UAV successfully worked together to carry out an air-to-ground missile attack at Dugway Proving Ground in Utah last October, the service says.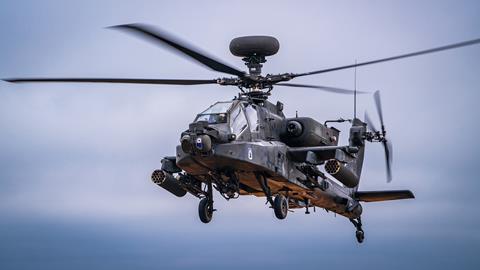 An Apache pilot took control of the RQ-7's sensor payload for reconnaissance and lased a target. Then, the MQ-1C fired a laser-guided Lockheed Martin AGM-114 Hellfire missile, successfully hitting the ground target from 15,000ft. The trio of aircraft repeated the manned-unmanned demonstration a few days later, hitting a ground target with a Small Glide Munition.
The US Army has been conducting manned-unmanned teaming for years using the AH-64 and MQ-1C, but it had not previously incorporated a third UAV. Since the Bell OH-58D Kiowa Warrior scout helicopter was retired in 2017, the Apache and Gray Eagle have handled reconnaissance and attack missions.
The recent three-way manned-unmanned teaming test is meant to demonstrate part of the US Army's version of Joint All-Domain Command & Control. This is a Pentagon concept that aims to connect soldiers, tanks, artillery, UAVs, satellites, fixed-winged aircraft and helicopters to each other so that anyone can fire upon a target once it is spotted by someone else in the network.
In particular, the US Army wants its UAVs to be able to spot targets within an enemy's weapons engagement zone, while manned aircraft stand outside of danger. In that scenario, the UAVs would either take the shot using onboard weapons or pass back targeting information to the AH-64 or the forthcoming Future Attack Reconnaissance Aircraft (FARA), which could fire a long-range weapon, such as a loitering munition.
"This capability stands as a proof of concept for how air launched effects could ultimately be used on the battlefield," says Lieutenant Colonel David Benjamin, unmanned air system endurance product manager with the US Army, who helped conduct the Dugway Proving Ground manned-unmanned teaming demonstration.
The new manned-unmanned teaming capabilities required software modifications on the different radios of the AH-64, MQ-1C and RQ-7 to allow collaboration on the same waveform. The US Army says it has not yet determined a schedule to roll out the capability to its fleet.
LONG-RANGE TEAMING
The ranges at which the AH-64 and MQ-1C can collaborate are increasing. As part of the recent Dugway Proving Ground demonstrations, "the data link range between the Apache and the Gray Eagle operated at a much farther distance than before, providing the opportunity for over-the-horizon reconnaissance", the US Army says. It declines to disclose the data link range, but says the demonstration "spanned over 30 miles".
The US Army has previously said that its target list for AH-64 and FARA, and their unmanned teammates, starts with the Russian-built Pantsir-S1 surface-to-air missile and gun battery. Next on the list are command and control vehicles and long range fires.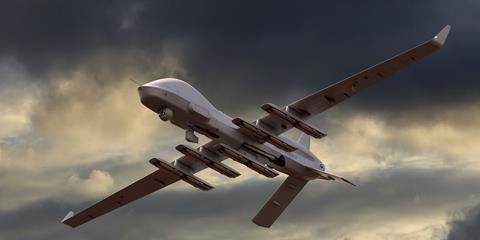 In 2020, General Atomics used an MQ-1C to identify and produce targeting coordinates of "emitters" using a L3Harris Nino communications intelligence system and its in-house Lynx synthetic aperture radar system. The company said the Nino is capable of sniffing out emitters up to 135nm (250km) away. It is not clear at what range targeting coordinates can be produced.
Over-the-horizon targets could be attacked using long-range artillery or ballistic missiles, as well as nearby US Air Force, US Navy or US Marine Corps aircraft. The AH-64 and FARA are also capable of launching an attack.
In 2020, the US Army demonstrated launching the Area-I Altius 600 air-launched effect from an airborne Sikorsky UH-60 Black Hawk, which was acting as a stand-in for FARA. General Atomics also launched an Altius 600 from its MQ-1C last year. The Altius 600 has a range of 238nm and could be used as a loitering munition. In 2019, the service demonstrated launching Rafael's anti-armor Spike Non-Line-of-Sight missile from an AH-64. That missile has a range of 17.3nm.
The US Army is aiming to incorporate the Apache's APG-78 Longbow fire control radar, and whatever radar succeeds it on FARA, into manned-unmanned teaming in the future, says Benjamin.
The latest version of the Longbow radar has a detection range of 8.64nm and can simultaneously search, detect, locate and classify up to 256 moving and stationary targets, says the Northrop Grumman-Lockheed Martin joint venture that manufactures it. The radar also sits atop the Apache's rotor mast, allowing for the bulk of the attack helicopter to remain hidden from sight or enemy radar on the other side of a hill, trees or buildings.
Benjamin says one of the biggest challenges with expanding manned-unmanned teaming to new aircraft is not strictly technological. Helicopter pilots and weapons officers can suffer from information overload with so many data feeds and attack options available.
The US Army is trying to figure out ways to make information easier to digest. "How do we make it much easier for that operator to do their primary mission? And also secondary missions?," says Benjamin.
"Do I have to go through three different screens or three different tabs to find that information? Or does it pop up?" he says. "One [solution] is making that human interface easier to understand. And the other [solution] is giving the machine enough knowledge to present to the operator the things that are vital to them at that point."
It is still not clear what the upward limit of manned-unmanned teaming operations will be, he says.
"There are definitely fields of thought within the aviation community that you could control multiple UAVs," says Benjamin. "What that number is – is it three? Is it six? Is it 12? Is it 100? – it's still being assessed."