Airbus has delivered the first UH-72B Lakota to the US Army National Guard, a military variant of the latest iteration of the civilian H145 light-twin which includes a Fenestron shrouded tail rotor, among other new features.
The UH-72B is the first of 18 examples of the light utility helicopter that are on order and to be built at Airbus's production facility in Columbus, Mississippi, the manufacturer said on 7 September.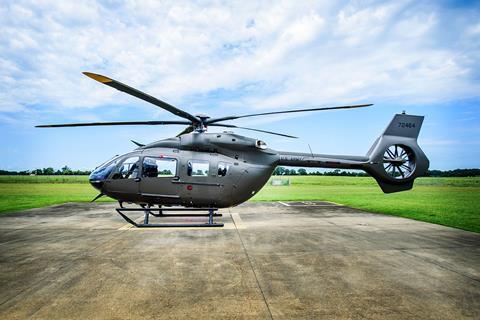 The US Army and National Guard have 453 examples of the UH-72A in operation, according to Cirium fleets data. Those aircraft, which have an average age of 8.5 years, are used mostly for non-combat search and rescue operations, reconnaissance and surveillance, disaster relief, counter-drug operations, and medical evacuation missions.
The first UH-72 contract was granted to Airbus in 2006 as a commercial off-the-shelf acquisition effort, an initiative to save money and time by buying and making small modifications to an existing civilian helicopter. As part of that programme, the service is buying the latest version of the H145.
While the "A" variant of the UH-72 is powered by two Safran Arriel 1E2 turboshafts, each with a maximum continuous power rating of 516kW (692hp), the "B" variant comes with a set of more powerful Arriel 2E engines, each with a maximum continuous power rating of 617kW.
The new UH-72B also has a five-bladed main rotor, versus the four-bladed configuration of the earlier UH-72A. And, the latest variant has a Fenestron shrouded tail rotor, instead of the open tail rotor of its predecessor.
The UH-72B also comes with the Airbus Helicopters-designed Helionix avionics suite. "The Helionix suite includes an advanced dual-duplex, four-axis autopilot to provide flight envelope and over-limit protection, automated take-off, and fully-coupled approaches to hover," says Airbus.
Besides the US Army and National Guard, the US Navy also has five examples of the helicopter for training missions, according to Cirium. The Royal Thai Army also operates five of the type and has a letter of intent for 15 additional examples.