The US Army has awarded BAE Systems three contracts to develop technology to help helicopter pilots and weapons systems officers control unmanned air vehicles (UAVs) in combat.
The contracts are part of the service's Advanced Teaming Demonstration (A-Team) programme, an effort to develop manned-unmanned technologies for the US Army's Future Vertical Lift (FVL) aircraft, its next generation of scout and troop transport rotorcraft.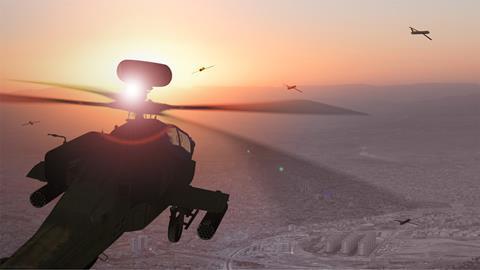 The awards total $9 million and include contracts to develop human machine interface, platform resource capability management and situational awareness management technologies, BAE said on 3 November.
BAE says the human machine interface technology is intended for "content and presentation management on flight displays, and user data management to organise the huge quantity of information presented to the pilot".
The platform resource capability management technology is intended for "managing the sensors, effectors, and communications systems on the individual platforms and optimising their use across the entire formation", the company says.
The situational awareness management technology is intended for "understanding the positions of each friendly element, tracking targets and sharing target across the entire formation to optimise threat prosecution. This includes things like automated target recognition, data fusion, data classification and identification, and dissemination and reporting", it says.
The US Army plans to rely on its low-flying Future Attack Reconnaissance Aircraft, working in close coordination with a variety of UAVs, to find and destroy targets in enemy territory. Those UAVs include so-called air-launched effects; drones launched from helicopters that fly scouting missions in search of high-priority targets such as surface-to-air missile batteries and command and control centres.
However, to handle the difficult task of flying low and fast, while also controlling swarms of UAVs simultaneously, the service is looking for ways to automate the operations of unmanned aircraft.
Chris Eisenbies, product line director of the BAE Systems' autonomy, control, and estimation group within the company's FAST Labs, a research and development group, says the aerospace firm aims to demonstrate technology that will give a "complete view of the battlespace and streamline decision making" in the cockpit.
The A-Team technologies could also be used on the US Army's Future Long Range Assault Aircraft, its in-development replacement for the Sikorsky UH-60 Black Hawk, according to the service's original solicitation. It could also be used on existing helicopters that have already started some manned-unmanned teaming operations, such as the Boeing AH-64 Apache, which sometimes flies in coordination with the General Atomics Aeronautical Systems MQ-1C Gray Eagle UAV on scouting missions.
BAE says it will conduct A-Team work at its facilities in Burlington, Massachusetts, and San Diego, California.
The award of contracts for the A-Team programme came after the US Army also called for white papers in April for its "Holistic Situational Awareness – Decision Making" development programme that is planned to be launched in fiscal year 2021. That programme has a complimentary focus of helping pilots make better sense of an avalanche of information coming into the cockpit from a growing number of sensors in next-generation helicopters and companion UAVs.
Update: The article was changed on 3 November to include additional information from BAE Systems.