Though a potential contract within one of the US Army's two Future Vertical Lift programmes is years away, Bell is leaning into its prospects.
The company unveiled its "Manufacturing Technology Center" in Fort Worth, Texas, on 10 August.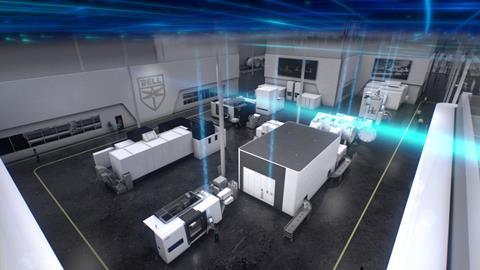 The 13,000sq m (140,000sq ft) facility will be used to test and refine advanced manufacturing technologies and processes that Bell aims to use to build and sustain the US Army's Future Vertical Lift aircraft.
The US Army has two Future Vertical Lift competitions underway: Future Long Range Assault Aircraft (FLRAA) and Future Attack Reconnaissance Aircraft (FARA). Bell is competing against a Sikorsky-Boeing team for the FLRAA deal and Sikorsky for FARA.
For the FARA competition, Bell is offering the 360 Invictus, a tandem-seat helicopter, with a wing and a booster auxiliary power unit, that is based around the company's 525 Relentless rotor system. For the FLRAA competition, Bell is offering the V-280 Valor, a tiltrotor aircraft.
The US Army wants to receive FARA by 2028 and FLRAA by 2030. In response, competitors are emphasising their manufacturing capacity and ability to transition quickly from prototype aircraft to production examples.
Bell says its new facility will be networked and closely monitored by sensors.
"Every inch of the facility will be monitored and controlled by a network of IT, Internet of Things and cybersecurity systems that manage the inflow and outflow of materials, as well as the movement of activity throughout the factory," Bell says. "By deploying a networked software infrastructure, the [Manufacturing Technology Center] will produce a digital twin of itself that gives everyone a common operating picture of the building, the equipment and the processes."
Advanced manufacturing, in particular digital engineering, is seen as the key to rapidly building rotorcraft for the Future Vertical Lift programmes. Bell, Sikorsky and Boeing are emphasising the technology as a tool to eliminate slower paper-based processes, while improving the accuracy and precision of aircraft design, engineering and production.