Bell's 360 Invictus, the company's proposal for the US Army's Future Armed Reconnaissance Aircraft (FARA) competition, will receive a power boost from a supplemental power unit, a Pratt & Whitney PW207D1 turboshaft.
The PW207, which is used on the Bell 429 light, twin-engined helicopter, will serve not only as an auxiliary power unit for starting the helicopter and powering its electronics, but will provide power to the main rotor shaft in certain situations, says Frank Lazzara, programme director for FARA, at the company's Arlington, Texas Flight Research Center on 12 December.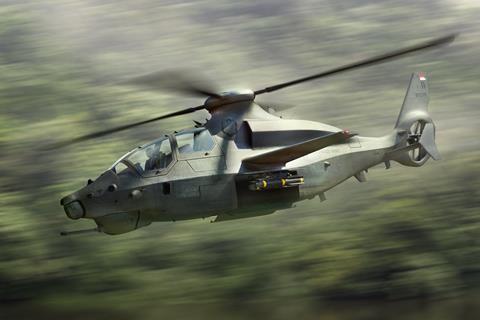 The helicopter is able to pull power from the supplemental turboshaft via a "patent pending clutching mechanism," he says. The PW207 produces 586shp (439kW). It would be mounted on the right side of the Invictus 360, with its exhaust exiting out of the right-side infrared signature suppression system.
If chosen as one of the two finalists to be funded for a prototype fly-off competition, a decision which will likely come from the US Army in March 2020, the Bell 360 Invictus would use the GE Aviation T901 turboshaft as its main powerplant. The GE T901 was selected by the US Army as the winner of the Improved Turbine Engine Program in February 2019.
The Bell 360 Invictus would be able to meet the US Army's 180kt (333km/h) cruise speed requirement, but the company declines to say if it is capable to make the service's desired 205kt threshold.
The Bell 360 Invictus, which also has a wing that provides 50% of its lift at cruise, uses a version of the Bell 525's fully articulated rotor system, made of five composite blades. However, Lazzara says because the 360 Invictus will only have four shortened rotors the company won't need to worry about weight and will be able to make the blades out of less expensive conventional materials, such as fibreglass.
The company touts the testing time it's already put on the Bell 525's rotor system, combined with the 360 Invictus' more simplistic winged helicopter design, as being important cost and risk reduction factors in its bid. Bell believes that those characteristics, joined with a sophisticated digital design, process will allow it to compete with Sikorsky's Raider X, a compound helicopter design based on the extensively flown S-97 demonstrator.
Lazzara says the playing field will be leveled when Sikorsky goes from the S-97 to the Raider X, a 20% increase in size.
"Whenever you scale you change an awful lot of factors," he says. "So, they have their fair share of challenges as well."