Bell believes new digital engineering and manufacturing technologies will allow it to cut the cost and lead times on rotorcraft parts by double-digit percentages. It also thinks those bold claims are likely to attract doubts.
To show skeptics that "step change" improvements are possible, the company has built a Manufacturing Technology Center to demonstrate its capabilities. The manufacturer cut the ribbon on its new 13,000sq m (140,000sq ft) facility in Fort Worth, Texas on 25 March.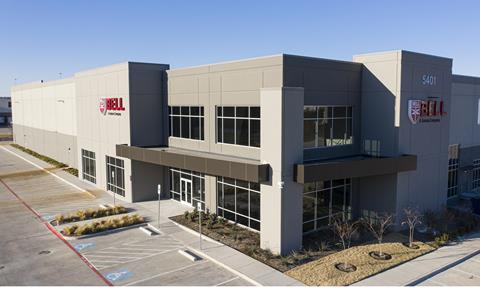 Bell believes its advanced manufacturing centre will give it an edge as it competes to build the US Army's Future Long Range Assault Aircraft (FLRAA) and Future Attack Reconnaissance Aircraft (FARA). The company is bidding its V-280 Valor tiltrotor for the FLRAA programme and 360 Invictus winged helicopter for FARA. Parts for both rotorcraft are being worked on within the advanced manufacturing centre. Bell plans to eventually use the facility for commercial helicopters as well.
The manufacturing process for the V-280 has already been improved upon, in particular via a 40% reduction in cost and 80% reduction in lead time to manufacture its mast part, says Bell. Mast lead time has been cut from between a year to 18 months to less than 90 days, says Glenn Isbell, vice-president of rapid prototyping and manufacturing innovation at Bell.
"We developed this centre so we can show them and prove it," he says. "Because whenever we tell them, 'We're going to take 40% of the cost out, 80% of the lead time out', disbelief is the natural tendency."
Bell has been able to produce similar results for a variety of parts on the V-280 airframe, says Isbell.
"That is one of the key differentiators that we're going to be able to provide on the [Future Vertical Lift] programmes," he says. "We're able to build things in such a different way."
The company says it has been able to use digital engineering software programs and new equipment to simplify its manufacturing process and eliminate errors. The result is a process that is tightly coordinated and controlled using software and data, it says.
"Reduction of variation [between parts] is one of the key pieces," says Isbell. "Variation has caused the aerospace low-volume manufacturing people struggles for a long time."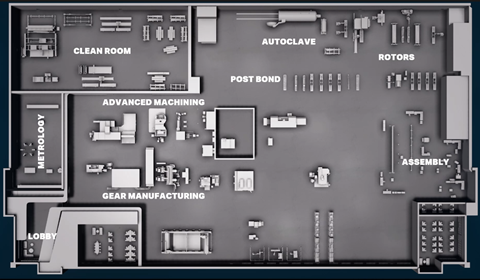 The Manufacturing Technology Center includes a metrology area that the company plans to use to check the dimensions of gears, blades and metallic parts.
"The whole idea of making a batch of parts and then finding out they're bad is the exact problem we're trying to solve," says Isbell. "The ability to detect if we have a problem in process and not make a bad part is the core to most of what we're doing."
Bell is also aiming to find more streamlined ways of manufacturing.
"Our core philosophy is to simplify the manufacturing process, to remove as many steps as we can," says Isbell. "We'll then improve what's left and we'll put control capabilities in – digital control capabilities – so that we can monitor how the part is being built in its lifecycle."
For example, the company has previously manufactured a parallel gear by using six different machines. Now, it has found a way to manufacture the part in one machine, with just one setup, he says.
"We've been able to significantly reduce the amount of steps required to build the part at the same level of quality," says Isbell.
In addition to the metrology area, the Bell Manufacturing Technology Center will also include a clean room, gear manufacturing space, advanced machining zone, an autoclave, post bond area, rotors space and assembly area.
The building will be oriented toward developing and honing manufacturing processes, which will eventually be transitioned to other facilities for larger scale operations.
"We may make an initial run of parts to make sure our process validation and variation is solid, but then we would transition that work to a production factory that's really geared toward revenue generation, making the same part on a regular basis every day," says Isbell.