After flying its V-280 Valor tiltrotor for 214h, Bell is picking apart the decommissioned aircraft to see if it can find signs of wear and tear.
The company flew the V-280 over the past three years as part of the US Army's Joint Multi-Role Technology Demonstrator and Competitive Demonstration and Risk Reduction programmes.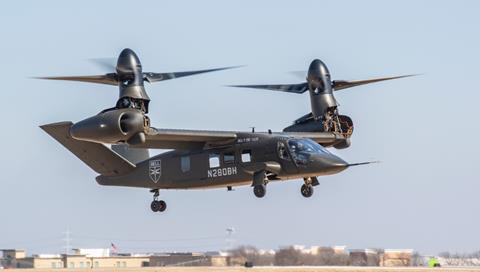 Those demonstration efforts were precursors to the service's formal Future Long Range Assault Aircraft (FLRAA) competition, an effort to find a replacement for the Sikorsky UH-60 Black Hawk utility helicopter. A competing Sikorsky-Boeing team built and flew the SB-1 Defiant, a co-axial helicopter with a pusher propeller, for the demonstration programmes.
Bell decided to disassemble its V-280 to see if the aircraft was working as designed.
"We really wanted to dig into the aircraft, tear it down and understand the inner workings," Paul Wilson, programme manager for the V-280, said on 11 October. The company "took an especially close look at the rotor systems and the drive systems. We broke those down, went and inspected them to see if there were any wear concerns."
After visual and non-destructive testing on the mechanics of the aircraft, the V-280 performed as expected, Wilson says. However, he declines to say if Bell plans to make any design changes for its final bid for the FLRAA production contract.
Besides assessing the Valor's performance, Wilson says Bell also demonstrated removing the aircraft's gearboxes and rotors using a US Army Self-Propelled Crane Aircraft Maintenance and Positioning system. That was done to show that the aircraft could be maintained with standard service equipment.
Since then, the V-280 has been partially reassembled and is being used as a display model for visiting delegations from the US Army. Wilson declines to say if Bell will ever fly the aircraft again.
The US Army wants to equip its first unit with FLRAA no later than 2030. Its timeline for awarding the FLRAA contract has yet to be laid out.